Jeremy Corbyn says he is 'proud to carry on' as Labour leader in defiant speech amid calls for resignation
Mr Corbyn has lost a vote of confidence by MPs and has seen a wave of resignations
Lizzie Dearden
Wednesday 29 June 2016 22:02 Comments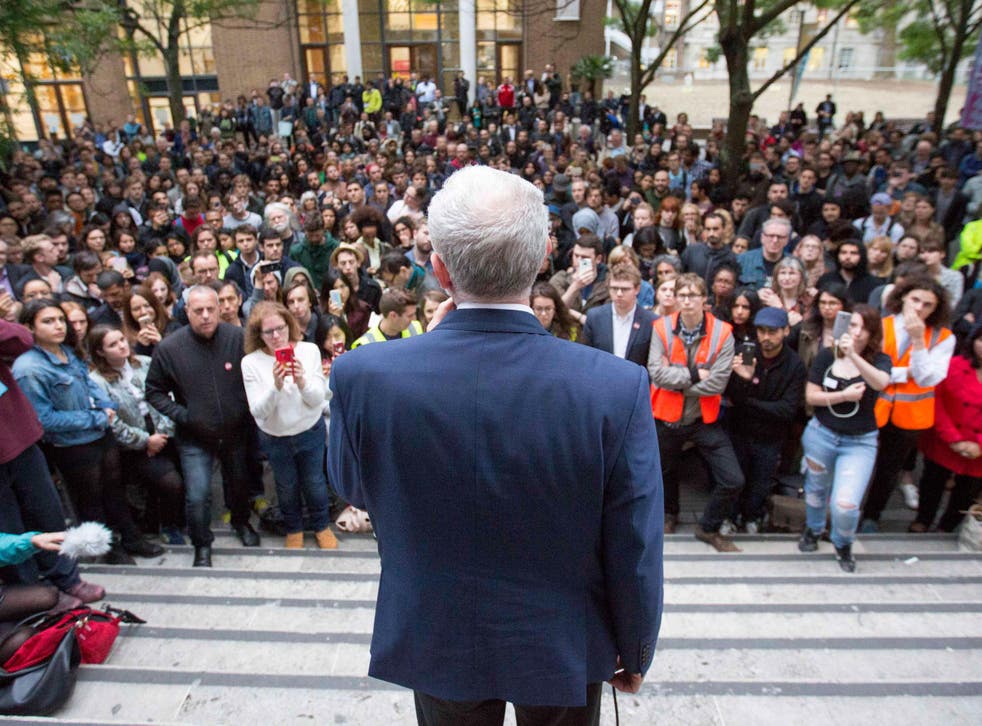 Jeremy Corbyn has given a defiant speech vowing to "carry on" as leader of the Labour Party as calls mount for his resignation.
Speaking to supporters from the Momentum supporters in London on Wednesday evening, he insisted he had a "people's mandate" to remain.
"We're in the midst of a very interesting political time in this country, I was very honoured to be elected to lead the Labour Party last year," Mr Corbyn said.
"I have done my best over this year to develop the policy changes we want and to reach out to people and to recognise that there are many people in the party who don't completely agree with the direction I want to take it.
"But I also recognise that the mandate was given by hundreds of thousands of ordinary people joining in a political process, just as is happening across Europe, just as is happening across the United States, because they want to see a politics that is more reflective of them, their lives, their community and aspirations rather than the economic orthodoxy of the retreat of the wealth to the wealthiest that the poor may get poorer. It is simply immoral and wrong."
On Tuesday he lost a confidence vote from Labour MPs by 172 to 40 following the Brexit.
Dozens of MPs, including several members of the shadow cabinet, have resigned since Mr Corbyn sacked shadow Foreign Secretary Hilary Benn in the early hours of Sunday morning, after Mr Benn told him MPs did not believe he was able to win an election.
In pictures: Jeremy Corbyn reshuffle

Show all 11
He was interrupted by a heckler as he spoke outside the London School of Oriental and African Studies (SOAS), who shouted: "What about Europe Jeremy? Where were you when we needed you?"
The man was drowned out by shouts of "f*** off" and "shut up" as the crowd booed and started chanting "Jeremy! Jeremy! Jeremy!".
"It wasn't my wish, it wasn't the wish, I suspect of many people here and we now have a difficult economic situation to deal with," Mr Corbyn responded.
He said he would work to gain protection for workers' rights, environment and sustainability regulations guaranteed by the EU, as well as fighting xenophobia and racism, and challenging austerity.
"The vote last week was a vote of anger, it was a vote of desperation in many places around the country," Mr Corbyn added.
He hailed his achievements of increasing the Labour Party membership to more than 400,000 people and said he wanted to "change the way we did our politics".
"Surely together we have strength. Surely together we can harness the technology we've got and not be afraid of press barons who attack us," he said.
"That's why we contested the leadership of this party a year ago, that's why I'm very proud to be carrying on with that work."
At the same event, shadow Chancellor John McDonnell compared the Parliamentary Labour Party to a "lynch mob without the rope".
Mr Corbyn is expected to face a challenge from shadow business secretary Angela Eagle will announce her intentions on Thursday amid reports she is preparing to run as a "unity" candidate.
Labour's deputy leader, Tom Watson, said he believed an impending leadership election was inevitable following calls from prominent figures including Ed Miliband, Gordon Brown and Harriet Harman.
David Cameron, who resigned as Prime Minister on Friday, told him in the House of Commons: "For heaven's sake man, go."
Additional reporting by PA
Register for free to continue reading
Registration is a free and easy way to support our truly independent journalism
By registering, you will also enjoy limited access to Premium articles, exclusive newsletters, commenting, and virtual events with our leading journalists
Already have an account? sign in
Register for free to continue reading
Registration is a free and easy way to support our truly independent journalism
By registering, you will also enjoy limited access to Premium articles, exclusive newsletters, commenting, and virtual events with our leading journalists
Already have an account? sign in
Join our new commenting forum
Join thought-provoking conversations, follow other Independent readers and see their replies