Jeremy Corbyn: John McDonnell compares Parliamentary Labour Party to 'lynch mob' as leader resists resignation
Labour's deputy leader previously said a leadership contest was 'inevitable'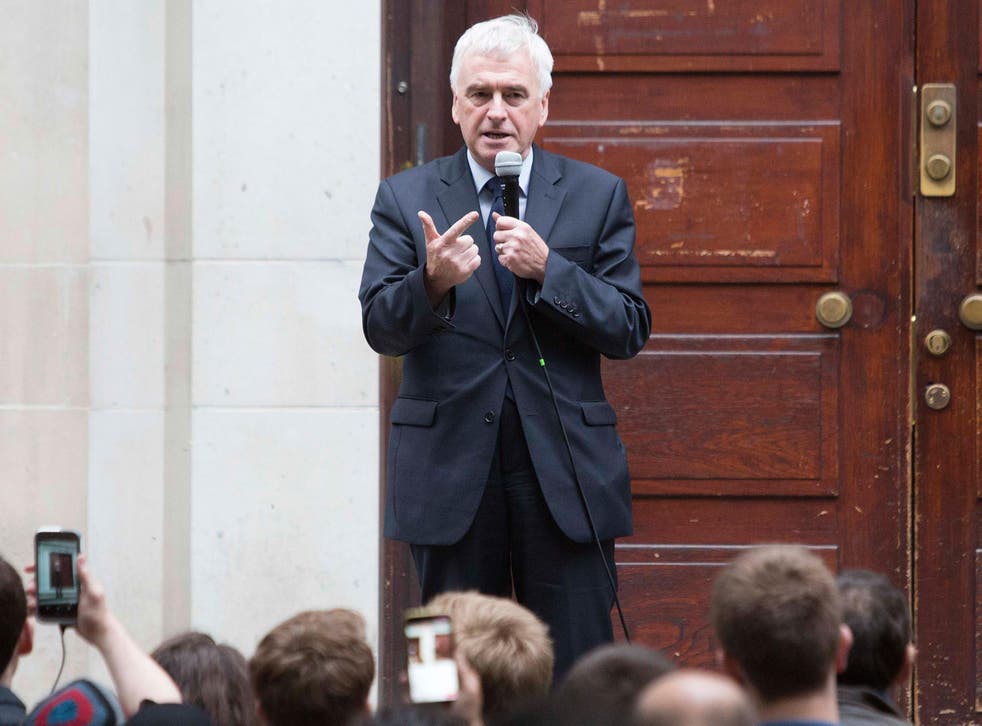 One of Jeremy Corbyn's most prominent allies has compared the Parliamentary Labour Party to "a lynch mob without the rope" as the Labour leader resists calls to resign.
Addressing Momentum supporters at London's School of African and Oriental Studies (SOAS) on Wednesday evening, John McDonnell said the turmoil in his party amounted to a "battle for democracy".
The shadow Chancellor said: "Jeremy won a mandate last summer and there are a handful of MPs who couldn't accept that mandate - we've been expecting a coup any time since then.
"They said we couldn't win parliamentary seats but in every parliamentary by-election we have increased the Labour majority.
"The Parliamentary Labour Party meeting - it's not a meeting to enjoy. It was like a lynch mob without the rope.
"MP after MP was getting up telling Jeremy to resign."
Mr McDonnell is among a dwindling group of Mr Corbyn's allies after he lost a confidence vote by Labour MPs by 172 to 40 following the vote for a Brexit.
He has refused to resign, insisting he still has a "people's mandate" to lead following his landslide victory in the Labour leadership elections last summer.
More than 60 MPs including several members of the shadow cabinet have resigned since Mr Corbyn sacked shadow Foreign Secretary Hilary Benn in the early hours of Sunday morning, after Mr Benn told him MPs did not believe he was able to win an election.
In pictures: Jeremy Corbyn reshuffle

Show all 11
Some voiced their concern over his ability to unite MPs, while others cited Labour's failure to sway voters to Remain in the EU referendum.
Mr McDonnell said: "If Jeremy had walked on water during the (referendum) campaign he would have been blamed for the loss. What we are watching is a leadership coup.
"We have been trying to explain to some members of the PLP there's a recent Greek invention and it's called democracy.
"What democracy means is that people come together with each having a vote, and when that vote has a majority, that decision should be abided by - this is a battle for democracy."
Leading unions have also given their support, urging Labour MPs to respect the authority of Mr Corbyn as party leader.
In a joint statement, the leaders of Unite, Unison, the GMB, UCATT, the CWU, the TSSA, ASLEF, the FBU, the BFWAU and the NUM said Mr Corbyn was the democratically-elected leader of Labour and his position should not be challenged except through the proper democratic procedures provided for in the party's constitution.
"The current crisis within the Parliamentary Labour Party is deeply regrettable and unnecessary," it said.
"It cannot be right to seek to denude the Labour front bench at this time, when the Government more than ever needs to be scrutinised and held to account by an effective and united opposition that does the job it is paid to do."
Mr Corbyn made a defiant speech at the same event, saying his mandate was gained by "hundreds of thousands of ordinary people joining in the political process".
He was briefly heckled, with one man yelling: "What about Europe? Where were you when we needed you?"
Angela Eagle was expected to announce her intentions to challenge Mr Corbyn for the Labour leadership if he does not resign by Thursday afternoon.
Labour's deputy leader, Tom Watson, said he believed an impending leadership election was inevitable following calls from prominent figures including Ed Miliband, Gordon Brown and Harriet Harman.
Join our new commenting forum
Join thought-provoking conversations, follow other Independent readers and see their replies