Jeremy Corbyn says bullying has 'no place' in Labour Party after MPs supporting Syria air strikes inundated with abuse
Lizzie Dearden
Wednesday 02 December 2015 22:45 Comments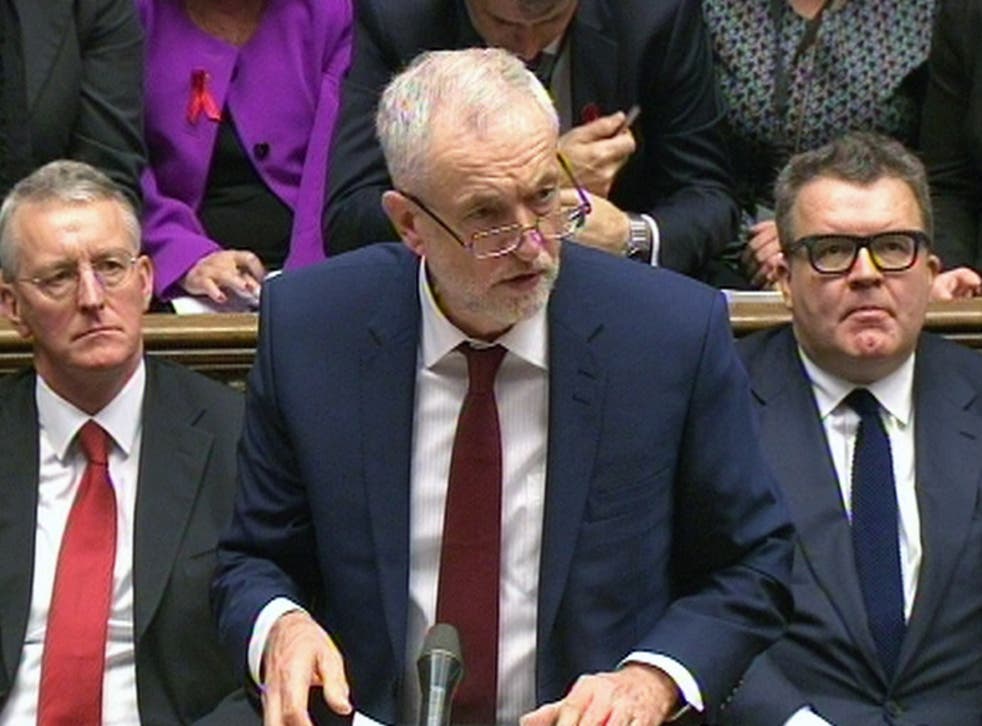 Jeremy Corbyn has condemned activists including some of his own supporters who have been sending abuse to Labour MPs supporting air strikes in Syria.
One member of Parliament was sent a photo of a dead baby by anti-war protesters, while Stella Creasy had to leave the Commons to check on her own staff and saw dozens of protesters pass her home last night.
Mr Corbyn said several cases of abuse had been reported to him, adding that it "flies in the face of everything I believe".
"I joined the Labour Party because of the beliefs it stood for and now as its leader I want us as a party to return to our collective Labour principles that our great party was founded on," the Leader of the Opposition said in a statement.
"Debate comes with responsibilities – the responsibility of respect for others, even if they don't agree with you."
Mr Corbyn said he wanted a "great debate" in his party and that although its 380,000 members should have healthy disagreements, there was "no place" for abuse.
After singling out the Prime Minister for calling those opposing extending British air strikes "terrorist sympathisers" while addressing the Tories' influential 1922 Committee, he addressed his party's members.
"I want to be very clear – there is no place in the Labour Party or from those that support us - for bullying of any sort, from any side of the debate," Mr Corbyn said.
"It flies in the face of everything I believe and everything I stand for.
"Let us – all of us in the Labour Party - focus on building a party that can win in 2020. Let's do that in a comradely fashion."
Labour MP John Mann had said individual MPs were facing an "appalling" level of bullying via social media and email, including threats to have them de-selected if they voted for Syrian air strikes.
"The level of abuse over the last four months is on a totally, totally different scale from anything ever before. It is directly linked to people purporting to support Jeremy," he told Press Association.
"He should remove this intolerant minority. They have no place in a progressive left-wing party. None of them have been disciplined yet, never mind expelled and he should start doing so."
In pictures: Syria air strikes (2014)

Show all 20
Mr Mann highlighted messages sent on Twitter branding one fellow MP "a warmongering piece of crap" and calling for "a final solution to purge Blairite scum" like former leadership candidate Liz Kendall from the party.
She responded to one critic with the message: "You don't frighten me 'comrade'."
During the Commons debate, John Woodcock had hinted that Mr Corbyn himself had been responsible for threats towards those in favour of military action.
The Barrow and Furness MP said Labour members will not be "threatened from doing what we believe is the right thing, whether those threats come from online activists or, indeed, from our own despatch box".
Former minister Diana Johnson published an email which has been sent to Labour MPs, warning them that they will face a vote of no confidence in their constituencies if they support Prime Minister David Cameron's motion.
The email, purporting to be sent by a party member, warned that this was "the least the Labour Party members will do to try to wash the blood from their hands of the innocent civilians which the bombs will surely kill".
Additional reporting by PA
Register for free to continue reading
Registration is a free and easy way to support our truly independent journalism
By registering, you will also enjoy limited access to Premium articles, exclusive newsletters, commenting, and virtual events with our leading journalists
Already have an account? sign in
Join our new commenting forum
Join thought-provoking conversations, follow other Independent readers and see their replies