Labour on course for just 150 seats at next general election, warns study
The Labour-affiliated Fabian Society finds support for Jeremy Corbyn's party could plunge as low as 20 per cent – but dubs it 'too weak to win and too strong to die'
Rob Merrick
Deputy Political Editor
Tuesday 03 January 2017 01:10 Comments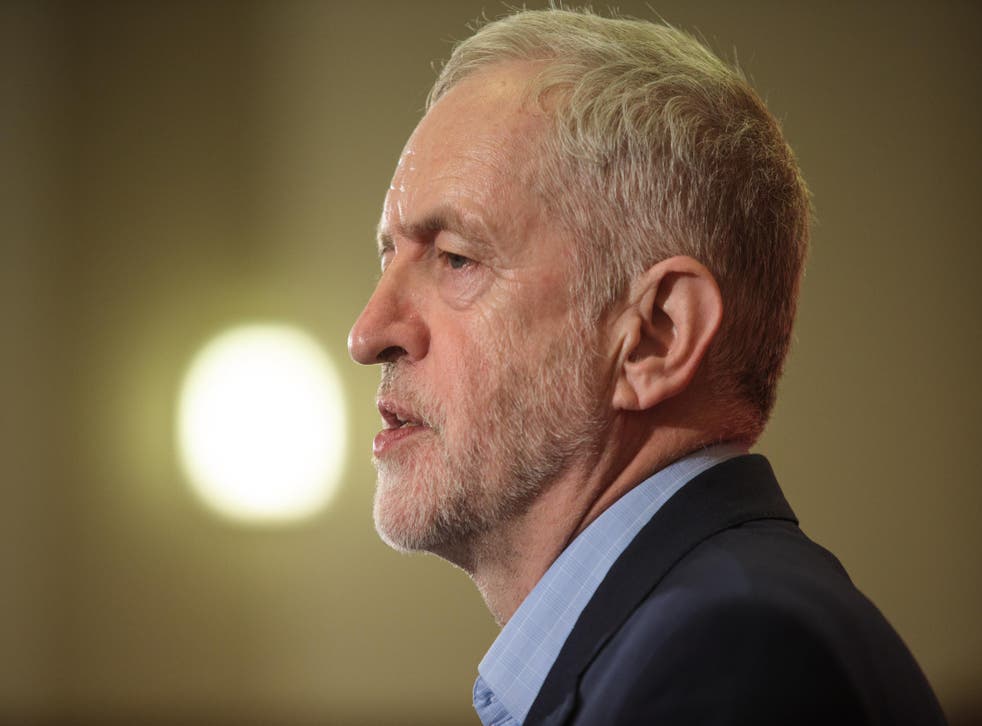 Labour is on course to retain as few as 150 MPs at the next general election as it sheds voters to all other parties, a stark new report warns.
Support for Jeremy Corbyn's party could plunge as low as 20 per cent at the election in 2020 based on its current poll ratings, the Fabian Society has calculated.
Such a performance – which would be comfortably the worst in Labour's history – would see it retreat into the big cities and its old industrial heartlands, losing scores of Westminster seats.
A Commons majority is "currently unthinkable" – even with a miraculous recovery over the next three years – because of Labour's near-wipeout in Scotland in 2015.
Nevertheless, says the Labour-affiliated think-tank, the first-past-the-post voting system creates a "firebreak" that protects the party from disappearing altogether, allowing it to rebuild.
Andrew Harrop, the society's general secretary, said the analysis found Labour was "too weak to win and too strong to die" – making a centre-left coalition with other parties the best it could hope for.
It also highlighted the "Brexit dilemma" of Labour losing as many votes to the pro-EU Liberal Democrats as to the anti-EU Conservatives and Ukip combined.
Diane Abbott says Labour will close polling gap in 12 months
Mr Harrop said: "As things stand, Labour is on track to win fewer than 200 seats, whether the next election comes this year or in 2020.
"Even if Labour recovers it has almost no chance of securing a majority in a general election, because it needs over three million more votes than the Conservatives to win."
The possibility of Labour forming any sort of significant alliance is very remote, however.
John Healey, a senior Labour figure, seemingly ruled out any pact with the SNP and Lib Dems. "It's a serious warning, it's a very serious warning," he told the BBC. "The Fabian Society say the roots of Labour's problems pre-date Jeremy Corbyn. They were there in the 2015 election and in the 2010 election.
"I do not see the answer to Labour's challenge being to team up with the Liberal Democrats, the Greens and a ragtag of other parties."
The paper also states that:
Only a little over half of Labour's 2015 voters – when the party scored just 30.4 per cent – say they support the party today
The party would win under 200 seats, based on its current poll rating of 27 to 28 per cent – around 40 fewer than in 2015
Labour's plight could get even worse – because it has gone on to underperform its mid-term polling by an average of eight percentage points, when in opposition in the past
That would deliver a general election day score of 20 per cent – which would see it win 140 to 150 MPs
Labour would remain by far the largest opposition party. It "does not face oblivion and will be able to rebuild"
The report sates that the threat of Ukip is "being exaggerated" - since 2015, Ukip has lost twice as many votes to the Tories as it has gained from Labour.
It adds that Labour has lost four times as many votes from Leave supporters as from Remain backers, but "has no choice but to reach out to people in both camps"
Just like for the US Democrats, winning the popular vote is not enough for Labour - to secure a majority of one, it must beat the Conservatives by more than three million votes.
However, only 30 seats need to be gained for Labour to be able to govern in partnership with other centre left parties – a "far more plausible goal"
Mr Harrop added: "Labour's aim for now should be to move forwards not back and win enough MPs to be able to form a governing partnership with other parties."
The last time Labour won fewer than 150 seats was in 1922, when it won 142 seats at a general election.
Register for free to continue reading
Registration is a free and easy way to support our truly independent journalism
By registering, you will also enjoy limited access to Premium articles, exclusive newsletters, commenting, and virtual events with our leading journalists
Already have an account? sign in
Join our new commenting forum
Join thought-provoking conversations, follow other Independent readers and see their replies