Michael Gove is 'entirely unfit' to be Environment Secretary, says Green Party MP Caroline Lucas
The Tory MP has been brought back to the front bench as Theresa May attempts to solidify her powerbase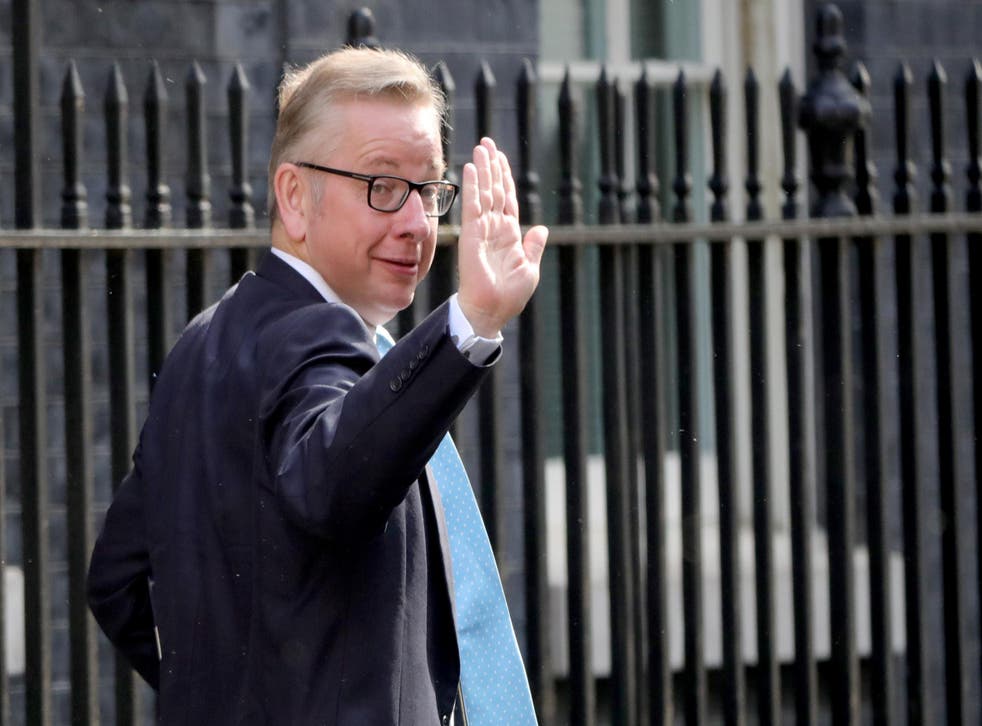 Michael Gove is "entirely unfit" to be the country's new Environment Secretary, the co-leader of the Green Party Caroline Lucas has said.
The Green MP said Mr Gove's return to front-bench politics in the role is evidence of Theresa May's "complete disregard for the environment".
Conservative MP Mr Gove, a potentially troublesome voice on the backbenches, was brought back into Ms May's fold as she used a reshuffle to try and shore up her position following the election result.
The Green Party co-leader said: "It is hard to think of many politicians as ill-equipped for the role of Environment Secretary as Mr Gove.
"His record of voting against measures to halt climate change and his attempt to wipe the subject from our children's curriculum show him entirely unfit to lead our country in tackling one of the greatest threats we face.
"And as we enter Brexit negotiations, Gove's past suggestion we scrap vital EU environmental protections becomes ever more concerning."
Ms May's poor performance in the election left her all but powerless to change people in her top team. Chancellor Philip Hammond, who had been earmarked for the sack, instead found himself in a position to make demands of the Prime Minister on Friday morning.
Michael Gove 'standing out of conviction not ambition'
Mr Gove was left off the front bench by Ms May after his run for the leadership in 2016 ended in ignominy, having initially supported Boris Johnson only to betray him at the last minute.
The former Education Secretary also had a run-in with Ms May when she was Home Secretary, with the pair falling out over who was responsible for the "Trojan horse" scandal, which saw fears raised over growing Islamist extremism in schools.
But Mr Gove's return was preceded by supportive articles written about Ms May in the run-up to the election.
A Downing Street spokesman said: "Michael Gove has a wealth of experience in Cabinet and he will be an excellent addition to the team."
Greenpeace has urged the former Justice Secretary to "move swiftly to prove that he's better than his [voting] record suggests".
The charity's executive director, John Sauven, said: "He once described himself as a 'shy green', and that shyness was fully on display when he tried to remove climate change from the school curriculum, called for the Habitat Directive to be scrapped, and voted to sell off our forests.
"But he has also spoken of his love for the great Scottish outdoors and of the importance of preserving this natural beauty for the next generation – a key promise in the Conservative manifesto."
He urged Mr Gove to channel his "trademark reformist zeal" into tackling urgent environmental problems, such as reshaping the farm subsidy system and protecting oceans from over-fishing and plastic waste.
Five people who could replace Theresa May
In 2013, in his role as Education Secretary, Mr Gove was accused of trying to "airbrush" climate change from the national curriculum.
Two petitions to keep climate change in the curriculum attracted more than 65,000 signatures over two months amid concerns that references to the topic were to be removed from the geography syllabus.
The Socialist Environment and Resources Association, an environmental group that campaigns for Labour to adopt ambitious environmental policies, tweeted: "Gove, the DUP & Brexit? The need for a Labour Party that's strong on the environment has never been more important."
Martin Harper, global conservation director of the Royal Society for the Protection of Birds (RSPB), welcomed the appointment, tweeting: "Congratulations michaelgove – RSPB looks forward to working with new Environment SoS to take forward manifesto commitments."
Join our new commenting forum
Join thought-provoking conversations, follow other Independent readers and see their replies