For voters in the North-east, the Tories are the anti-establishment party
Analysis: Younger voters are gravitating towards Theresa May in an area where voting Conservative is considered taboo – but Labour activists are finding new opportunities to galvanise their supporters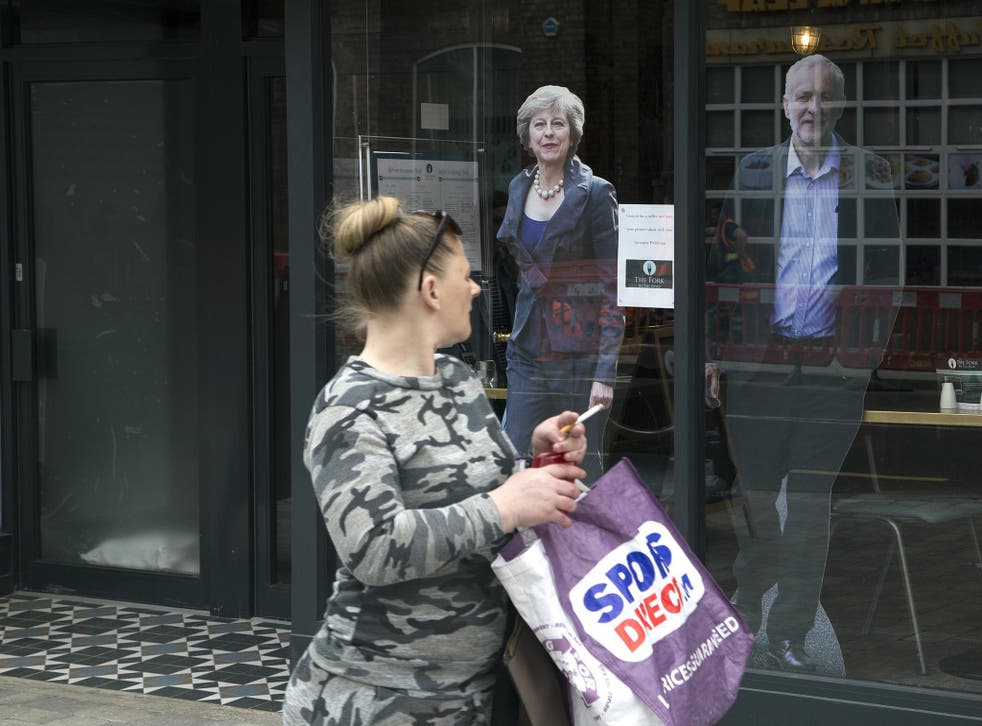 In Middlesbrough, voting Tory is the anti-establishment choice. "The older generation here get angry if you say you're not going to vote Labour," says 30-year-old Claire Bligh, while cutting someone's hair in the back room of a beauty salon.
Claire owns a section of the salon and operates her own hairdressing business out of it: it's a modest space, with room for two chairs, a row of coat hooks and a small bin. Under the single halogen light, a smattering of posters advertising styles decorate the walls and Claire, who has vibrant pink hair herself, tidies and trims the hair of a customer while offering up her views about the election.
"They'll tell you off if you say you're thinking of voting Tory. It's not the done thing round here. And I don't know much about politics, but Theresa May seems to have a positive message and I feel like we need positivity. All my friends say good things about her."
Claire repeatedly remarks that she doesn't think she knows enough about politics to vote, but she has strong views about building a society that her 10-year-old disabled son can thrive in. She's a single parent and she lives on the sprawling South Middlesbrough estate which the beauty salon backs onto. "The only thing I'm working for is to provide my little one with a good role model, so he grows up seeing his mum with a job," she says. "And for my own sanity. I couldn't stand being at home. But I think I'd probably make more on benefits."
Claire is tired of negativity, and desperately wants someone to offer her a positive vision for the future: that's where Theresa May and her strong and stable Britain comes in. But when I ask her what she thinks about the policies intended to connect with carers in full-time work like herself, she's incredulous.
"A year off work to care for my son? That wouldn't do me any good at all. I don't have the money to take a year off unpaid, and I don't want to be out of work for that time – it would drive me mad. What I want is the support to stay in work. It's the lack of financial backing for people like me in work which takes its toll."
Claire set up her salon with the help of Labour candidate Tracy Harvey, a powerhouse of a local activist and councillor who has lived in Middlesbrough all her life. Tracy stepped in to become the Labour candidate after former MP Tom Blenkinsop stood down, citing dissatisfaction with Jeremy Corbyn's leadership. I meet her in a café between her appointment at a local school and her next session of door-knocking, accompanied by campaigners Alma Hellaoui and John Taylor. Have they seen people turning to the Tories?
"Some," they concede. "I met one guy who said to me that Labour had brought in all these cuts to local services so he wouldn't be voting for them again," says Hellaoui. "I said, do you not think that actually has to do with Tory austerity cuts coming from the Government? Then he went quiet… Later on, I met someone and I asked them what they thought of the Tories. They said, 'What's a Tory?' The level of political education round here can be quite low."
General Election round-up: May 26
Tracy Harvey says she worries about the right-wing tabloids constantly attacking Corbyn. "The press is all Tory now," she says. "And they don't like him because he's not a member of the elite. You've got a different kind of leader in Jeremy. They say he hasn't got leadership skills, but I say he has because he's not afraid to negotiate and change his mind. And for me that's a good leader; that is leadership. He's got the heart of a lion and he's been on the right side of history again and again."
​Hellaoui agrees. "You read these papers, and you think, where's the truth? The papers told us all this stuff before, £350m for the NHS and so on, and now, oh sorry, it's wrong. What are we supposed to believe?"
In a place like Middlesbrough, where 66 per cent of the population voted for Brexit, those broken funding promises have a particular sting. Middlesbrough has the highest proportion of asylum seekers of anywhere in the UK, yet its services have continued to be cut: people are waiting for those extra schools and hospitals to pop up after Britain formally leaves the EU, but the austerity measures visited upon the council mean this injection of wealth is unlikely.
I meet the Conservative candidate standing against Tracy Harvey at a café in Middlesbrough train station. His name is Simon Clarke, he's just come from an apprenticeship event and he is about to hop on a train to "go on dad duty". He's at least 30 years younger than Harvey, smartly dressed in an expensive suit and well-spoken to the point of suspicion, deploying the languid southern vowels of glahss rather than the sharp northern glass. "Are you really local?" I ask, and he bristles. "I am what I am. I mean, I can't change my accent. Did Tony Blair sound like he was from here? Did Peter Mandelson? What's more important is what you're going to do."
To be clear, Clarke is local, though not perhaps representative of most Middlesbrough residents. He grew up in Marton – one of the affluent villages just outside "Middlesbrough proper" and covered by the constituency he's standing in – was privately educated and read Modern History at Oxford. His grandfather was a surgeon at Middlesbrough General Hospital and his father a solicitor; indeed, he trained as a solicitor himself at Magical Circle law firm Slaughter and May in London before going into politics. When you look at him and Tracy Harvey, it's difficult not to see a couple of political caricatures.
"We need to end the negativity about Middlesbrough," he says, going on to claim that the local Labour council has "betrayed and failed" the people of the town by maintaining the narrative that it's a left-behind place. If we could all just be a little more upbeat, then things might get better." It's a line that perfectly mirrors what Theresa May has been saying about Brexit (Clarke is a dedicated Brexiteer who agrees that "no deal with the EU is better than a bad deal"), and clearly it resonates with some.
"Ordinary working people have real concerns about globalisation," he says. "It's our Prime Minister's wise decision that we must respond to and reflect that or truly extreme forces [such as extreme right groups] will move in." And why might people move away from Labour in his constituency? "Jeremy Corbyn. People look at Jeremy Corbyn and they don't like what they see… They think the values he's espousing will wreck this country."
I ask, "which values?"
"He's unqualified, he's weak on terror… he's a joke figure at one level, there's a certain amount of pure scorn…"
"But the actual values he holds?"
"Look, people in Middlesbrough and Cleveland want a leader to be hard-working, decent, patriotic individuals and Jeremy Corbyn is none of those things."
"Not even hard-working?" I ask.
"No, he's not even hard-working."
I ask whether Clarke has ever met Corbyn. He responds: "No. But we've all got the measure of him."
Conservatives in the North-east – whether Darlington, Newcastle, Bishop Auckland or Middlesbrough – are keen to push this message: that it's Corbyn who's the problem on the doorstep, and Corbyn who residents dislike. But the reality when you walk around the estates of Middlesbrough or the town centre of Darlington seems different.
I talk to Andy Preston, a Middlesbrough businessman who stood for mayor in 2015 and was a staunch Labour supporter until recently (he now backs the Conservative candidate). He echoes what Claire Bligh told me in her hair salon: "Round here, voting Tory is rebellion… If you're a typical Middlesbrough person and you put a pro-Tory article on Facebook, people will attack you and unfriend you. I know people who it's happening to. Labour is the establishment." As in the referendum, it feels like people are desperate for change above anything else.
Preston, who has set up a number of charitable initiatives in the community, meets me at the Fork in the Road, a high-end café he established which provides hospitality work to ex-offenders, recovering addicts and the long term unemployed. Inside the front window are two life-size cardboard cut-outs of Jeremy Corbyn and Theresa May; we take them outside for a photo.
"My political views haven't changed – the party positions have changed," he says, "and it would be wrong to say it's do with Jeremy Corbyn. Labour has been drifting to the left since Gordon Brown." He resents the ideological tribalism of Labour and says that he wants pragmatic solutions to poverty and underemployment. There's no use believing that "everyone wants to work, everyone wants to share and contribute… because the truth is much more complicated than that."
UK General Election 2017

Show all 47
Twenty minutes down the road, inside Easterside Community Centre in the middle of an estate, David Bell – a council worker in his twenties who's decided to campaign for Labour this election – disagrees. The effect of Tory cuts has turned him political, he says. He works on the front line with people who are having their benefits cut: "You get teenage mums, old people, coming to you, crying and saying they have no money to live on. After a while, you feel like you have to do something."
As soon as his shift ends, he's going door-knocking with Tracy Harvey. Their biggest problem as they see it is voter apathy: Middlesbrough can feel like its own island, where Labour never loses and everything stays the same regardless of whichever Prime Minister has the keys to Downing Street. No wonder the younger generation is starting to explore alternatives.
A half-hour drive from Middlesbrough is another Tory target marginal in the form of the market town of Darlington, where I shelter from the torrential rain in a nail bar off the main promenade. The owner and her three employees are all first generation Vietnamese immigrants; they speak broken English so it's hard to delve into the reasons behind their decision, but tell me that they intend to vote because "we like Theresa."
The woman having her nails done beside me joins the conversation: she's pregnant, and has a five-year-old son with special educational needs. "I like the idea of Theresa May because she's a woman," she says, to the vociferous agreement of the nail technicians. "Men are all warmongers, and male politicians have all been liars for years. A strong woman could sort us out. She comes across that way."
Although she likes the idea of voting for Theresa May as a person, she says that Tory cuts have hit her family hard: "What the cuts have done to my son's school – it's terrible. They had a school with four classes of 30, and they sent a letter out this week saying it's now going to be three classes of 40. Plus they're cutting Friday down to a half day. They don't have the funding – they can't afford to pay the teachers. Once I saw that letter I thought I should probably actually vote Labour." The Tory brand may be toxic, but Brand Theresa clearly still has traction.
Nevertheless, the Labour vote feels strong here: two elderly men act as though I'd suggested slaughtering their first-born children when I ask if they'd ever consider voting Conservative. Equally, a group of young women in their twenties tell me they're definitely Labour: "Theresa May is a lizard woman," says one, who doesn't want to give her name. "The media's always saying Corbyn wouldn't be effective in a war but I like him. I find Theresa May really scary."
Inside the town's main marketplace, most vendors tell me they've given up voting – "They're all the same: liars. There's no point voting for any of them" – but at the back, selling back copies of Marvel comics, I find June and Stephen Lock at a stall they've named The Darl Knight. They've recently returned from France, they say, after raising their daughters there ("It's a much better society – our kids didn't pay any tuition fees for university; they got given huge maintenance grants and the education is top-notch.")
They like Corbyn but they intend to vote Lib Dem, partly as a protest vote against Brexit and partly because their local Labour MP has been vocal in speaking out against Corbyn "and why should we support someone who openly criticises the leader and damages the party?" They say that most local people they know are disillusioned with politics, "because of all the career politicians", and say that they wish they had "their own version of Nicola Sturgeon for the North".
Later, back in my hometown of Newcastle, I join the popular Labour candidate Chi Onwurah for a door-knocking session round an estate in the west end of the city during a cold and drizzly evening. She's joined by a number of local activists, and as they tick off who's voting what on the form they're compiling, a sense of optimism prevails.
"At first, I saw the headlines and thought we were going to get wiped out during this election," says Onwurah. "I was really worried. I felt like we needed to concentrate on galvanising the Labour voters we already have in the area to actually go out and vote, mitigate the damage. But after going round the city, the outcome feels a lot more positive. We feel like we can spare some activists in Newcastle now, so we've got a few car-loads of people organised to go out and campaign in Bishop Auckland on Sunday instead."
Alongside Middlesbrough and Darlington, Bishop Auckland is a main Tory target constituency in the North-east – a few weeks ago, commentators were saying that Conservative candidates would sweep to victory across all three, and Labour campaigners were talking of damage control. Now, however, it feels like the tide might be turning. And if it does, then Theresa May will end up looking very foolish indeed.
Register for free to continue reading
Registration is a free and easy way to support our truly independent journalism
By registering, you will also enjoy limited access to Premium articles, exclusive newsletters, commenting, and virtual events with our leading journalists
Already have an account? sign in
Register for free to continue reading
Registration is a free and easy way to support our truly independent journalism
By registering, you will also enjoy limited access to Premium articles, exclusive newsletters, commenting, and virtual events with our leading journalists
Already have an account? sign in
Join our new commenting forum
Join thought-provoking conversations, follow other Independent readers and see their replies