Nigerian girl, 10, used in suicide bomb attack on New Year's Eve
One person seriously injured in attack bearing hallmarks of Boko Haram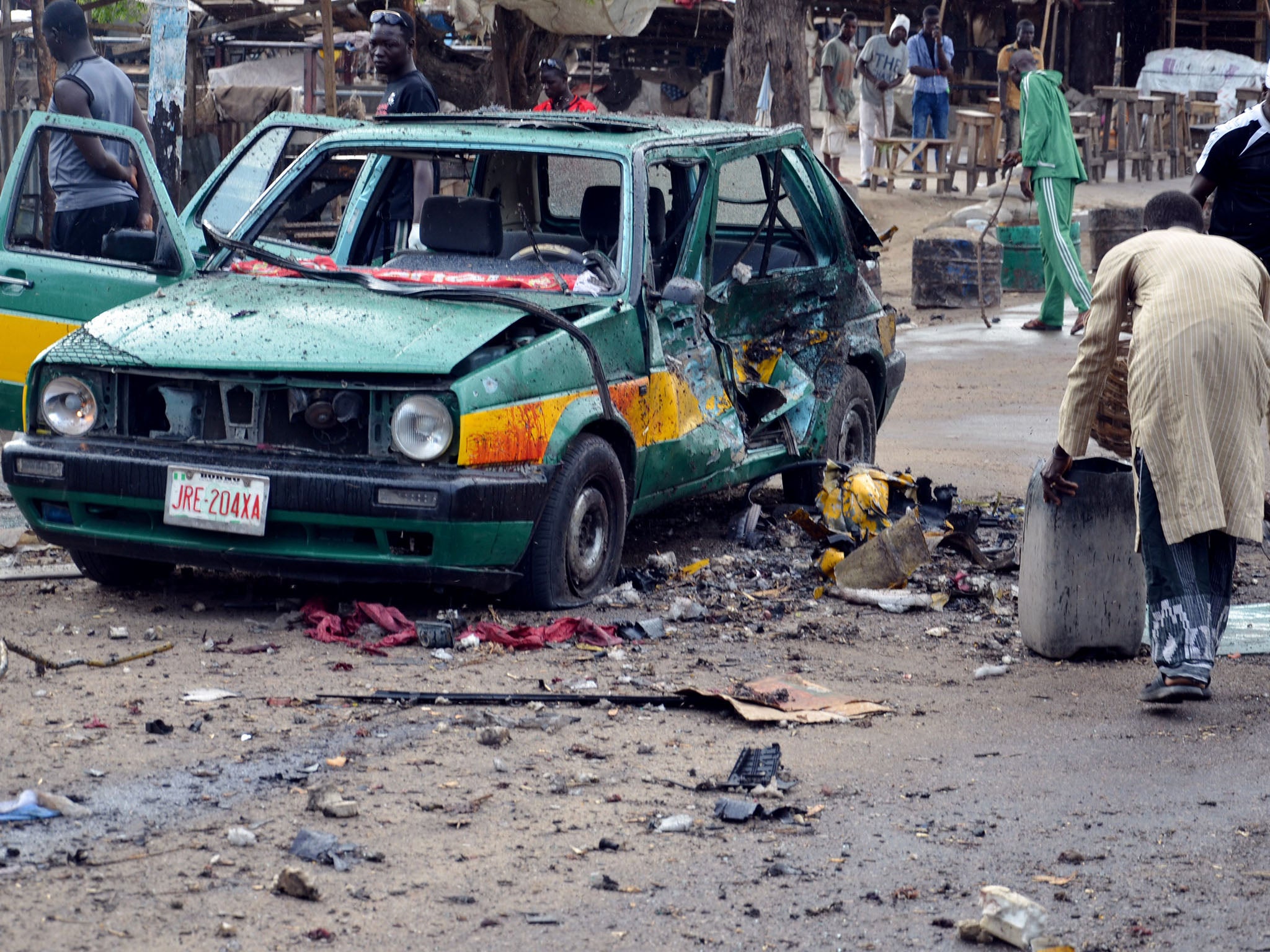 A female suicide bomber believed to be no more than 10 years old has seriously injured another person when she blew herself up in a New Year's Eve attack in Nigeria.
The attack, which took place in the north-eastern city of Maiduguri, is believed to be the work of Islamic extremist group Boko Haram, who are notorious for using female suicide bombers to target civilians.
Witnesses said the young girl was buying noodles from a stall in the Customs area of the city at around 9.30pm on Saturday when she detonated her explosives.
"The girl walked towards the crowd but she blew up before she could reach her target," Grema Usman, who lives in the area, told the AFP agency.
"(Judging) from her corpse the girl was around ten years old," Mr Usman said.
The girl reportedly died instantly, while another person was hit by shrapnel.
The rise of Boko Haram
Show all 20
An aid worker involved in the evacuation of area gave a similar estimate of the young bomber's age.
"The girl was clearly not more than ten and this could have made her too nervous, making her detonate the explosives prematurely," the aid worker said.
A second female suicide bomber was reportedly caught by an angry mob before her bomb was safely detonated by security forces.
In December, two girls aged between seven and eight blew themselves up and injured nineteen other people in attacks on the market.
Authorities blamed this attack on Boko Haram, whose seven-year insurgency has killed an estimated 20,000 people and displaced around 2.6 million others.
The terrorist group aims to create an Islamic state governed by strict Sharia law, and has been active in Nigeria and the surrounding countries of Chad, Niger and Cameroon since 2009.
The group came to worldwide media attention after kidnapping 276 schoolgirls in 2014 who it said it intended to sell into slavery. Around 50 of the girls have since escaped, while the rest remain missing.
Saturday's attack came just a month after Nigerian President Muhammadu Buhari said the jihadist group had been "crushed" with soldiers flushing out the militants' last enclave in the vast Sambisa forest.
In December, the UN warned as many as 75,000 people could die in the coming year in north-eastern Nigeria unless there was a renewed effort from the international community.
The UN said there were predictions of a major famine, mainly due to the insecurity caused by the activities of Boko Haram.
Join our commenting forum
Join thought-provoking conversations, follow other Independent readers and see their replies