New Isis video celebrates Russian plane crash and praises Sinai branch for 'bringing down the jet'
Isis has released three statements on the crash - but not previously from its central branches in Syria or Iraq
Adam Withnall
Sunday 08 November 2015 14:05 Comments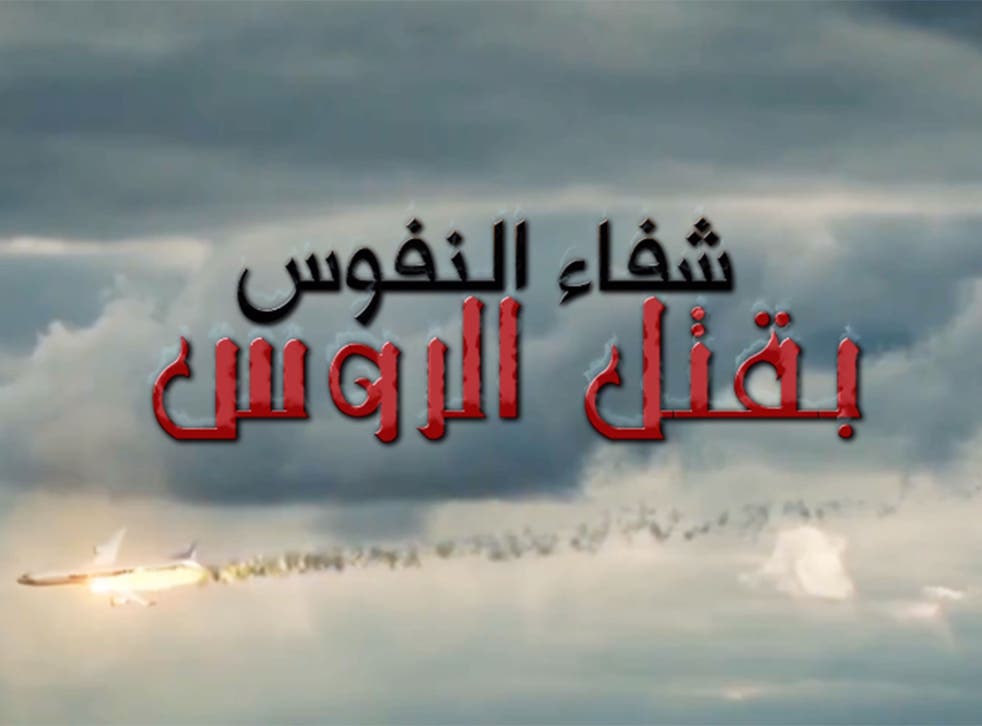 The Isis militant group has released a new video celebrating the crash of a Russian plane over the Sinai Peninsula in Egypt, and reaffirming its claim of responsibility.
The seven-minute video was released by the media wing of Isis's Aleppo "province", and praised the "lion fighters" of the militant group's branch in Sinai for "bringing down a Russian airplane".
The video does not include any details of how the plane might have been brought down, but expressly describes the apparent terror attack as retaliation for Russian air strikes in Syria.
Entitled "Healing Souls by Killing Russians", the video opens with scenes apparently showing the aftermath of bombing in Aleppo, and then cuts to various images suggesting Vladimir Putin in allied to the regime of Bashar al-Assad, Iran and even the US when it comes to Syria.
It also includes an Isis "witness" describing the impact of Russia's bombing campaign on Syria, as well as commemorating the Sinai province's pledge of allegiance to Abu Bakr al-Baghdadi one year ago.
In pictures: The rise of Isis

Show all 74
The video was posted to Archive.org late on Friday evening. It follows written and audio statements from Isis's Sinai province claiming responsibility immediately in the aftermath of last Saturday's crash, as well as a second audio message promising to reveal "soon" how the plane was brought down.
According to a translation by the Mail on Sunday, a narrator in the new video can be heard saying: "By God's will, and strong efforts of our brothers and soldiers on the ground in the province of Sinai, they brought down a Russian airplane, which carried over 220 Crusader Russians. All of them have been killed, and thanks to God for that."
Investigators in Egypt said on Sunday they were "90 per cent certain" that a noise heard on a cockpit recording from the flight was an explosion caused by a bomb.
An unnamed member of the investigation team told Reuters: "The indications and analysis so far of the sound on the black box indicate it was a bomb."
Egyptian authorities have previously urged caution on reports that the crash, which killed 224 people, was a terrorist act.
Register for free to continue reading
Registration is a free and easy way to support our truly independent journalism
By registering, you will also enjoy limited access to Premium articles, exclusive newsletters, commenting, and virtual events with our leading journalists
Already have an account? sign in
Join our new commenting forum
Join thought-provoking conversations, follow other Independent readers and see their replies