Tunisia hotel attack: Authorities 'confirm second gunman' as alleged accomplices are arrested
British survivors had claimed they had seen an armed man who was not Seifeddine Rezgui during the attack in Sousse
Lizzie Dearden
Wednesday 01 July 2015 07:26 Comments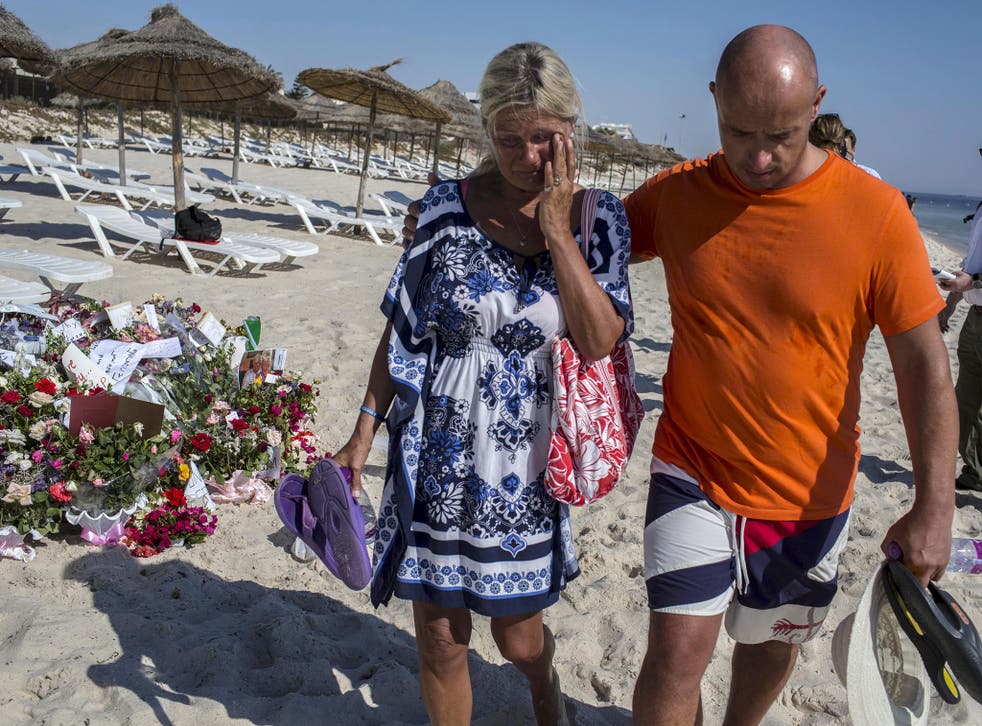 There are conflicting claims over the existence of a second gunman during the Tunisia beach massacre that killed up to 30 British tourists.
Tunisian security services have reportedly confirmed that there was another "terrorist" but some survivors said the only other armed person they saw was trying to stop the attack by shooting the extremist, not tourists.
Several survivors have spoken out to say they believe 23-year-old Seifeddine Rezgui was not the only attacker and described another armed man wearing red shorts.
A security source told the Daily Mail: "I can't say too much but I can say there were two terrorists. There were two gunmen."
Tunisian authorities have already arrested seven suspects associated with Rezgui, who was shot dead by police.
Interior Minister Najem Gharsalli gave no details of those detained and said officials were investigating whether Rezgui had been trained in neighbouring Libya in jihadist camps.
Speaking yesterday as Theresa May and her French and German counterparts laid tributes at the site of the attack in Sousse, he claimed that forensic evidence shows the student was probably the only gunman, though others may have been involved in planning and organising the attack.
"We will find all those involved, whether it was just logistical support or not," the Mr Gharsalli said.
There were also reports of a coastguard armed with a handgun who arrived at the beach during the attack and one witness told the Guardian a "man in red shorts" tried to use that weapon to take down Rezgui.
In pictures: Tunisia hotel attack

Show all 32
It was unclear whether that man was the same person survivors had thought was a second attacker, who was also described as wearing red shorts.
Friday's attack, which left 38 people dead at the popular Imperial Marhaba hotel, was claimed by Isis and supporters released Rezgui's photo, calling him by war name Abu Yahya al-Qayrawani.
Witnesses told how he hid his gun in a beach umbrella before opening fire at sunbathers, reportedly telling Tunisian staff to "get out the way" as he took aim at Western tourists.
But at least three survivors, including two retired police officers, have come forward to insist there was a second fanatic and reported the use of "homemade bombs" or grenades.
Kirsty Murray, who survived being shot in both legs, told the Daily Mail she and her fiancé, Radley Ruszkiewicz, 29, were attacked by a second man.
Rezgui, wearing all black, was said to have used an AK-47 but Ms Murray says she was fired at with a smaller handgun.
Steve Johnson, a retired police officer, was on the beach with his wife Valerie and fellow ex-officer Michael Perry and wife Angela when the the attack started.
He told the Daily Mirror: "I saw a man in red shorts machine-gunning someone on a sun lounger. He was 20 yards away from us.
"We ran across wasteland and into a spa and hid in the basement while gunshots and grenades and everything was going off around us. After about 20 minutes we crept up to the third floor and we could see him shooting people around the pool."
When Mr Johnson was evacuated by police, he said he saw a body on the floor who looked like the second shooter and Mr Perry said an officer told him he had been shot by police.
Another survivor, Lee Inwood, 43, told ITV News he does not believe it was a lone wolf attack and claimed that one of the most senior members of hotel staff told him there were three people involved.
"It didn't feel like a lone person attack at all," he added.
Mr Inwood said his wife believed she saw Rezgui with a group of people "hanging around" on the beach just before the massacre.
He claimed they had been taking photos of people on sun loungers without their permission and behaving strangely.
At least 18 British people have been confirmed dead in the attack but the Government has warned that number could increase to 30.
Police from the UK are in Tunisia helping in the process of formally identifying victims.
"What happened here last Friday was a despicable act of cruelty," Ms May, the Home Secretary, said yesterday.
"How could a place of such beauty, of relaxation, be turned into a scene of brutality and destruction?
"We have discussed concrete ways in which we can share our expertise in which we can help each other in dealing with this terrible threat we all face."
Additional reporting by agencies
Register for free to continue reading
Registration is a free and easy way to support our truly independent journalism
By registering, you will also enjoy limited access to Premium articles, exclusive newsletters, commenting, and virtual events with our leading journalists
Already have an account? sign in
Join our new commenting forum
Join thought-provoking conversations, follow other Independent readers and see their replies