Waukesha Christmas parade attack
'I stopped to help one boy – his legs were buckled under him ... and he was just shaking': Grandmother recalls horror of Waukesha attack
Tricia Tucker tells Sheila Flynn, in Waukesha, how she instinctively pulled children to safety – before desperately trying to find her own daughter
Tuesday 23 November 2021 14:40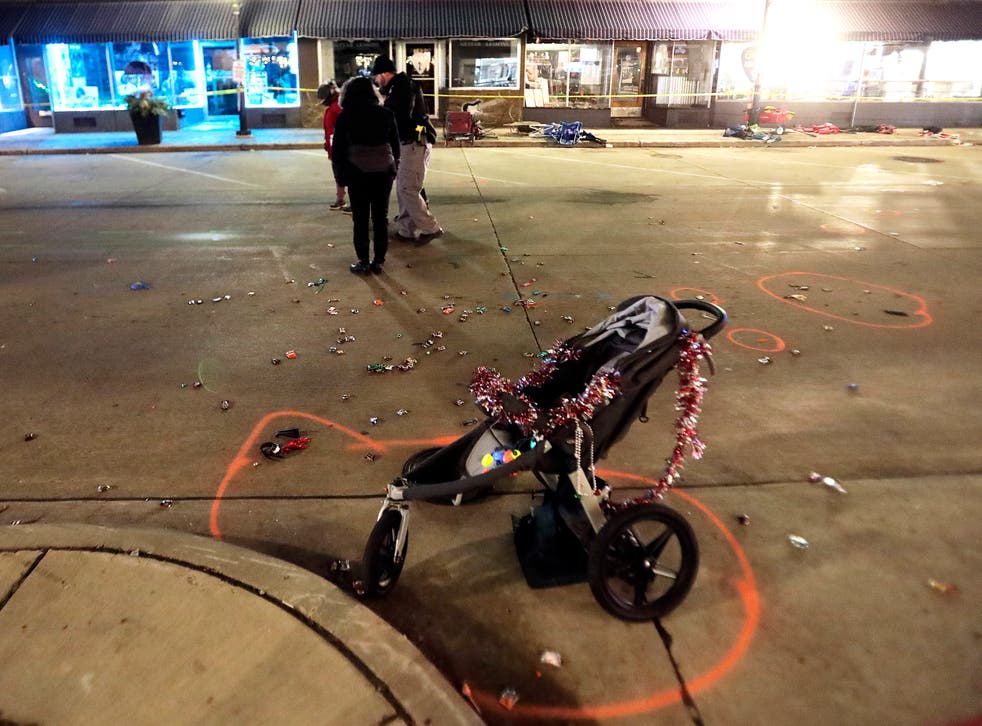 The American flag was flying at half-mast on Monday in Waukesha, Wisconsin as thousands of shocked and crying locals gathered outside the town's library for a vigil after a motorist plowed through an annual Christmas parade a day earlier.
Five people were killed and dozens injured on Sunday when the SUV mowed down paradegoers, including a group of "dancing grannies" and a high school band.
On Monday evening, residents were gathering outside a favourite local watering hole, The Destination, where free shuttles were ferrying people to the vigil about a half-mile away.
Tricia Tucker, 52, saw the whole disaster unfold; she lives in a condo building downtown in the Milwaukee suburb 25 minutes west of the city. The grandmother was attending the parade with her children, grandchildren, other friends and relatives on Sunday when the festive day turned to tragedy as a 39-year-old man with a long rap sheet allegedly plowed into the crowd.
No one's entirely sure why that happened – but Ms Tucker will never forget the aftermath.
"I'm just grabbing the kids to get them off the street," she tells The Independent. "My oldest son, he saw people get hit. He saw people run over ... [and] runs to help."
She chokes up as she describes "literally grabbing kids by their jackets, throwing them into my building – because the doors, when they close, they lock.
"I'm screaming for everybody who can hear me to run into my place," she says – as she ran outside to find her youngest daughter, 18, who was home from boarding school for the holidays.
Waukesha mayor says 'Norman Rockwell-type parade' became 'nightmare'
"I run back inside thinking that maybe she had come back inside, and I didn't see her," Ms Tucker says. "I go back into my community room [of the condo building]; my son-in-law was holding my 18-month-old grandbaby, covering my 25-year-old daughter, who's eight months pregnant – cowering on the floor, hiding behind a coach – because all we knew at that point?
"There's a vehicle plowing people over" – compounded by now-debunked rumours of the driver pulling out a weapon and becoming an active shooter.
When this type of chaos hits a small city in the heartland of America, it's hard to initially work out what is happening – and given the goings-on in nearby Kenosha, Wisconsin over the past year, people panicked.
Ms Tucker was "running in the street, calling her name," she says of her quest to find her daughter, Mya. "I'm pushing people out of the way ... and I'm screaming her name, and I run up to a body; that's not her.
"I went up to another body; that's not her ... I'm just running frantically, and I'm screaming, screaming, 'Has anybody seen my daughter?'"
She adds: 'I stopped to help one boy from the marching band. His legs were buckled underneath him, and he just had this look on his face, and I think he was in shock – and his eyes were so wide, and he was just shaking."
Minutes after, she says, she found Mya.
"I'm just turning for a couple of blocks, and then I turned – with my backs towards my place – and I'm literally tackled to my knees. And it was her. She heard me yelling for her."
At the vigil, more than 24 hours after the parade tragedy, thousands turned out in the close-knit town to hold candles and memorialise the victims. Standing on the lawn outside of the library, they paid their respects while police cruisers and dump trucks blocked traffic access to the crowd.
Waukesha was shell-shocked.
Nick Gonzalez lives a stone's throw from the crime scene and turned out on Monday night to pay his respects with Jenna Launderville, who has only been a Waukesha resident for three months.
"I don't understand how somebody could do this around this time of year, when it's supposed to be about joy," Mr Gonzalez tells The Independent. He and Ms Launderville ran inside when the chaos broke out on Sunday and brought other strangers into the apartment with them, including one bawling woman clearly in shock, they say, and fathers with five-year-old boys.
"It was just like, people need help; you've got to help - so I brought people inside ... to give everybody a place to collect their thoughts and not feel terrified of what's going on," Mr Gonzalez says.
"The five-year-old boys, we sat them on the couch and put on Scooby Doo and gave them some juice boxes so they could calm down."
The rest of the community was doing their best to show support and come to terms with the horrible turn taken by one of Waukesha's favourite days. Staff from one local restaurant, Pizza Ranch, stood outside the library during the vigil with food as thousands braved the bitter cold. Other locals started showing up to add snacks to the spread.
The true extent of the travesty was still fully sinking in for most people.
"It could've been me; it could've been my grandparents; it could've been my friends," Mr Gonzalez says, describing how a friend, white as a sheet, bumped into him and detailed how he and his son "almost got hit by a woman flying through the air."
"It's disturbing when it can happen just 150 feet from your door," he tells The Independent. "People are taking it real hard. I was up late last night; I couldn't sleep. It's messed up."
There was a shared sense throughout Waukesha that it really could have been any resident - and everyone's thoughts and prayers were with the victims.
"Those families are going to spend the holiday in the hospital," Ms Launderville says somberly - as Mr Gonzalez adds: "Or the funeral home."
Register for free to continue reading
Registration is a free and easy way to support our truly independent journalism
By registering, you will also enjoy limited access to Premium articles, exclusive newsletters, commenting, and virtual events with our leading journalists
Already have an account? sign in