Donald Trump's former campaign manager 'tried to hide $750,000 payment', says Ukrainian politician
Serhiy Leshchenko made the allegations in a press conference
Emily Shugerman
New York
Tuesday 21 March 2017 22:44 Comments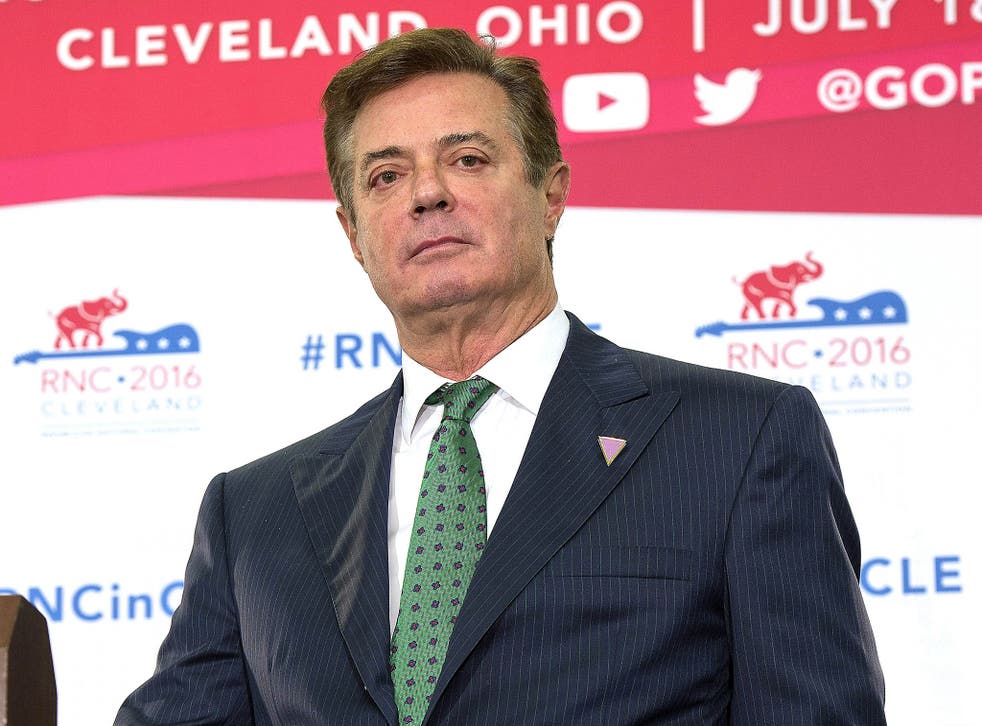 A Ukrainian politician has released documents that seem to incriminate one of Donald Trump's former campaign managers in a Ukrainian money laundering scheme.
Politician and former investigative journalist Serhiy Leshchenko, turned over what he claimed is an old invoice from former Trump campaign manager Paul Manafort's Ukraine consulting firm. The invoice appears to document a $750,000 computer sale to a Brazilian tech company on October 14, 2009. Records in former Ukrainian president Viktor Yanukovych's "black ledger" appear to show a $750,000 payment to Mr Manafort on the same day.
The invoice is made out to the now-dissolved Brazilian company Neocom Systems Ltd. The company's address is listed as 1 Mapp St Belize City — a building which also houses several of the offshore companies named in the Panama Papers. The building's owner, however, told CNN the company never held a physical office in the building.
In a press conference on Monday, Mr Leshchenko accused Mr Manafort of fabricating the invoice to create a legal basis for the payment from Mr Yanukovych.
"I have found during this investigation that [Manafort] used offshore jurisdictions and falsified invoices to get money from the corrupt Ukrainian leader," Mr Leshchenko said.
A spokesperson for Mr Manafort told CNN he did not recognise the document and that the signature was not his.
Questions about Mr Manafort's involvement with Mr Yanukovych have swirled since August, when the National Anti-Corruption Bureau of Ukraine (NABU) released black ledger records bearing his name.
The ledger, which is currently being investigated by the NABU, is believed to be part of Mr Yanufvych's illegal, off-the-books payment system. Mr Manafort stepped down from his role in the Trump campaign when the documents surfaced, but claimed all of his dealings in Ukraine were legal.
Mr Manafort's dealings with Mr Yanukovych are especially suspect given the former Ukrainian president's relationship with Vladimir Putin. Russia supported Mr Yanukovych during his time in power, and protected him after pro-Western protesters chased him from office in 2014. Mr Manafort, meanwhile, is credited with crafting the strategy that propelled Mr Yanukovych to the presidency in 2010.
FBI director James Comey confirmed on Monday that the FBI is investigating ties between the Trump campaign and Russia, but declined to answer questions regarding Mr Manafort specifically.
[The FBI is] investigating the nature of any links between individuals associated with the Trump campaign and the Russian government and whether there was any coordination between the campaign and Russia's efforts," Mr Comey said.
Register for free to continue reading
Registration is a free and easy way to support our truly independent journalism
By registering, you will also enjoy limited access to Premium articles, exclusive newsletters, commenting, and virtual events with our leading journalists
Already have an account? sign in
Register for free to continue reading
Registration is a free and easy way to support our truly independent journalism
By registering, you will also enjoy limited access to Premium articles, exclusive newsletters, commenting, and virtual events with our leading journalists
Already have an account? sign in
Join our new commenting forum
Join thought-provoking conversations, follow other Independent readers and see their replies