President Erdogan tells protesters to stop calling Donald Trump a dictator
Turkish President launches defence after being named alongside Trump in 'ring of autocrats'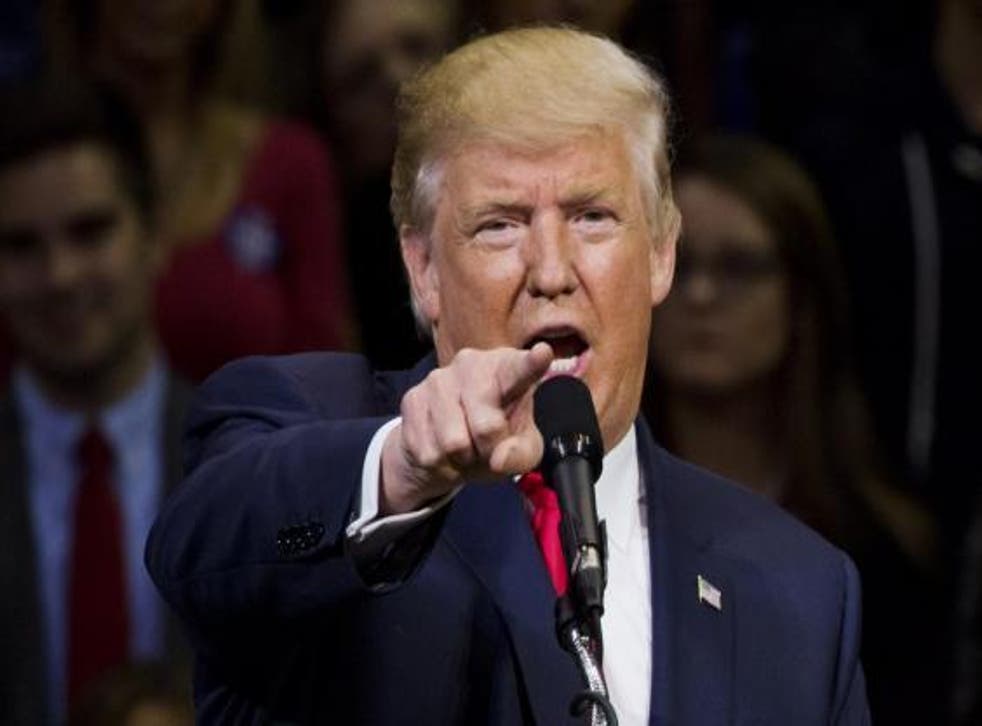 The Turkish President has told Donald Trump's opponents to stop calling the President-elect a "dictator" and respect the results of the US election.
Recep Tayyip Erdogan, who has himself been accused of dictatorial tendencies amid concern over a litany of human rights abuses reported in Turkey, said opponents were angry that the "plan failed".
Speaking to the Organisation for Islamic Cooperation in Ankara on Wednesday, he said: "In America they started calling Trump a dictator.
Turkey's President Erdogan defends government action
"In various countries of the Europe they spilled into the streets and started saying 'dictator.' Why aren't you respecting the results of the ballot box?
"This is the result that came out of the ballot box. Trump came out. Respect it."
Mr Trump's election sparked a wave of concern in Muslim-majority countries following his campaign pledge to put a temporary ban on Muslims entering the US.
But Mr Erdogan brushed off his new ally's anti-Islamic rhetoric, saying his "mistake will be corrected".
"We are used to such things in politics," the Turkish President added according to a translation by Hurriyet.
"Today one speaks this way, then this mistake is corrected. We should not be deceived here."
Mr Erdogan's show of support came after the EU's most senior Brexit negotiator named him as one of a "ring of autocrats" alongside Donald Trump and Vladimir Putin who were undermining Europe.
President Trump protests

Show all 20
"Not only do they like each other, they also have one thing in common," Guy Verhofstadt said during a debate on EU-Turkey relations on Tuesday.
"Bashing and destroying our way of thinking, our values, our European liberal democracy."
Mr Verhofstadt also warned of a "fifth column", active in Europe and made up of "cronies" of Mr Erdogan, Mr Putin and Mr Trump who he said were undermining Europe from within.
He described them as "old puppets of Putin and the new puppets of Trump" as he called on the continent to "fight back".
The UN is among the group's raising concern over the infringement of fundamental rights in Turkey following a failed coup, with its special rapporteur on freedom of opinion and expression warning of "draconian measures".
"The press, individuals online, artists, opposition voices and many others face unprecedented pressure, from censorship to outright detention," David Kaye said.
"I urge the Government to reverse this course and return to protecting and promoting the rights that all people in Turkey enjoy under their Constitution and international human rights law."
Mr Kaye said Turkish authorities had legitimate concerns but were launching "unjustified attacks" on lawyers, judges, journalists, artists, academics and activists that will undermine security in the long term.
Turkey remains in a state of emergency imposed in the wake of the attempted coup on 15 July, resulting in almost 37,000 people placed under arrest.
Mr Erdogan's government blames US-based cleric Fethullah Gülen's Hizmet movement for formenting the rebellion and has launched a crackdown on alleged sympathisers, but the group denies responsibility and humanitarian groups have raised concern over the use of expanded powers to target opposition politicians.
Ten MPs from the country's main pro-Kurdish party were arrested earlier this month, as well as nine staff from the opposition Cumhuriyet newspaper.
Critics say its scope goes far beyond measures against the suspected coup plotters and is targeting any critic of President Erdogan.
According to the Platform for Independent Journalism website, there are now 145 journalists behind bars in Turkey, which is ranked 151st of 180 countries in the 2016 World Press Freedom index published by Reporters Without Borders.
Additional reporting by AP
Join our new commenting forum
Join thought-provoking conversations, follow other Independent readers and see their replies