Donald Trump: Las Vegas shooter Stephen Paddock was 'probably smart'
President praises intelligence of Vegas killer and criticises abilities of San Juan mayor in new interview with Christian TV network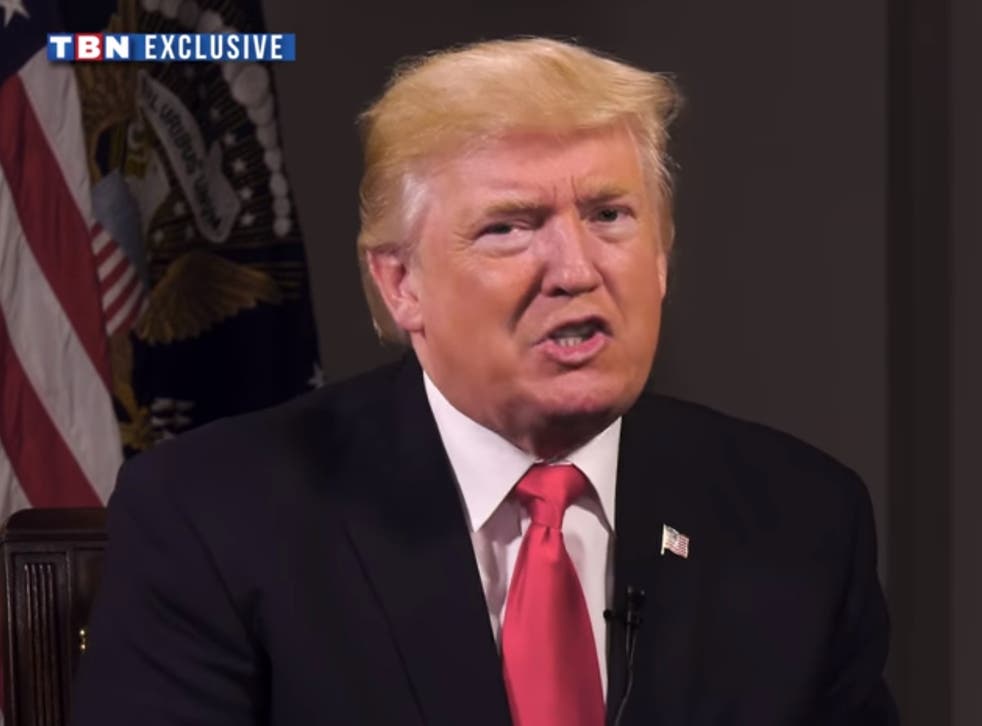 Donald Trump has praised the intelligence of mass murderer Stephen Paddock, as authorities continue their investigations into the motives and background of the Las Vegas gunman.
The President said Paddock was "probably smart" because he set up cameras outside his hotel room, which investigators believe allowed him to observe police and security personnel approaching the suite as he carried out the massacre.
Paddock shot at a crowd of music fans from the window of his room on the 32nd floor of the Mandalay Bay Hotel, killing 58 people and injuring hundreds more.
"This was a sick person — but probably smart and he had cameras, but [police] got there so quickly and they really did," Mr Trump said during an interview with Christian television channel Trinity Broadcasting.
The US President repeatedly described the Las Vegas killer as "sick" and "demented", long before police commented on his mental health.
Critics pointed out that while Mr Trump compliment the killer's abilities during the interview with the Christian broadcaster, he insulted those of the mayor of San Juan, Carmen Yulín Cruz, saying she was "not very capable".
He said: "We have the mayor of San Juan, Puerto Rico, who didn't attend meetings, who didn't work with FEMA, who really did not do a very good job — in fact, did a very poor job.
"And she was the lone voice that we saw — and of course that's the only voice the media wanted to talk to, and she's running for governor, big surprise."
Mr Trump has been embroiled in a row with the mayor after she criticised the Trump administration's response to Hurricane Maria, which devastated the US territory's infrastructure, leaving 95 per cent of the island without power.
Donald Trump's least presidential moments so far...

Show all 30
On a visit to Puerto Rico in the wake of the disaster, Mr Trump was accused of insulting hurricane victims by throwing provisions, including rolls of kitchen towel, at them.
Mr Trump defended his actions to Trinity Broadcasting interviewer Mike Huckabee, whose daughter Sarah Huckabee Sanders works as the President's press secretary.
"They had these beautiful, soft towels. Very good towels," he said.
"And I came in and there was a crowd of a lot of people. And they were screaming and they were loving everything. I was having fun, they were having fun. They said, 'Throw them to me, throw them to me, Mr President.
"So next day they said, 'Oh it was so disrespectful to the people.' It was just a made-up thing. And also when I walked in, the cheering was incredible."
Mr Trump condemned journalists who covered the event, calling them "fake".
Join our new commenting forum
Join thought-provoking conversations, follow other Independent readers and see their replies