Ebola in Texas: Nurses treated disease victim 'without proper protective gear' in hospital where hazardous waste was 'piled to ceiling'
But a Texas Health Presbyterian hospital official said they had not been alerted to complaints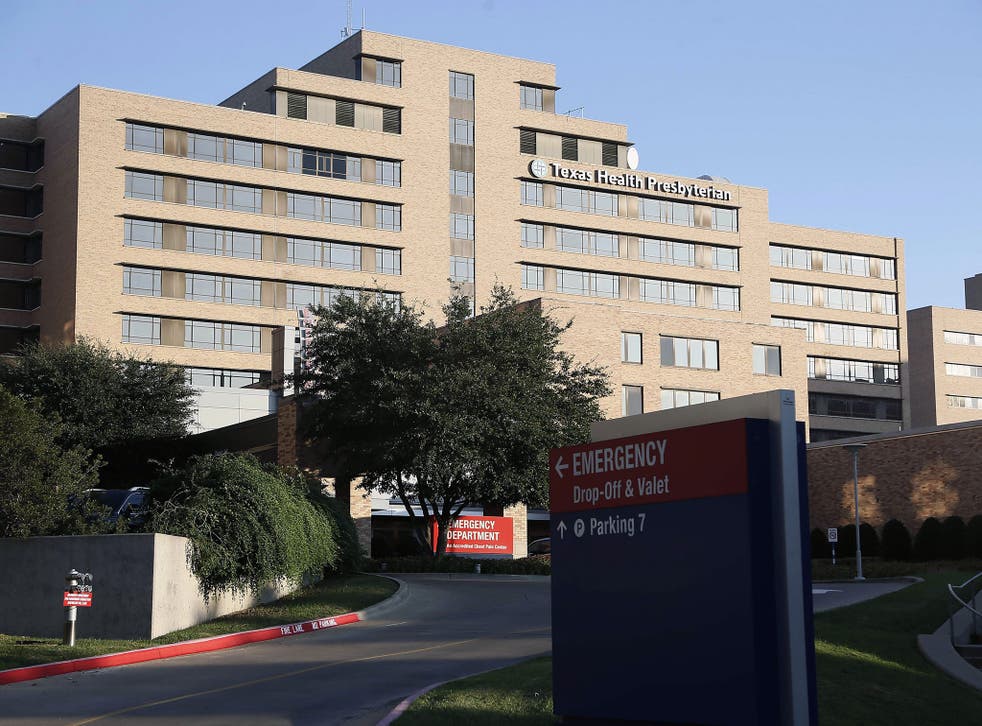 Nurses at a Texas hospital caring for a patient with Ebola have described chaotic scenes at the ward where he was treated, with hazardous waste "piled up to the ceiling" and staff forced to work without proper protective gear.
A statement from nurses at the Texas Health Presbyterian Hospital read by the National Nurses United (NNU) said those caring for Ebola victim Thomas Duncan were forced to use medical tape to secure openings in their flimsy garments.
They were particularly worried that their necks and heads were exposed as they cared for a patient with explosive diarrhoea and projectile vomiting, Deborah Burger, the co-president of the NNU claimed.
Some of the nurses caring for Mr Duncan were allegedly also caring for other patients in the hospital.
Ms Burger spoke after convening a conference call with reporters to relay what she said were concerns raised by nurses who looked after Mr Duncan at the Dallas hospital.
RoseAnn DeMoro, executive director of Nurses United, said the statement came from "several" nurses, but refused to state how many. She said the organisation had vetted the claims.
In pictures: Ebola virus

Show all 62
The allegations come after health care worker Nina Pham tested positive for Ebola on Sunday. She had been in close contact with Mr Duncan while treating him before his death last Wednesday.
A second health care worker who was also treating Mr Duncan at the hospital tested positive for the virus on Tuesday evening, and was named today as 29-year-old Amber Joy Vinson.
Ms Burger said nurses claimed Mr Duncan was left for several hours "not in isolation, in an area where other patients were present," after being admitted into hospital. Up to seven other patients were alleged to have also been in the same area.
"There was no one to pick up hazardous waste as it piled to the ceiling," Ms Burger was quoted by CNN as saying. "They did not have access to proper supplies."
The nurses also alleged Mr Duncan's lab samples were allowed to travel through the hospital's pneumatic tubes, opening the possibility of contaminating the specimen delivery system.
"The protocols that should have been in place in Dallas were not in place, and that those protocols are not in place anywhere in the United States as far as we can tell," Ms DeMoro said on Tuesday night. "We're deeply alarmed."
Wendell Watson, a Presbyterian spokesman, did not respond to specific claims by the nurses but said the hospital had not received similar complaints.
"Patient and employee safety is our greatest priority and we take compliance very seriously," he said in a statement. "We have numerous measures in place to provide a safe working environment, including mandatory annual training and a 24/7 hotline and other mechanisms that allow for anonymous reporting."
Join our new commenting forum
Join thought-provoking conversations, follow other Independent readers and see their replies