One million people do it every year. But after the tummy tuck murders, how safe is it to seek healthcare in Mexico?
The killing of two US citizens on their way to a Mexican clinic is a stark warning for the nearly one million Americans who cross the border for medical care each year, Io Dodds reports
Thursday 09 March 2023 12:07 GMT
Comments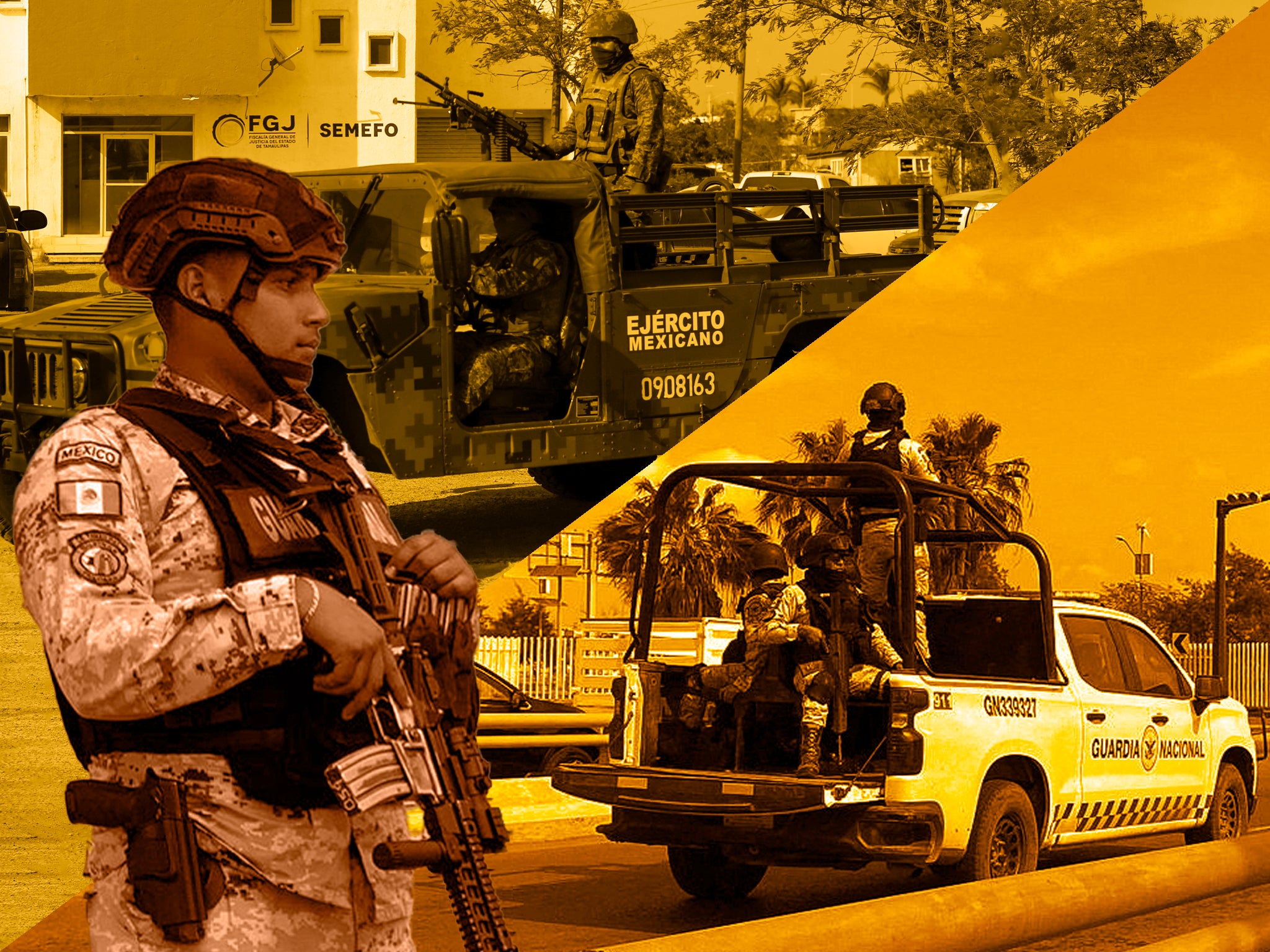 "Ma, I'll be okay." That was what 33-year-old Latavia "Tay" Washington McGee told her mother on Wednesday 1 March before setting off on the roughly 1,500 mile journey to Mexico to visit a medical clinic.
Two days later, Washington McGee and the three friends accompanying her were ambushed and kidnapped in the border town of Matamoros by gunmen believed to be part of a Mexican criminal cartel.
The trip ended in tragedy, with one Mexican bystander and two of the Americans killed while Washington McGee and the other survivor were returned safely to the US. Mexican police have arrested at least one suspect who allegedly surveilled the victims before the attack.
It is a stark warning to the early one million Americans who are estimated to visit Mexico for medical care every year, often in border towns where violence between rival cartels is particularly dire.
"There has been increased violence in the last several months," Ken Bombace, a former US military intelligence officer who now provides bodyguards for travellers, tells The Independent.
"The unstable situation with migration and fentanyl transport at the border has created a very dangerous environment... I would avoid travel to Mexico right now if it can in any way be avoided – especially in the north."
The kidnappings come after a string of other incidents in which foreign travellers were killed or tangled up in conflict between rival gangs, as well as a far greater number of murders and "disappearances" targeting Mexican civilians.
Experts say that specific areas of Mexico remain broadly safe for tourists, with popular travel spots such as Yucatán state, Mexico City, and the city of Monterey posing little danger while states with a heavy cartel presence such as Sinaloa and Jalisco are best avoided.
The US State Department currently warns Americans not to travel to Matamoros and its surrounding state of Tamaulipas due to "crime and kidnapping", with all but one other border state classified as "reconsider travel".
But that may not be so easy for travellers visiting a specific medical clinic, especially if their reason for doing so in the first place is because they can't afford healthcare in the US.
"It's economics," University of Texas immigration professor Néstor Rodriguez told BBC News. "Medicines and services are cheaper in Mexico, especially dental procedures. You can get your teeth cleaned or an implant for a fraction of the cost of what you get in the US."
So how safe is Mexico today for tourists, including so-called medical tourists?
A formerly calm border city consumed by cartel civil wars
Shortly after crossing the border on Friday 3 March, Washington McGee called her mother Barbara Burgess to say she and her friends were 15 minutes away from her clinic.
Burgess, 54, told ABC News that her daughter had travelled from their home in Myrtle Beach, South Carolina to get a tummy tuck in Mexico, her second such trip. She was joined by her cousin Shaeed Woodard and friends Zindell Brown and Eric Williams.
What happened next is unclear, but a family friend told CNN that the group had got lost and contacted their clinic asking for directions. Not long afterwards, a gunman opened fire on their vehicle, and they were subsequently removed and loaded into a truck by armed men in body armour.
US investigators reportedly believe that gangsters mistook Washington McGee and her friends, who are Black, for Haitian drug smugglers.
Such incidents are all too common in Tamaulipas, where the US State Department says criminal gangs often stop cars and buses to capture the passengers and demand ransom payments.
"Heavily armed members of criminal groups often patrol areas of the state and operate with impunity particularly along the border region from Reynosa to Nuevo Laredo," says the State Department. "In these areas, local law enforcement has limited capacity to respond to incidents of crime."
According to José Andrés Sumano Rodríguez, a Mexican professor specialising in border violence at the College of the Northern Border, these latest attackers are thought to be members of a criminal group known as the Scorpions, linked to the powerful but now splintered Gulf Cartel.
Once upon a time, Matamoros was relatively peaceful due to its domination by the Gulf Cartel, which allegedly infiltrated the Tamaulipas state government at a high level. Texan students would often visit the city for spring break blowouts, according to the Associated Press.
But the death of drug lord Samuel Flores Borrego in 2011 set off a power struggle between rival factions that continues to this day. More than 6,000 people have disappeared in the state of Tamaulipas, and mass graves have reportedly been found near a local beach called the Playa Bagdad.
Hence, the Scorpions regularly clash with two other Gulf splinter gangs, the Northeast Cartel and Los Metros, Andrés Sumano says. The main criminal industries are drug trafficking, human trafficking, and extortion.
"In Tamaulipas, you have an important fragmentation in organised crime groups... with a new government that seems like it's still a little bit confused and doesn't know exactly how to respond to this type of situation," he tells The Independent.
"Usually, more criminal competition with low state capacity will [lead to] higher violence and high crime, and this is what has happened in Tamaulipas."
Worse, Andrés Sumano says the election of a new state governor last year, which dislodged the existing protection agreements and other relationships between criminal gangs and local officials. The previous governor is in a long-running constitutional dispute with federal authorities over allegations of corruption.
Meanwhile, Bombace says that the arrest of Sinaloa Cartel capo Ovidio "The Mouse" Guzman Lopez, the son of notorious drug lord Joaquin "El Chapo" Guzman, has set off violent reprisals throughout the state of Sinaloa, with gunmen even opening fire on a passenger airliner at Culiacán International Airport.
A previous attempt at arresting Guzman Lopez failed in 2019 when when government troops were besieged and forced to flee by a massive cartel force. One of the officers involved was reportedly murdered the following month.
How safe are other parts of Mexico?
Ask Mexico's president Andrés Manuel López Obrador and he would tell you that Mexico is very much open for business. In 2021, responding to a series of attacks on foreign travellers, he formed a new "Tourist Security Battalion" comprising 1,445 officers from the National Guard military police force he created two years earlier.
In a televised phone call with Tamaulipas's new governor on Tuesday, Lopez Obrador said this latest tragedy will be seized by the American media to portray Mexico as a dangerous country, in stark contrast with their "silence when Mexicans are killed in the US".
During a press conference, he added: "We continue to work every day towards peace, and are very sorry that this has happened in our country."
Experts consulted by The Independent say that the danger to tourists differs sharply between Mexico's 32 states and federal jurisdictions.
"It's not everywhere. It's in very specific areas," Alejandro Hope, a security analyst and former member of Mexico's National Intelligence Centre, told The Independent last August after a recent week of violence along the US border.
"It's really highly unlikely that any tourist will face something like this, but still, the risk is there and will be there for a while."
Brad Bonnell, a forensic consultant and former head of global security for the Intercontinental Hotels Group, which owns the Intercontinental and Crown Plaza chains, likewise said last year that "lot of the fear is unreasonable fear, and a lot of the risks can be mitigated through intelligence".
Even Dan Howell, a travel agent in Cincinnati, Ohio who was forced to take shelter during a 2021 trip to Cancún when gunfire broke out between rival drug dealers, said he does not plan to stop visiting Mexico and that bookings for the so-called "Mayan Riviera" had not slowed down.
Bombace, who provides travel protection services through his company Global Threat Solutions, was more pessimistic, saying last year: "Until recently, my advice has been that I definitely wouldn't cancel my trip to Mexico because of reports of violence.
"However, it seems that the violence between cartels has been increasingly spilling into the areas most often visited by tourists... and tourists have even fallen victim to feuding gang members in areas that were often thought to be off limits to the cartels, such as hotels, resorts and restaurants."
What about visiting medical clinics in border states?
The situation is murkier for those visiting one of the many Mexican medical clinics that specialise in catering to foreigners, which are often located near the US border.
The Mexican Council for the Medical Tourism Industry estimates that almost one million Americans visit Mexico for healthcare every year. Prior to the pandemic, the health travel advocacy group Patients Beyond Borders gave a similar estimate of about 800,000 to one million American citizens per year, roughly 75 per cent of whom sought dental or cosmetic care.
There are also many undocumented Mexican immigrants who temporarily travel back home for medical procedures, the group added.
The reason is simple: cost savings of between 40 to 60 per cent, according to PBB. A knee replacement that costs $31,200 on average in the US can be reduced to an average $12,300 in Mexico, while a facelift drops from $10,350 to $5,300 and a nose job from $6,300 to $3,950.
Some Americans have crossed the border in search of insulin – an essential drug for people with type 1 diabetes that is sometimes unaffordable in the US even with health insurance. One such traveller told Kaiser Health News in 2019 that they had paid $600 in the border city of Tijuana for a supply that would have been $3,700 in Los Angeles.
In Tamaulipas, the roads leading south from the state's two main border crossings are lined with dentistry offices and hotels. For some border towns, foreign healthcare is a major industry.
"The Matamoros incident was an extreme rarity, one that I expected to see a long time ago," PBB's chief executive Josef Woodman tells The Independent. "I am so sorry for the survivors and their families – so much for anyone to have to endure.
"While there's nothing I can think of to prevent a freak [event] like this from happening to a medical traveler, there's plenty that patients can do to help ensure a rewarding outcome on an affordable procedure."
The group's most recent guidebook recommends that health travellers check goverment advisers before travelling and trust only "established travel service providers", ideally those that shuttle their patients directly to clinics from an airport or hotel.
Andrés Sumano says criminals in Mexico rarely target tourists deliberately because the risks far outweigh the benefits. "Usually, when [gangsters] see someone that isn't recognisable, or from other areas, or something strange, they stop the car and ask questions, trying to find out who they are and what they're doing there. It's not the natural thing to go and attack," he says.
"If by some accident they happen to kidnap an American citizen, the most probable thing is that they will take him to banks, have him take money out of his account, and let him free. They know the implications of doing more than that."
Even so, some US travellers now change their vehicle's licence plate to a Mexican one after they enter the country so as to avoid the kind of attention that Washington McGee and her friends inadvertently attracted.
"If you cross the border, you know to go directly to your destination," Néstor Rodriguez, the immigration professor, told BBC News. "I stopped going."
The State Department says those who do travel in unsafe areas should keep their family or friends back home informed at all times; share their GPS location and photos of any taxi licence plates if they travel alone; use toll roads where possible; avoid driving at night; be cautious in bars, nightclubs, and casinos; and display no signs of wealth such as expensive watches or jewelry.
Another option would be to choose a clinic in a major city in one of Mexico's safer states and to fly there rather than drive, if you can afford to do so.
Brad Bonnell also advises US citizens to register with the State Department's Smart Traveller Enrollment Programme (STEP), which sends out regular bulletins about safety risks in the area you're visiting and helps US embassies and consulates track and search for citizens who run into trouble.
"There is an unbelievable amount of information available to you about the risks, whether it's from disease, crime, threat of civil disturbances," he told The Independent last year. "You can have your own personal intelligence-led security strategy...
"It's incumbent upon us take some responsibility not to put ourselves in harm's way. Or if we have to go someplace where know there might be an element of risk, to take reasonable precautions to mitigate those risks."
Join our commenting forum
Join thought-provoking conversations, follow other Independent readers and see their replies