North Korea stand-off like Cuban missile crisis in slow motion, says John McCain
Comments from Arizona Senator come as President Donald Trump plays coy on the potential for military action against North Korea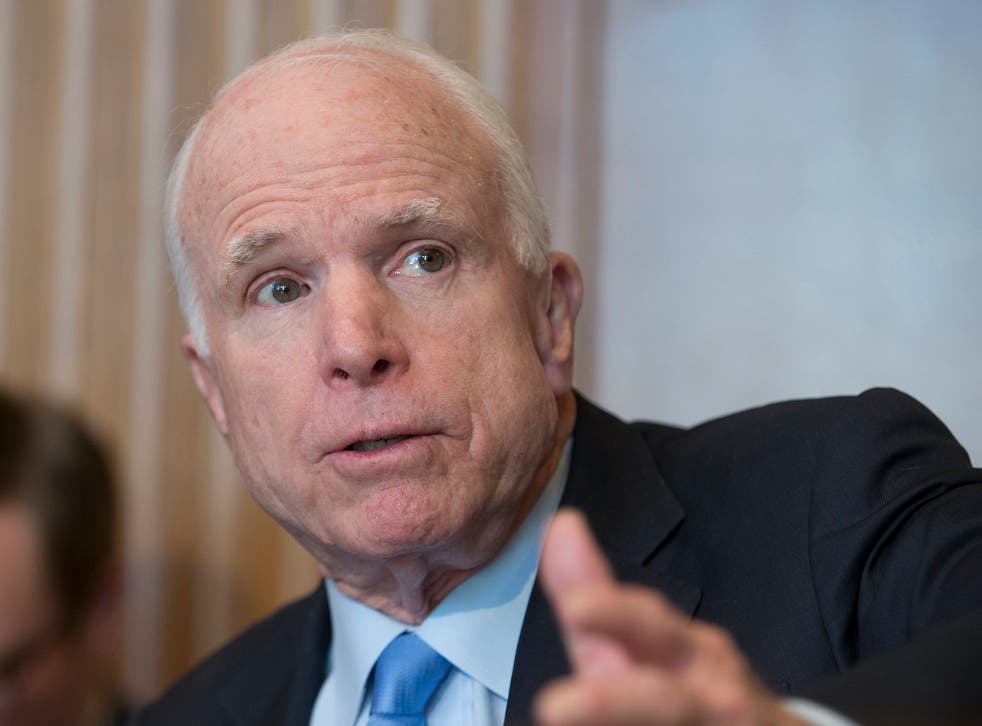 The stand-off between the US and North Korea could be "like a Cuban missile crisis in slow motion" according to Senator John McCain, with Donald Trump once again dancing around the subject of military action.
Mr McCain and Mr Trump were two of a number of politicians and Trump Administration officials to make appearances on US television on Sunday – a day after a North Korean mid-range ballistic missile apparently failed shortly after launch, the third test-fire failure in April.
That launch has been seen as a clear act of defiance, after weeks of rising tensions in the region over the threat posed by North Korea.
Ballistic missile tests by the country are banned by the United Nations because they're seen as part of the North's push for a nuclear-tipped missile that can eventually hit the US mainland. The threat of such missiles also has North Korea's regional neighbours, South Korea, China and Japan, on high alert.
Mr Trump – speaking in an interview with CBS programme Face the Nation - said that he believed China's President Xi Jinping, North Korea's major ally in the region, was putting pressure on the regime in Pyongyang, but was coy about the use of US military force against the country.
Mr Trump said that he did not say North Korean leader Kim Jong-Un should not test a missile, but that Mr Kim knows further such action would not make the US happy, or, he believes, Mr Xi either.
Asked if that means military action if it happens, Mr Trump responded: "I don't know. I mean, we'll see."
Asked about the failure of a number of the missile launches, Mr Trump also refused to give much away. He said he would "rather not discuss [the launches]. But perhaps they're just not very good missiles. But eventually, he'll have good missiles."
In pictures: North Korea military drill

Show all 8
Mr Trump also told the show he was not going to talk about US military options with North Korea because "we shouldn't be announcing all our moves. It is a chess game. I just don't want people to know what my thinking is. So eventually, he will have a better delivery system. And if that happens, we can't allow it to happen."
Turning his attention to Mr Kim, Mr Trump called the North Korean leader, "a pretty smart cookie" for being able to hold onto power after taking over at a young age. However, the President added: "People are saying, 'Is he sane?' I have no idea".
President Trump coy on possibility of military action against North Korea
In a nod to the fluctuating rhetoric of the President and his team – which has moved from bombast to varying degrees of caution – Mr McCain told CNN that it might be better at times to "watch what the President does, rather than what he says". Although he agreed that China was the "key" to averting conflict.
"China can put the brakes on this", Mr McCain said, because he does "not believe Kim Jong-un will do this by himself".
Asked if he thought Mr Trump was preparing a pre-emptive strike on North Korea, Mr McCain said: "I don't think so but, as somebody said, this could be a Cuban missile crisis in slow motion."
Speaking to Fox News, Mr Trump's national security adviser, Army Lt. Gen. HR McMaster, said North Korea's most recent missile test represents "open defiance of the international community". He says North Korea poses "a grave threat" not just to the United States and its Asian allies, but also to China.
Mr McMaster added that it was important "for all of us to confront this regime, this regime that is pursuing the weaponisation of a missile with a nuclear weapon. This is something that we know we cannot tolerate".
Mr McMaster said that Mr Trump "has made clear that he is going to resolve this issue one way or the other, and what we prefer to do is to work with others".
That means, he said, working with partners in the region and globally on enforcing current UN sanctions and perhaps "ratcheting up those sanctions even further. And it also means being prepared for military operations if necessary".
Mr Trump spoke with the leaders of Singapore and Thailand on Sunday, inviting both to the White House. Mr Trump also spoke to Philippines President Rodrigo Duterte about North Korea on Saturday, according White House Chief of Staff Reince Priebus, adding that Mr Trump was in regular contact with Japan's Prime Minister Shinzo Abe and that the president had become "very close" to Mr Xi.
Mr Priebus said the conversations were prompted by the "potential for nuclear and massive destruction in Asia" and eventually in the United States.
The North Korea missile launch comes after Mr Trump sent a nuclear-powered submarine and the USS Carl Vinson aircraft carrier to Korean waters.
John McCain calls Kim Jong Un 'a crazy fat kid'
The US and South Korea also started installing a missile defence system that is supposed to be partially operational within days and their two navies are also staging joint military drills.
The Terminal High-Altitude Area Defence system (THADD), remains a controversial topic in South Korea and presidential front-runner Moon Jae-in even has vowed to reconsider the deployment if he wins a presidential election next month.
Mr Trump raised eyebrows in South Korea last week when he said he would make Seoul pay $1bn for the missile defence system, but Seoul's presidential Blue House said on Sunday that the White House National had confirmed that the US will not be seeking money for the system.
Analysts say the missile apparently fired by North Korea on Friday was a KN-17, a new Scud-type missile developed by North Korea. The North fired the same type of missile on 16 April, just a day after a massive military parade where it showed off its expanding missile arsenal, but US officials called that launch a failure, just as another launch on 5 April was.
The two earlier launches were conducted from an eastern coastal area, but Friday's missile was fired in the west, from an area near Pukchang, just north of the capital, Pyongyang.
Join our new commenting forum
Join thought-provoking conversations, follow other Independent readers and see their replies