Donald Trump to 'spend personal fortune paying legal fees for aides' caught up in Russia probe
US leader continues to be plagued by allegations that Moscow meddled in the presidential election
Chris Baynes
Sunday 22 October 2017 14:47 Comments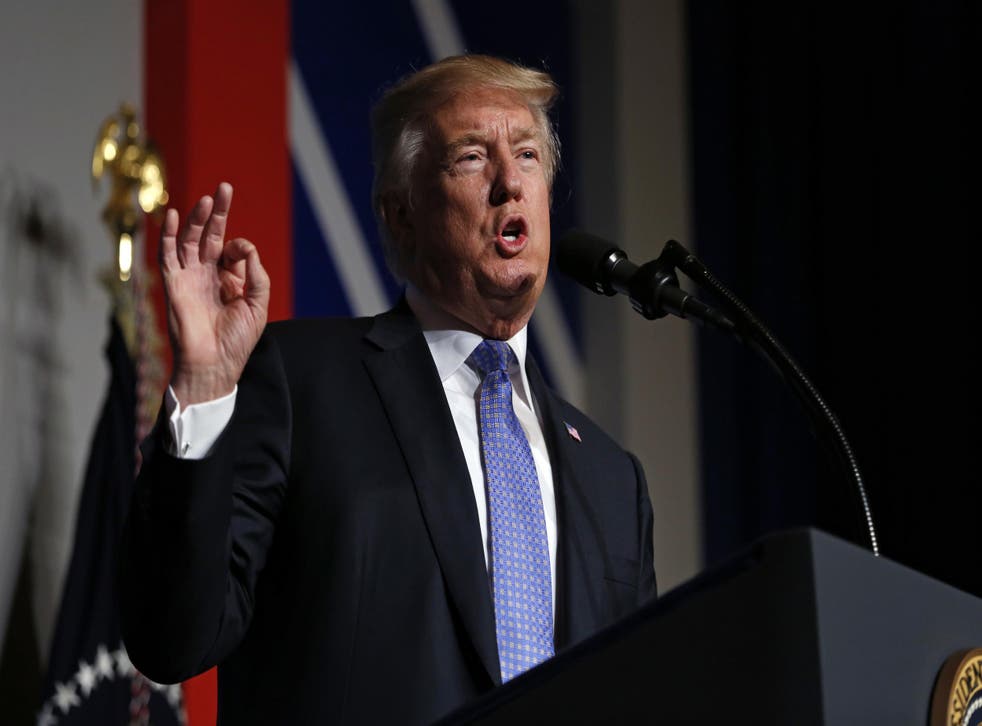 Donald Trump put almost $500,000 (£379,000) of his own money towards the legal bills of his administration staff and campaign aides who are embroiled in investigations into Russian meddling in the US presidential election.
The President has dismissed claims his campaign team may colluded with Moscow, but the an investigation into the allegations is being led by Special Counsel Robert Mueller.
It is unclear how the $460,000 (£348,000) will be accessed and who will be able to request it, but campaign aides' legal costs are expected be considerably more than half-a-million dollars.
Speaking on condition of anonymity, a White House offiicial told political news website Axios that the structure of the payouts was yet to be decided.
Mr Mueller's team has been interviewing current and former White House officials in their probe, and Trump campaign officials and others turned over tens of thousands of emails and documents to federal and congressional investigators.
One former campaign aide, Michael Caputo, has spoken publicly about the financial toll the legal bills have taken on his family, revealed he had been forced to empty out his children's university savings accounts.
The Republican National Committee (RNC) and the President's re-election campaign have been covering some of the costs, including payments to the law firm representing his eldest son.
Donald Trump Jr is set to be grilled by Mr Mueller's team over a 2016 meeting with a Kremlin-linked Russian who promised to dish up dirt on Hillary Clinton.
The President's son-in-law Jared Kushner and his then campaign chairman Paul Manafort also attended the meeting at Trump Tower in New York.
Mr Trump has reportedly promised to use his personal finances to match the $430,000 paid by the Republican National Committee towards Mr Trump Jnr's legal bills.
White House confirms Trump influenced his son's false statement regarding Russia meeting
The money will "defray the costs of legal fees for his associates, including former and current White House aides", an official said.
Mr Trump has repeatedly denied he colluded with Russia to win the election and has voiced scepticism about the conclusion by US intelligence agencies that Russia had a clear preference or his victory in the November 2016 election.
Last month Facebook said 10 million users saw adverts that ran on the company's social media platform last year that have been linked to a Russian internet agency which allegedly sought to influence the election.
Most of them did not name a presidential candidate but promoted divisive messages on issues such as immigration, gun control, and gay rights.
The continuing investigations and attention on the Russia allegations have infuriated Mr Trump, who claims the probes are an attempt to delegitimise his presidency.
"Crooked Hillary Clinton spent hundreds of millions of dollars more on Presidential Election than I did," he tweeted on Saturday. "Facebook was on her side, not mine!"
Norman Eisen, an ethics lawyer in Barack Obama's administration, said Mr Trump's pledge to spend his personal funds "raises substantial questions under federal criminal law and federal ethics law," including whether the money might be construed as part of an effort to glean more favourable testimony and whether current federal employees are allowed to accept such gifts.
"Whenever an individual who is the focus of an investigation, as President Trump is the focus of this investigation, offers anything of value to witnesses who may be able to affect the course of the investigation, that raises very serious questions on a variety of legal authorities," he said.
He said he would have hesitated to recommend such an offer and warned it would likely draw prosecutorial scrutiny.
Last month the US government ethics watchdog was accused of quietly scrapping a policy that banned lobbyists from making anonymous donations towards the legal bills of White House staff.
The Office of Government Ethics (OGE) appeared to have reversed a revision to guidance which prohibited government employees accepting contributions to legal funds from unnamed donors.
A legal defence fund has reportedly been set up for Trump aides likely to face questioning in the investigation into Russian interference in last year's election.
Register for free to continue reading
Registration is a free and easy way to support our truly independent journalism
By registering, you will also enjoy limited access to Premium articles, exclusive newsletters, commenting, and virtual events with our leading journalists
Already have an account? sign in
Join our new commenting forum
Join thought-provoking conversations, follow other Independent readers and see their replies