Donald Trump issues unprecedented threat to stop his entire administration talking to the press
The president made the threat in a morning tweet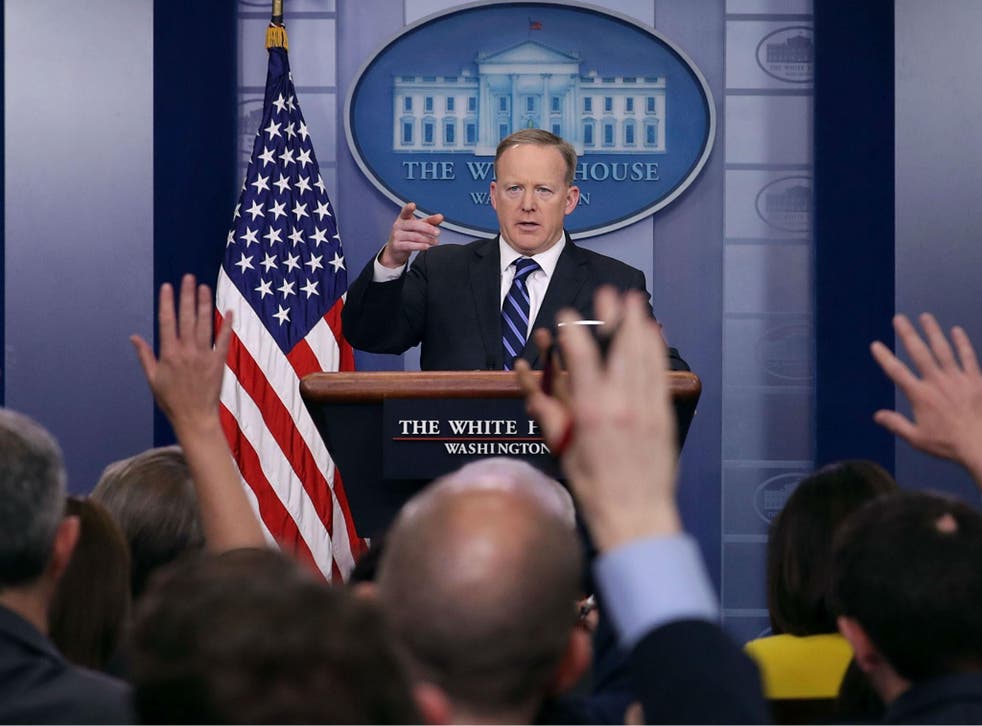 Donald Trump has made an unprecedented threat to cancel all future press briefings and only issue written statements, after his administration was criticised for shifting its story about the firing of FBI Director James Comey.
In an early morning tweet that came after a barrage of criticism for the way the White House had repeatedly changed the details of its story over the axing of Mr Comey, the president said that because of his busy schedule and with lots of things happening, it was not "possible for my surrogates to stand at podium with perfect accuracy".
He then tweeted: "Maybe the best thing to do would be to cancel all future "press briefings" and hand out written responses for the sake of accuracy???
Mr Trump's taunt will likely be criticised by media organisations around the world. The president has already been condemned for his relationship with the media, both in terms of the questionable accuracy of statements made by the White House, and his repeated criticism of the "fake news" he claims is written about him the press. His senior advisor, Stephen Bannon, has referred to the media as "the opposition".
And while Mr Trump has given frequent interviews to the media, he has been criticised for what many consider his contempt to the tradition of the White House press corps. On several occasions, he has been criticised for not informing the press corps or his movements, or of limiting access.
Just this week, the US media was angry about being kept out of a meeting between Mr Trump and the Russian foreign minister, while admitting a Russian photographer into the room where they were meeting.
Donald Trump says James Comey told him multiple times he was not under investigation
Earlier, Mr Trump's press secretary, Sean Spicer, was criticised for holding a press briefing to which only selected media organisations were invited. When the Associated Press learned that not every outlet had permission to attend, its reporter boycotted the event in a display of journalistic solidarity.
Mr Trump's tweet came after he personally contradicting previous explanations provided by his White House over the sequence of events that led to the firing of Mr Comey.
Initially, a succession of officials, including Vice President Mike Pence, said Mr Trump took the decision after acting of the recommendation of Deputy Attorney General Rod Rosenstein and Attorney General Jeff Sessions.
But in an interview with NBC, Mr Trump said he had made up his mind to fire the FBI Director before obtaining memos from the two senior officials i the Justice Department. Indeed, as it became clear that the documents had been hastily put together to create cover for Mr Trump, Mr Rosenstein reportedly threatened to resign.
The biggest names involved in the Trump-Russia investigation

Show all 17
"Regardless of recommendation, I was going to fire Comey," Mr Trump said, referring to the ousted law enforcement official as a "showboat" and a "grandstander".
"The FBI has been in turmoil," Mr Trump claimed. "You know that, I know that, everyone knows that."
Mr Trump also claimed in the interview that he had asked Mr Comey directly if he was under investigation personally as part of the bureau's investigation into possible collusion between the Trump campaign and Russia's alleged effort to influence the 2016 presidential election.
"I said, 'If it's possible, would you let me know, am I under investigation?' He said you are not under investigation," Mr Trump said. He said the discussions happened in two phone calls and at a dinner in which Mr Comey was asking to keep his job.
Mr Comey has not confirmed Mr Trump's account of the events. The New York Times cited two unnamed associates of Mr Comey who recounted his tale of a January dinner with the president in which Mr Trump asked for a pledge of loyalty.
Mr Comey declined, apparently, instead offering "honesty". When Mr Trump then pressed for "honest loyalty", Mr Comey told the president: "You will have that."
White House spokeswoman Sarah Huckabee Sanders disputed the report and said the president would "never even suggest the expectation of personal loyalty".
In another tweet, Mr Trump appeared to threaten Mr Comey not to speak to the media. He said: "James Comey better hope that there are no 'tapes' of our conversations before he starts leaking to the press!"
Join our new commenting forum
Join thought-provoking conversations, follow other Independent readers and see their replies