Rex Tillerson criticised for going 'missing in action' over low profile release of human rights report
Journalists asking about the document were directed to an anonymous phone interview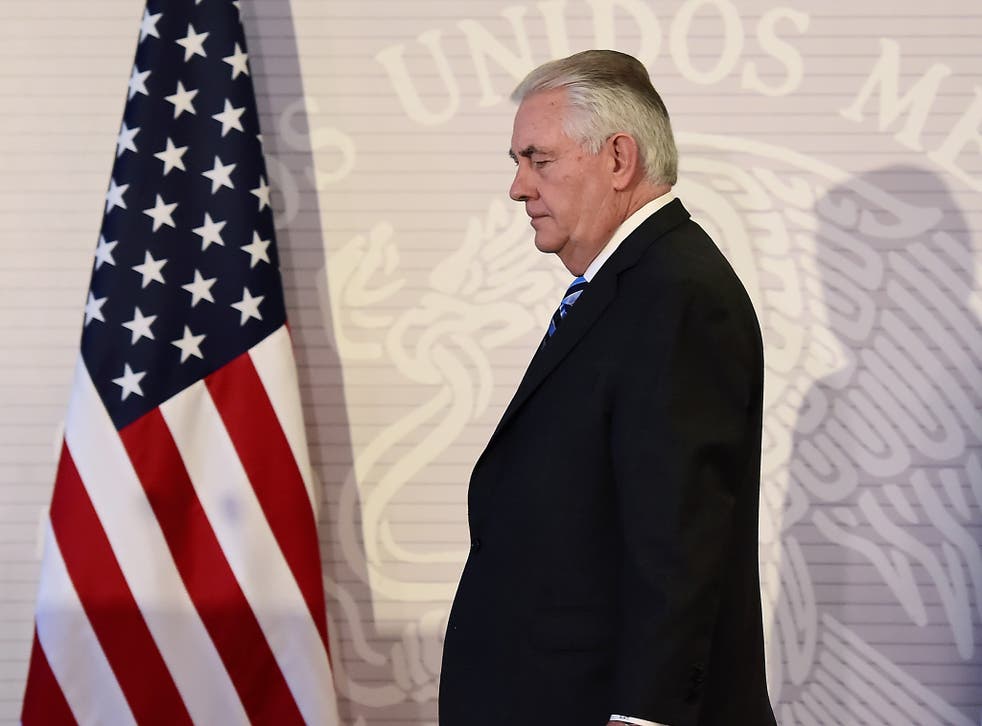 US Secretary of State Rex Tillerson has been accused of going "missing in action" after the low key release of the department's annual human rights report.
The publication of the report, which is written by overseas diplomatic staff and details human rights abuses around the world, is usually a high profile event in the advocacy calendar.
An occasion normally accompanied by TV appearances by the Secretary of State was instead marked to reporters speaking with an anonymous official by phone.
Rodrigo Duterte says he 'doesn't give a s*** about human rights' as 3,500 killed in war on drugs
The occasion was slammed by critics, who said the State Department risked been seen by human rights abusers as "silent on repression, abuse, and exploitation."
Mr Tillerson made no public appearance at all, not did any of his representatives – unlike the last two administrations.
By phone, the official told Reuters: "The report speaks for itself. We're very, very proud of it. The facts should really be the story here."
Mr Tillerson has maintained a low profile since his confirmation, rarely appearing in public, and has apparently avoided much of the scandal that has engulfed much of the administration.
In the introduction to the report, he wrote: "Our values are our interests when it comes to human rights… [the report] underscores our commitment to freedom, democracy, and the human rights guaranteed to all individuals around the world."
The report does not hold back from its content, extensively critiquing the human rights records of countries such as the Philippines, Russia and Turkey.
But human rights advocates criticised Mr Tillerson for his non-appearance.
Tom Malinowski, assistant secretary for human rights under the previous administration, said in a Tweet that the Secretary was "Missing In Action."
He also retweeted a message from Senator Marco Rubio, who said before the report was released he hoped the State Department's head would "reconsider" not presenting it.
Leading NGO Human Rights Watch (HRW) also reacted to the news. "Trump's anti-Muslim refugee policy and hinted cuts to foreign aid have heightened concerns that the US won't be a vocal player on human rights issues abroad," said Sarah Margon, Washington Director at HRW.
She added: "Secretary Tillerson's absence from the State Department's annual human rights report release reinforces the message to governments, rights activists and at-risk minorities that the State Department might also be silent on repression, abuse, and exploitation."
On Twitter, Kenneth Roth, HRW's executive director, said Mr Tillerson "feared" discussing human rights.
Human rights attacks around the world

Show all 10
And Rob Berschinski, senior vice president for policy at Human Rights First, said: "It's just signalling a lack of basic interest and understanding in how support for human rights reflects what's best about America."
Mr Tillerson, until recently chief executive of ExxonMobil, the largest oil company in the world, has also snubbed a request for a UN meeting over climate change.
Register for free to continue reading
Registration is a free and easy way to support our truly independent journalism
By registering, you will also enjoy limited access to Premium articles, exclusive newsletters, commenting, and virtual events with our leading journalists
Already have an account? sign in
Register for free to continue reading
Registration is a free and easy way to support our truly independent journalism
By registering, you will also enjoy limited access to Premium articles, exclusive newsletters, commenting, and virtual events with our leading journalists
Already have an account? sign in
Join our new commenting forum
Join thought-provoking conversations, follow other Independent readers and see their replies