Up in arms: Western military exports surge as Chinese and Russian sales subside
The biggest customers include Gulf states and Asian nations such as India and Pakistan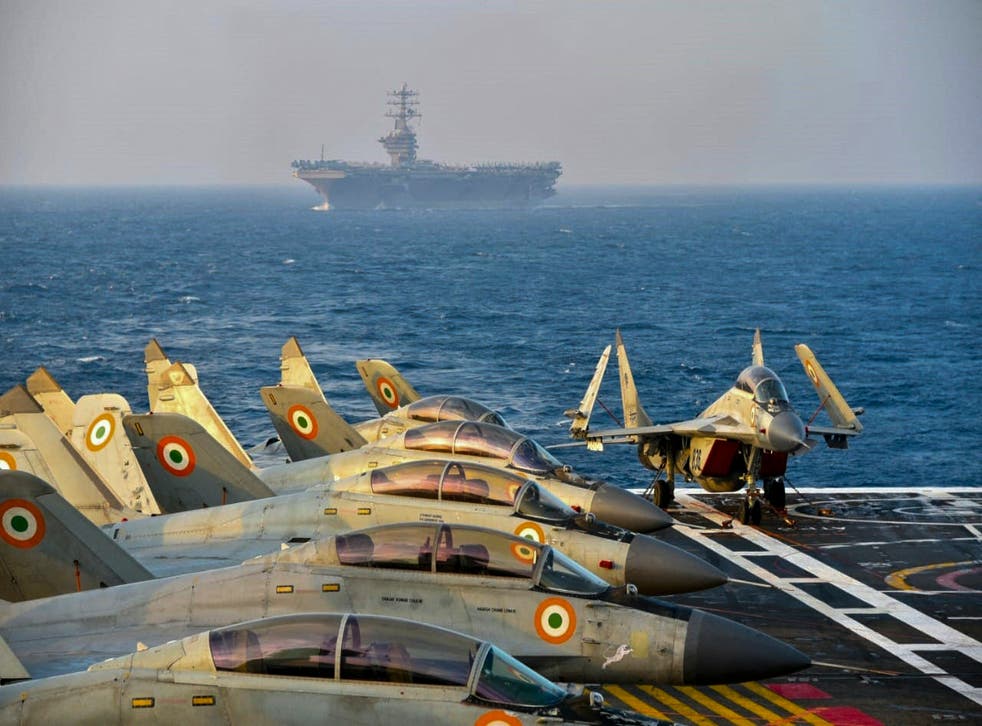 Exports of weapons of war by Western and European democracies - who pride themselves on their adherence to international norms and commitments to peace - surged over the last five years even as sales by the authoritarian nations they frequently decry plunged, according to a report issued on Monday tracking global arms transfers.
A study by the Stockholm International Peace Research Institute (SIPRI) showed overall arms exports over the last five years remained flat, with declines in the sales of weapons by Russia and China offset by rising exports from the United States, France and Germany.
"It's surprising that the countries that are the ones boasting that they are following and setting international laws and norms are the ones that are the biggest exporters," said Siemon Wezeman, a researcher focusing on arms and military expenditures at SIPRI.
America remains the world's number one exporter, and sales of its fighter jets, tanks and weapons systems jumped 15 per cent over between 2016 and 2020, compared to the previous five years. United Kingdom arms exports abroad stagnated 27 per cent during the same period, with less demand for its fighter jets amid competition from the US, France and upstart challengers such as South Korea.
The Arab dictatorships of the Middle East are the world's fastest growing importers of weapons, with imports jumping 25 per cent in the last five years compared to the previous period.
Read more:
But arms imports to Asia and Oceania make up the lion's share of international weapons sales, with 42 per cent of all arms exports pouring into the increasingly tense Pacific region, where India, Australia, China, Korea and Pakistan were the biggest importers, and Japanese imports jumped 124 per cent between in the last five years compared to the previous half decade.
SIPRI's study does not identify monetary flows but examines volumes of equipment, using its own system to assign value for each piece of war machinery.
In both the Middle East and Far East Asia, as well as a Europe increasingly sensing the threat of a resurgent Russia, a lack of arms control mechanisms, insecurity and escalating weapons envy are fuelling arms purchases. Even though sales have been flat over the last decade, the arms trade remains at its highest levels since the Cold War.
"That tells you how unsafe countries feel," said Mr Wezeman. "And in many places there is no proper mechanism where you can discuss what you're seeing your neighbour doing in a normal way. Arms control is not really something on the minds of leaders."
The export of weapons has become so lucrative that more and more smaller countries are getting into the business. South Korea and Israel both saw significant expansions of their arms exports.
All nations describe their military imports as defensive, but arms races can also lead to wars.
Both Armenia and Azerbaijan steadily built up their military capabilities through imports largely from Russia and Israel over the last five years ahead of a weeks-long autumn war that changed the balance of power in the Caucasus region.
Register for free to continue reading
Registration is a free and easy way to support our truly independent journalism
By registering, you will also enjoy limited access to Premium articles, exclusive newsletters, commenting, and virtual events with our leading journalists
Already have an account? sign in
Register for free to continue reading
Registration is a free and easy way to support our truly independent journalism
By registering, you will also enjoy limited access to Premium articles, exclusive newsletters, commenting, and virtual events with our leading journalists
Already have an account? sign in
Join our new commenting forum
Join thought-provoking conversations, follow other Independent readers and see their replies