China state newspaper warns Donald Trump over Taiwan: 'Pride comes before a fall'
'This inexperienced President-elect probably has no knowledge of what he's talking about.. If Trump wants to play tough, China will not fail'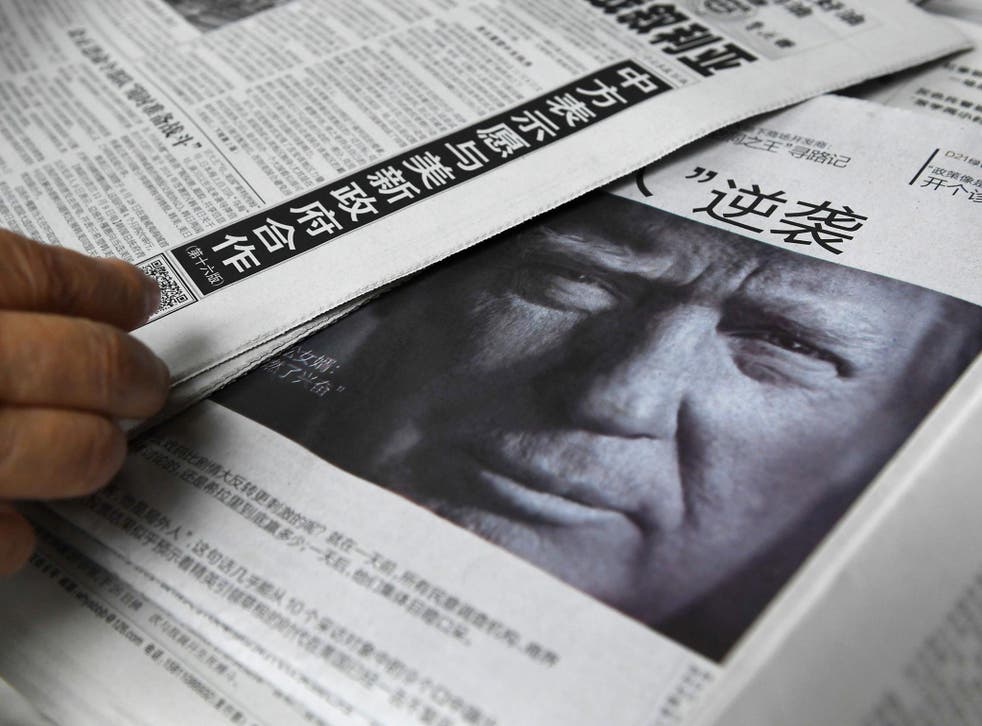 A Chinese state-run newspaper has launched an unprecedented attack on Donald Trump, accusing the President-elect of having "no knowledge what he's talking about" while warning that "pride comes before a fall".
The Global Times published an editorial warning Mr Trump that China has "a whole raft of tools" to combat his economic and diplomatic threats in an "arm-wrestle" with the US, less than a week after accusing the President-elect of having tantrums following his controversial pohne call with the Taiwan leader.
At the start of December, Mr Trump risked fury from the Chinese government by conducting a 10-minute phone call with Taiwan's President Tsai Ing-wen, breaking with the established US policy of acknowledging Taiwan as part of "One China".
The newspaper said Mr Trump had demonstrated he "despises China strategically", before delivering a stern warning to the President-elect: "Pride goes before a fall". It added that China "must win respect from Trump's team" if relations were going to stabilise.
"The calculating businessman might feel shrewd about seizing China's fate by the throat through the Taiwan question," the piece read. "However, the truth is this inexperienced President-elect probably has no knowledge of what he's talking about."
"He has overestimated the US's capability of dominating the world and fails to understand the limitation of US powers in the current era...China is now confident enough to arm-wrestle with the US."
On Monday, the Chinese government said it was "seriously concerned" about Donald Trump's threat to change the US's stance on the recognition of Taiwan as an independent state.
"A series of outrageous remarks from Trump reflect that he despises China strategically," the editorial continued. "Pride goes before a fall. Even before entering the White House, he has already put his cards over blackmailing China on the table.
"If Trump wants to play tough, China will not fail. What reason do we have to accept a most unfair and humiliating deal from Trump?"
The newspaper suggested China should "start by severely punishing Taiwan independence forces" for seeking to cause trouble and reigniting an issue which has been contested since 1949.
Donald Trump's most controversial quotes

Show all 14
Experts in Beijing have suggested China could weaken its currency and create closer links with North Korea to hurt the US, in reaction to Mr Trump's "provocations", according to the New York Times.
Shortly after the phone call between Mr Trump and President Tsai, Chinese Foreign Minister Wan Yi sought to blame Taiwan for the exchange, perhaps to avoid a rift before Mr Trump assumes the presidency.
In an interview with Fox News, Mr Trump defended the conversation, saying: "I don't want China dictating to me. It was a very nice call. Short. And why should some other nation be able to say I can't take a call?"
Throughout presidential campaigning, Mr Trump was overtly critical of China and its alleged impact on US industry and policies. "We can't allow China to rape our country," the president-elect said at a campaign rally in May.
Register for free to continue reading
Registration is a free and easy way to support our truly independent journalism
By registering, you will also enjoy limited access to Premium articles, exclusive newsletters, commenting, and virtual events with our leading journalists
Already have an account? sign in
Register for free to continue reading
Registration is a free and easy way to support our truly independent journalism
By registering, you will also enjoy limited access to Premium articles, exclusive newsletters, commenting, and virtual events with our leading journalists
Already have an account? sign in
Join our new commenting forum
Join thought-provoking conversations, follow other Independent readers and see their replies