Chinese state media warns of 'US showdown' after Donald Trump picks anti-China trade adviser Peter Navarro
Choosing California professor 'no laughing matter', says China Daily
Harriet Agerholm
Friday 23 December 2016 19:53 Comments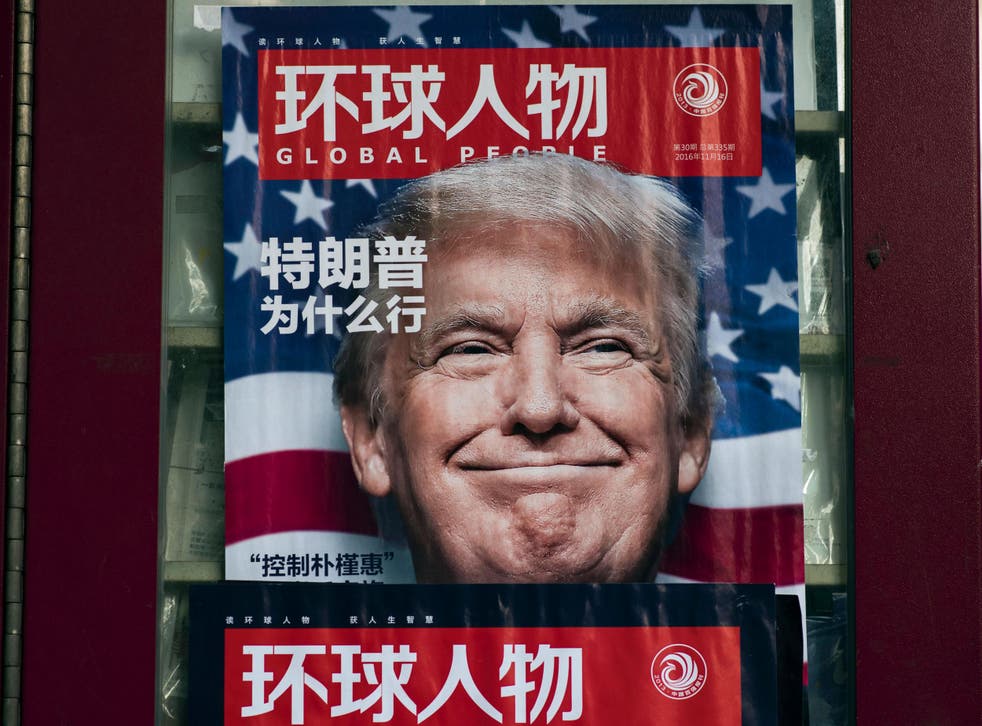 Chinese state media has warned of a "showdown with the US" after President-elect Donald Trump named a vociferously anti-China economist as his White House trade adviser.
Beijing's Ministry of Commerce has struck a more moderate tone and stressed that US-China trade benefits both nations — yet it warned the Trump administration against moves that would sour the relationship.
The choice of Peter Navarro – an academic and one-time investment adviser who has penned books such as "Death by China: How America Lost its Manufacturing Base" – as head of a new White House Trade Council has caused alarm among international observers.
"That individuals such as Navarro who have a bias against China are being picked to work in leading positions in the next administration, is no laughing matter," said the China Daily, a newspaper aimed at foreign readers.
"The new administration should bear in mind that with economic and trade ties between the world's two largest economies now the closest they have ever been, any move to damage the win-win relationship will only result in a loss for both sides."
The previous day, China's foreign ministry said in reaction it was playing close attention to Mr Trump's transition team and possible policy direction, that cooperation between the two countries was the only correct choice.
Mr Trump made trade a centrepiece of his presidential campaign and railed against what he said were bad deals the United States had made with other countries. He has threatened to hit Mexico and China with high tariffs once he takes office on 20 January 2017.
​Shen Danyang, a spokesman for the ministry of commerce, told a news briefing in Beijing on Friday that the US will continue to see mutual benefits from trade with China, and said the pattern of deepening cooperation between the two countries on trade will continue.
"Regardless of what changes happen in the US government-president, commerce secretary, trade representative-common interests (between the United States and China) are greater than differences," Mr Shen said.
But the United States needs to be careful not to repeat past mistakes, Mr Shen said.
"We oppose the idea of making others take medicine when oneself is sick. This has happened in the past and could happen in the future," Mr Shen said, without elaborating.
Tough trade measures against China are often met with retaliatory actions, including countervailing tariffs or fines against US companies in China.
World reaction to President Trump: In pictures

Show all 29
The Global Times, an influential tabloid published by the ruling Communist Party's official People's Daily, said Mr Trump's decision over Mr Navarro was "by no means a positive signal".
"China needs to face up to the reality that the Trump team maintains a hard-line attitude toward China. It must discard any illusions and make full preparations for any offensive move by the Trump government," the Global Times said in an editorial.
"China is powerful enough to withstand pressures from the Trump government. Beijing will get used to the tensions between the two countries.
"If Washington dares to provoke China over its core interests, Beijing won't fear setting up a showdown with the US, pressuring the latter to pay respect to China."
The Chinese state media has been sharply critical of Mr Trump in the past, saying the future leader has "no sense of how to lead a superpower".
Relations between the two countries have recently also been frayed after Mr Trump decided to speak to the Taiwanese president on the phone after his election, his open questioning of the One China policy and China's confiscation of a US drone.
Mr Navarro, a 67-year-old professor at University of California in Irvine, advised Mr Trump during the campaign.
As well as describing what he sees as America's losing economic war with China, Mr Navarro has highlighted concerns over environmental issues related to Chinese imports and the theft of US intellectual property.
Reuters
Register for free to continue reading
Registration is a free and easy way to support our truly independent journalism
By registering, you will also enjoy limited access to Premium articles, exclusive newsletters, commenting, and virtual events with our leading journalists
Already have an account? sign in
Join our new commenting forum
Join thought-provoking conversations, follow other Independent readers and see their replies