Kashmir crisis: Hospitals turning patients away as doctors fear 'impending tragedy'
Kashmir, which receives more than 90 per cent of its medical supplies from India, is facing an unprecedented shortage of drugs as a result of the lockdown and the "panic buying" of drugs.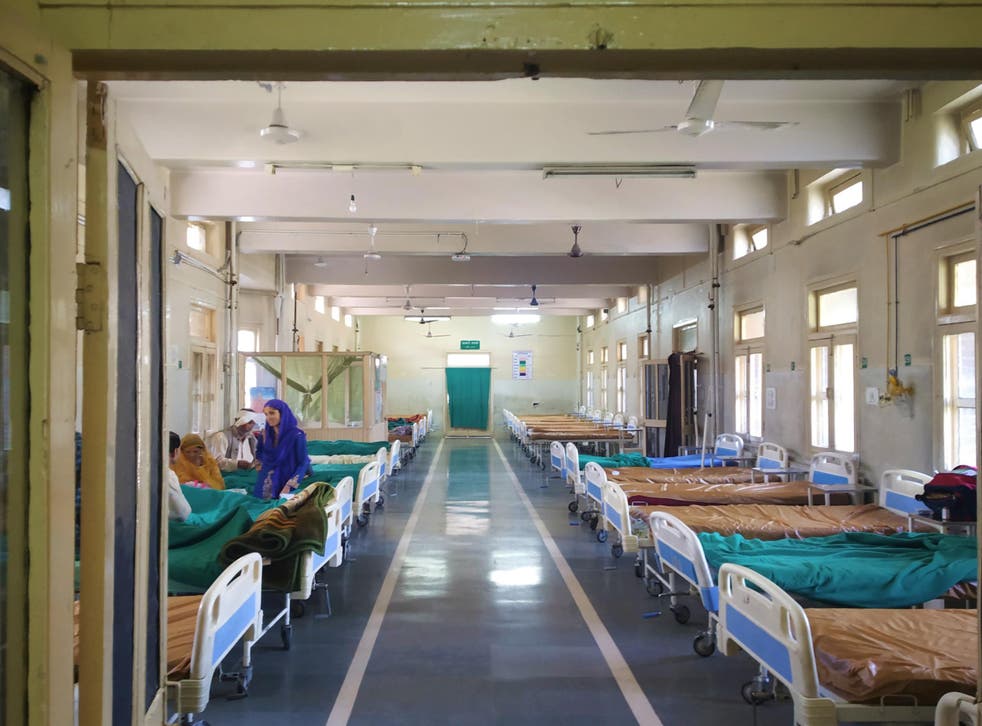 Kashmir is facing a major health crisis with medicine running out, patients being turned away from hospitals and people unable to call for ambulances amid the continued lockdown in the disputed territory.
Inside Kashmir's premier trauma centre, the Shri Maharaja Hari Singh (SMHS) hospital, few patients are waiting for their treatment with wards and beds left mostly empty.
Outside, those who were able to reach the hospital are being asked by doctors to come back only once the situation in Kashmir "returns to normal".
One official, who asked to remain anonymous, told The Independent that the number of surgeries performed on daily basis is down by 40 to 60 per cent in majority of the hospitals in Kashmir.
Doctors argue that the shift to focus on emergency services is to avert deaths, fearing mass casualties from ongoing protests against India's 5 August decision to revoke the territory's special status.
Grenade attack injures at least 18 in Kashmir: in pictures

Show all 10
Naseema Akhter, 62, writhes in pain in her home in south Kashmir's Bijbehara town.
She desperately needs immediate surgery to remove multiple stones detected in her gallbladder, but was turned away when she arrived at the hospital earlier this month after authorities decided to postpone her treatment.
"I am in severe pain and there is no way to get my surgery done. It is unethical. Doctors are not agreeing to operate until normalcy returns," Akhter tells The Independent.
Doctors instead prescribed pain relief medicines and asked her to return once the precarious political situation is resolved, Akhter says.
"We have been told to put the routine surgeries on hold as there are fears of people getting critical injuries if protests erupts against the 5 August decision," the official in the SMHS hospital tells The Independent.
"There is fear of unknown and impending tragedy that might strike Kashmir. We have to be fully prepared," says surgeon Dr Iqbal Salim.
Anticipating violence, Salim says they have moved staff from general operation theatres to casualty and emergency theatres, resulting in a delay in routine surgeries.
On average, the hospital was able to perform 20 routine surgeries a day, now they are unable to cover more than six, he says.
In northern Kasmir, Showkat Hussain, 12, is also unable to receive the surgery he needs to remove the hernia.
The hernia is causing lot of pain in Hussain, who often gets up during the night and cries, says Showkat's father, Shameem Ahmad ​Hussain.
"He cries all day and has frightful nights. It seems there is no way out to get him healed."
Hussain's surgery was booked for the second week of August, but he has also been asked by doctors to return once the crisis subsides in Kashmir.
Patients are also being sent home early after receiving primary treatment, leaving them vulnerable to infections.
Farooq Qureshi, 48, of Srinagar was hit by a pellet in his left eye when he was dropping his son at a tuition centre voluntarily started by teachers to teach the students during the lockdown.
"They send us home least concerned that we may lose our eyesight in an outside atmosphere infected with tear gas," he says.
Even in emergency cases, the blocking of phones means that many inside Kashmir are unable to call ambulances to take them to hospital.
Heavily pregnant Fahmeed Manzoor, from Kashmir's Baramulla district, was forced to walk part of the way to hospital until she could find a taxi after having contractions.
Kashmir, which receives more than 90 per cent of its medical supplies from India, is also now facing an unprecedented shortage of drugs as a result of the lockdown and has seen an increase in "panic buying".
"A patient who would usually buy medicines for one week has bought them for two months," Arshad Husain Bhat, the president of the Kashmir Chemist and Distributors Association tells The Independent.
"If the supplies are not restored within next few days, we have no option but to shut the chemist shops."
He says nearly 3,000 Srinagar capital-based distributors are unable to supply drugs to chemists in Kashmir because of the blockade, adding that the worst hit are diabetic, haemophilia and hypertensive drugs.
Register for free to continue reading
Registration is a free and easy way to support our truly independent journalism
By registering, you will also enjoy limited access to Premium articles, exclusive newsletters, commenting, and virtual events with our leading journalists
Already have an account? sign in
Register for free to continue reading
Registration is a free and easy way to support our truly independent journalism
By registering, you will also enjoy limited access to Premium articles, exclusive newsletters, commenting, and virtual events with our leading journalists
Already have an account? sign in
Join our new commenting forum
Join thought-provoking conversations, follow other Independent readers and see their replies