North Korea 'may be trying to restart nuclear reactor', US think-tank warns
Satellite images appear to show signs of activity at the Yongbyon reactor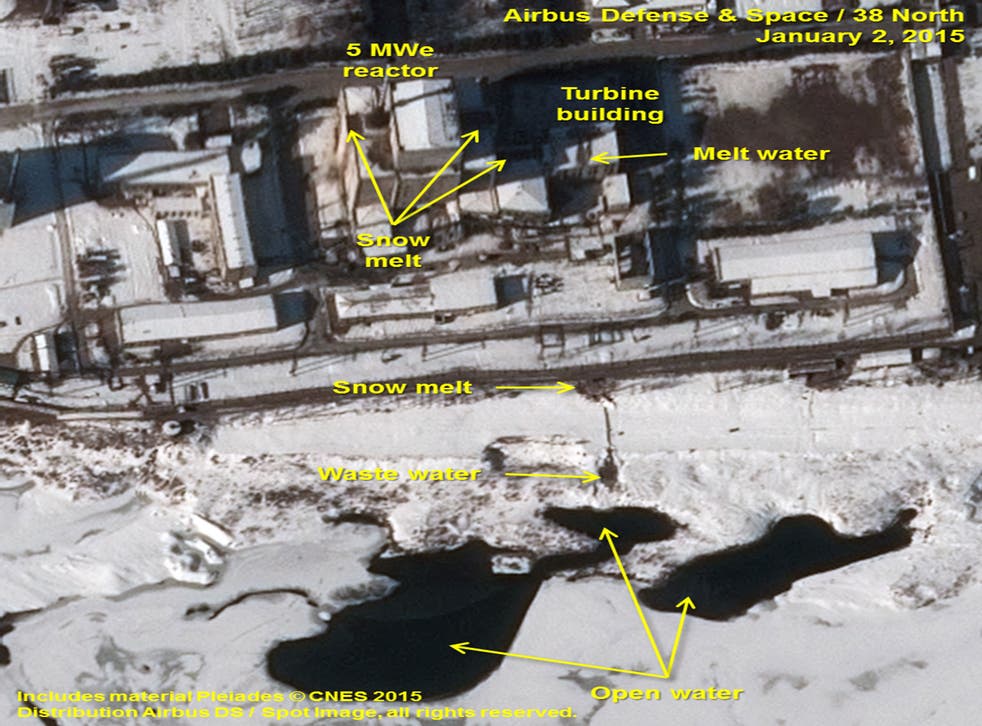 North Korea may be trying to restart a nuclear reactor capable of producing plutonium for atomic bombs, a US think-tank has warned.
Analysis by 38 North, a website run by the US-Korea Institute at the Johns Hopkins University in Washington, said that recent commercial satellite images showed steam coming from the Yongbyon plant and an increase in melted snow - indicative of 'new activity' following a five-month hiatus.
"One possibility is that the North is in the early stages of an effort to restart the reactor," the think-tank said.
But it added that as it had only been monitoring the changes over a period of a few weeks, it was "too soon to reach a definitive conclusion" on the apparent activity.
Images taken during December 2013 reportedly indicated foam at the end of turbine building's steam and wastewater drainpipe. However, recent images showed an absence of the foam, which could suggest that new piping has been installed, Reuters reported.
"Based on this limited activity it is not possible to assess when the ELWR will be tested and become operational," 38 North said.
"The project may be experiencing difficulties including any number of possibilities such as problems in producing fuel assemblies to addressing the requirement for an adequate water supply to cool the reactor."
The Yongbyon reactor, which has produced plutonium used in past nuclear test explosions, was shut down in 2007 under a disarmament agreement, but reopened in 2013.
It has not been used since August and images suggest that the reactor may have been partially or completely shut - possibly for maintenance, or to partially refuel the reactor's core.
In April 2013, North Korea announced that it would revive the research reactor, claiming it was seeking "deterrent capacity", Reuters reported.
But the move was highly criticised by the UN nuclear watchdog, the International Atomic Energy Agency.
Last November, reports also suggested that North Korea had started operating a new nuclear facility within the Yongbyon nuclear power plant in order to boost its production of uranium-enriched fuel for nuclear weapons.
Earlier this month, the South Korean defense ministry claimed that North Korea had achieved a "significant" level of technology to build mini nuclear devices that could be fitted on tip of a missile.
Yongybon can likely produce about one bomb's worth of plutonium per year, the Associated Press reported.
It comes at a time of increasing animosity over recent US sanctions and a UN push to punish North Korea's alleged human rights abuses.
North Korea has said it is willing to rejoin international nuclear disarmament talks last held in 2008, but Washington demands that it first take steps to show it remains committed to past nuclear pledges.
The US has also rejected a recent North Korean offer to impose a temporary moratorium on its nuclear tests if Washington scraps its annual military drills with Seoul.
Pyongyang claimed those drills are "invasion preparation", while the US called the linking of its "defensive and routine" military drills with a possible nuclear test "an implicit threat."
Diplomatic ties between the US and North Korea have also been tested following a number of cyber-hack attacks on Sony after the release of Hollywood movie The Interview, which depicts the assassination of North Korean leader Kim Jong Un.
The US, which blames the North for the attacks, subsequently imposed new sanctions on the country - but Pyongyang has denied responsibility.
Additional reporting by AP and Reuters
Register for free to continue reading
Registration is a free and easy way to support our truly independent journalism
By registering, you will also enjoy limited access to Premium articles, exclusive newsletters, commenting, and virtual events with our leading journalists
Already have an account? sign in
Register for free to continue reading
Registration is a free and easy way to support our truly independent journalism
By registering, you will also enjoy limited access to Premium articles, exclusive newsletters, commenting, and virtual events with our leading journalists
Already have an account? sign in
Join our new commenting forum
Join thought-provoking conversations, follow other Independent readers and see their replies