Ankara explosion: Timeline of bomb attacks in Turkey between 2015 and 2016
Turkey has been subject to an increasing number of attacks over the past 12 months
Kirsty Major
Wednesday 17 February 2016 20:14 Comments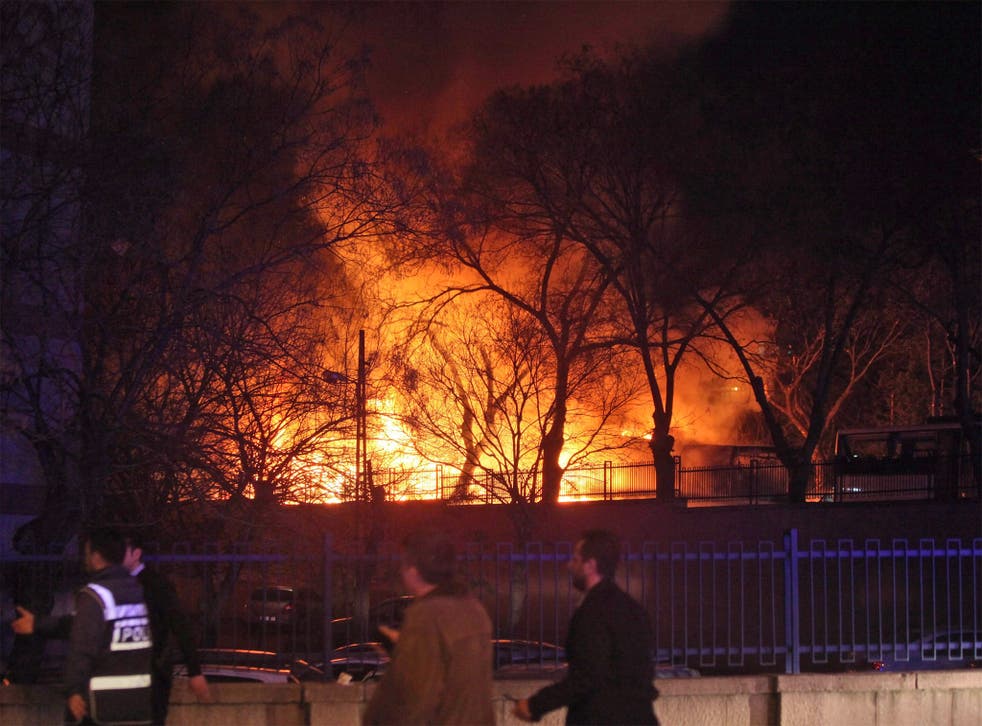 At least 18 people have been killed and dozens injured after a suspected car bomb exploded in Turkey's capital Ankara, near the country's parliament building.
The explosion follows an increasing number of attacks in the region over the last year,
12 January 2016
10 people were killed and 15 injured, including German tourists, in a suicide bomb attack in Istanbul.
The Syrian attacker was affiliated with Isis and had entered Turkey as a refugee.
23 December 2015
A cleaner was killed in an early morning attack on Istanbul's second airport, Sabiha Gökçen International Airport.
The Kurdistan Freedom Falcons claimed responsibility for the attack.
It stated that the bombing was in response to the Turkish government's military actions against the Kurdistan Workers' Party (PKK).
1 December 2015
Five people were injured when a "parcel bomb" was planted near Istanbul's Bayrampasa Metro station during the city's evening rush hour.
No groups came forward to claim responsibility for the attack.
10 October 2015
103 people were killed and 250 wounded when two suicide bombers targeted a peace rally in Ankara. The protestors had gathered together to stand against violence between the Turkish authorities and the PKK.
The attack was the deadliest in Turkey's history.
Isis cell members Yunus Emre Alagoz and Omer Deniz Dundar were identified as the attackers.
10 August 2015
Seven people, including five police officers were injured as a result of a bomb explosion at a police station in Istanbul.
The Istanbul governor's office said that the PKK were behind the attack.
Ankara explosion: 'car bomb' hits Turkish capital

Show all 8
20 July 2015
32 people were killed and over 100 injured in the town of Suruc by a suicide bombing, making it the second deadliest attack in 2015.
Those hurt and killed were activists planning to travel to Kobane, Syria, to rebuild the town.
Suicide bomber Seyh Abdurrahman Alagoz was an ethnic Kurd from Adiyaman and reportedly had links to Isis.
5 June 2015
The bombing at a pro-Kurdish People's Democratic Party rally in Diyarbakır, killed four people and injured over 100.
The attack occurred two days before parliamentary elections in Turkey.
No one has claimed responsibility for the attack.
6 January 2015
Diana Ramazova, a female suicide bomber detonated her vest at a police station in Istanbul killing one officer and injuring another.
The Marxist-Leninist Revolutionary People's Liberation Party–Front claimed responsibility for the attack.
Register for free to continue reading
Registration is a free and easy way to support our truly independent journalism
By registering, you will also enjoy limited access to Premium articles, exclusive newsletters, commenting, and virtual events with our leading journalists
Already have an account? sign in
Join our new commenting forum
Join thought-provoking conversations, follow other Independent readers and see their replies