Cologne attacks: Support for refugees in Germany falling amid far-right protests and vigilante attacks
More Germans surveyed now say the number of asylum seekers in the country is too high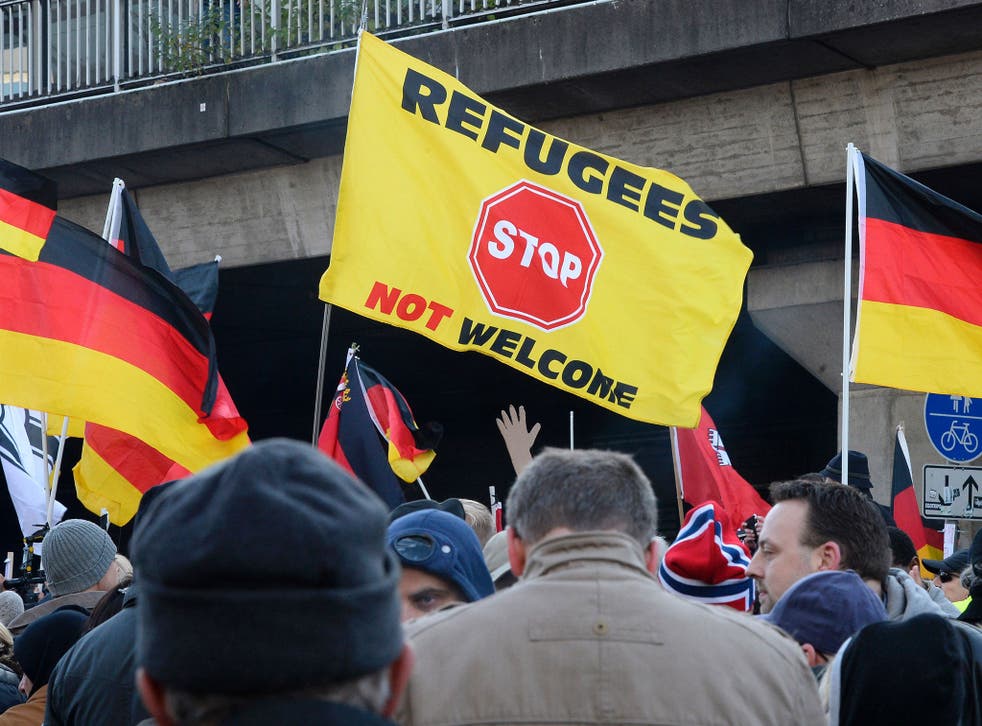 Germany's welcoming attitude to refugees is fading fast following the New Year's Eve attacks on women in Cologne, according to new research.
In November, just over half of respondents in a YouGov survey said they thought the number of asylum seekers in the country was too high but that figure now stands at 62 per cent.
Protests by far-right anti-Islam groups Pegida and HoGeSa have swept the country this month, despite being met by equal numbers of anti-fascist counter demonstrators.
Hundreds of right-wing protesters went on the rampage in Leipzig on Monday night, smashing windows and launching fireworks, while at least 11 refugees were attacked by a roving mob who had vowed to "clean up" Cologne the previous day.
The angry scenes are a far cry from the summer, when Angela Merkel lifted asylum restrictions for Syrian refugees – a decision that led to the arrival of 1.1 million migrants and asylum seekers last year and was credited in part for making the Chancellor Time's Person of the Year.
Her slogan – "wir schaffen das" – meaning "we can do this", has faded with a series of reversals by the Government, which has now reintroduced border controls and is sending hundreds of refugees back to Austria every day.
"Refugees welcome", the summer's other defining slogan, is also heard less and less as attitudes harden following the police's announcement that migrants were largely responsible for the mass sexual assaults and robberies seen on New Year's Eve.
Research by YouGov for Germany's Bild newspaper demonstrates the shift. In November, only a slim majority said the arrival figures were two high, while 42 per cent said they were acceptable and a fifth of respondents said the country could welcome more refugees.
The change in opinions over the past five months can be seen in the Statista graphic created for The Independent above.
Now, almost two thirds of those surveyed say the number of asylum seekers is too high and only 16 per cent were comfortable with the figures.
German women are more likely than men to oppose the current level of migration, which had not previously been the case, and the New Year's Eve sexual assaults are believed to be the main reason for a 12-point jump.
Anti-sexual violence protesters have also been taking to the streets after police's response to the attacks and Cologne mayor Henriette Reker's controversial proposal of a "code of conduct" for women sparked a new debate about victim-blaming.
Refugees settle in Germany

Show all 12
At least 19 men are currently under investigation for attacks in the city, including 10 asylum seekers, most of whom arrived in Germany after September.
In response to the alleged assault and robbery of at least 600 victims in Cologne, Ms Merkel has proposed new measures to deny the right of asylum for those who have committed crimes or are on probation in response to calls for change.
Only asylum seekers who have been sentenced to at least three years' imprisonment and will not be at risk in their countries of origin can currently be forcibly deported under German law.
The German cabinet will need to back the plans before a draft law is drawn up.
Register for free to continue reading
Registration is a free and easy way to support our truly independent journalism
By registering, you will also enjoy limited access to Premium articles, exclusive newsletters, commenting, and virtual events with our leading journalists
Already have an account? sign in
Register for free to continue reading
Registration is a free and easy way to support our truly independent journalism
By registering, you will also enjoy limited access to Premium articles, exclusive newsletters, commenting, and virtual events with our leading journalists
Already have an account? sign in
Join our new commenting forum
Join thought-provoking conversations, follow other Independent readers and see their replies