David Cameron gets Angela Merkel's backing on 'two-speed' EU and treaty changes
Her expression of sympathy for the Prime Minister was in contrast to the chillier responses he received at previous stops in Warsaw and Paris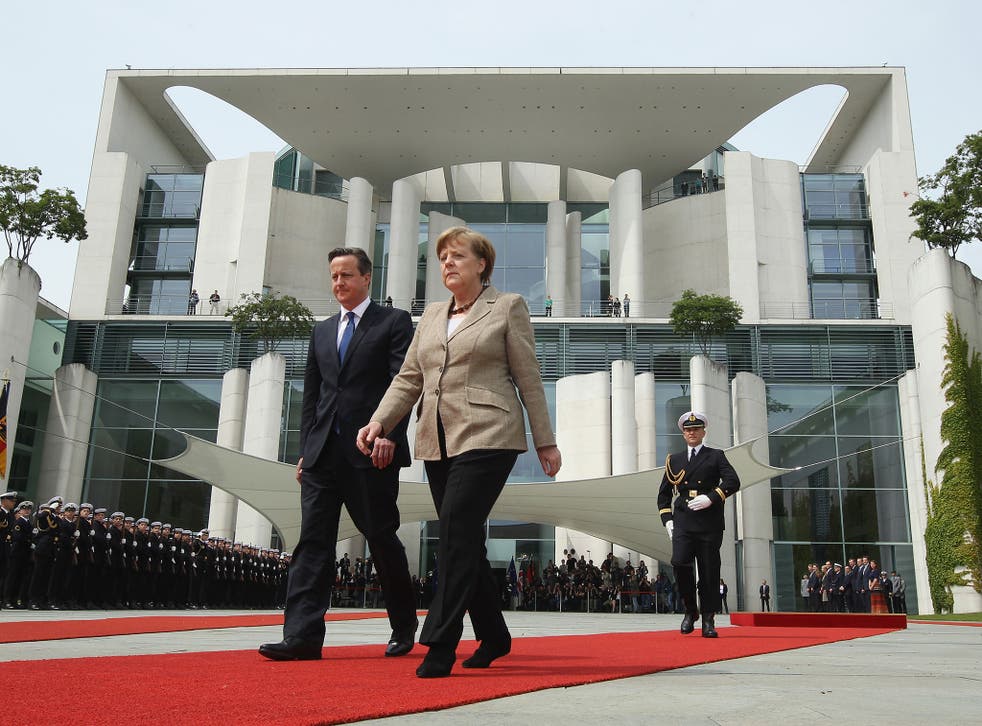 David Cameron won potential backing from German Chancellor Angela Merkel for his vision of a "two-speed" Europe and his calls for changes to the Lisbon Treaty at the end of a tour of European Union capitals designed to obtain a "better deal" for Britain in the EU.
Her expression of sympathy for the Prime Minister was in contrast to the chillier responses he received at previous stops in Warsaw and Paris. His meeting with Ms Merkel was a crucial part of his attempt to win broad backing on the continent for his pre-election pledge to reform the EU before Britain holds its in-out referendum on membership by the end of 2017.
In Berlin Mr Cameron insisted that there was no "magic" solution to reform and added: "This is about starting the process. Of course it's going to be difficult but the important thing is to get it underway."
But it was difficult not to conclude that he had obtained almost everything he wanted from the leader of the EU's biggest economy.
Stressing that it was "clear" Britain must remain in the EU, she said in answer to Mr Cameron's call for reforms: "We can accommodate these desires. I want to find a solution."
Mr Cameron had claimed that sections of the Lisbon Treaty would have to be re-written in order to bring about the reforms Britain wants. The idea has been strongly opposed by several EU countries including France.
What does five more years of the Tories mean for Britain?

Show all 8
However, Ms Merkel insisted she was open to treaty change. "If we are convinced of the substance, we shouldn't say it's impossible to change the treaty. We should concentrate on the substance, not too much on formalities," she said.
Mr Cameron has maintained that Britain should be exempt from a Franco-German drive, reiterated at the weekend, to deepen the EU to achieve ever closer union. Ms Merkel appeared to agree. With the painful prospect of Greece's imminent eurozone exit in the background, she insisted: "A two-speed Europe is our reality – I have no problem with two speeds."
But some difficulties appeared to remain concerning Mr Cameron's calls for stricter immigration controls for EU citizens. Ms Merkel has insisted that for Germany the principle of freedom of movement for EU workers is not up for negotiation and any attempts at restriction would cross a red line.
The same issue surfaced earlier during Mr Cameron's meeting in Warsaw with Ewa Kopacz, his Polish counterpart. Mr Cameron has said he wants to stamp out so-called "benefit tourism" – this would involve curbing welfare payments for EU migrant workers in Britain. Poland has condemned the proposals as "discriminatory" and threatened to block them.
Downing Street said the leaders had found "much they could agree on" but concluded that plans for benefit reforms "should be discussed further".
Britain and France remain far apart over Mr Cameron's reform blueprint. Speaking as he met President François Hollande in Paris, the Prime Minister insisted the EU had to be "flexible and imaginative enough" to respond to demands for a better deal.
Join our new commenting forum
Join thought-provoking conversations, follow other Independent readers and see their replies