Deepfake Putin declares martial law and cries: 'Russia is under attack'
Russian officials say TV channels and radio stations were hacked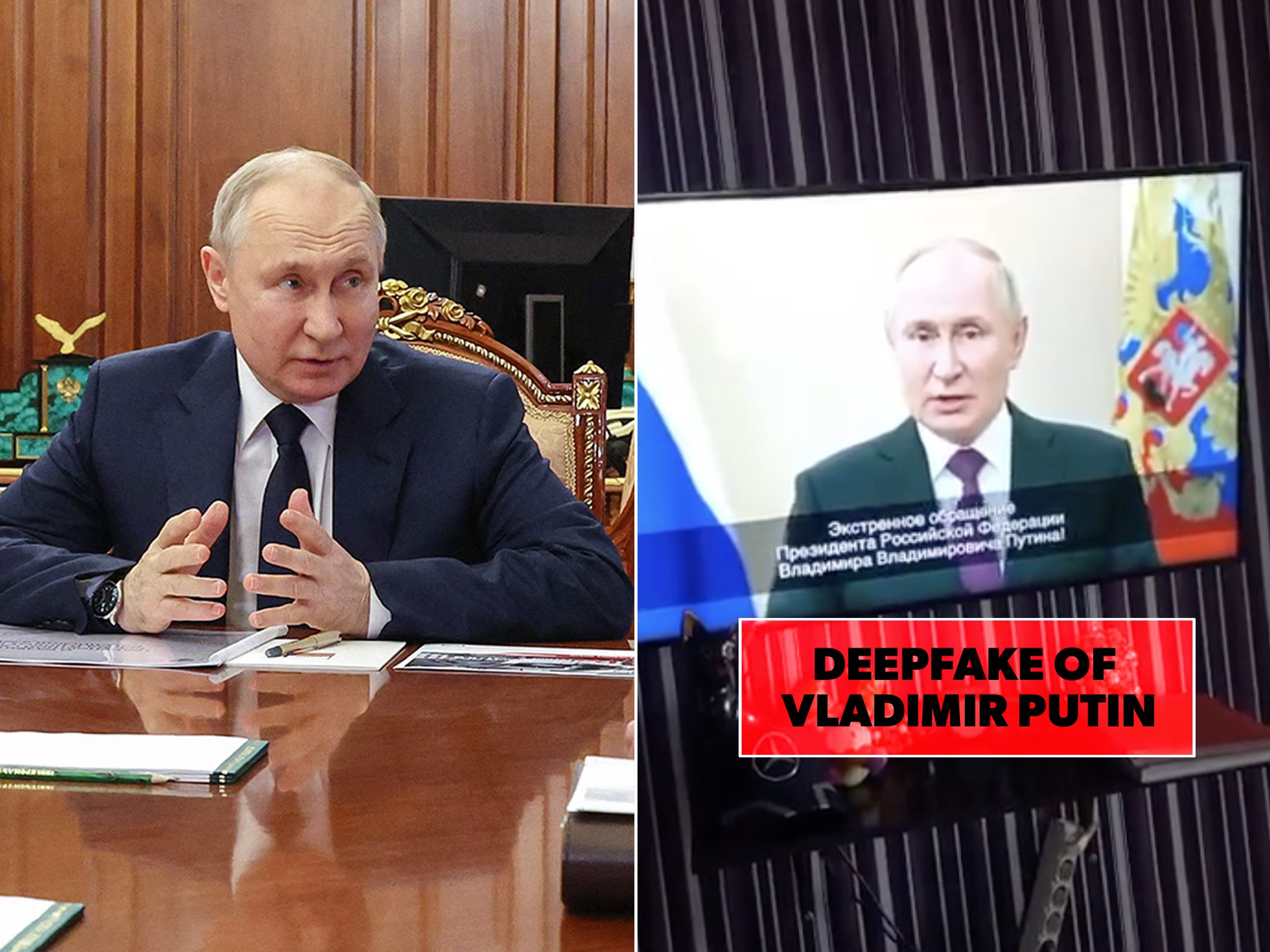 A deepfake of Vladimir Putin declared martial law and said Ukraine's army had invaded Russia in footage aired on some of the country's television channels and radio stations on Monday.
Authorities later said some TV channels and radio stations had been hacked because of which the deepfake was able to make its way to the national airwaves.
"Definitely there was no address. It is true that there were hacks in some regions," the Kremlin spokesperson Dmitry Peskov said.
Russian state news agency TASS quoted him as saying that the video shown on some networks "is a hack" and "experts are already dealing with it".
"I know that there was a hack into Radio Mir and into some networks. Now all this has been eliminated and taken under control," he said.
The deepfake video of Mr Putin appeared on some TV channels with the caption "emergency appeal of the president". In the video, the Russian president's deepfake said Ukraine's army had entered three border regions. The deepfake also announced the declaration of martial law in those regions.
Local media reported that no suspects have been identified yet.
"Today, from 12.41pm to 13.18pm, unidentified persons made an illegal tie-in with the substitution of the content of the information programs of the Mir TV channel and Mir radio," said Russia's International Television and Radio Company [MTRK] or "Mir" on Monday, after viewers reported the deepfake.
"All information posted from 12.41 to 13.18pm has nothing to do with the Mir MTRK and is an absolute fake and provocation."
In Russia's Voronezh region, authorities received reports of hacking of radio stations from residents. Officials later said on Telegram that the situation was under control.
"Residents of the Voronezh region report another hacking of radio broadcasting frequencies. We officially inform you that the situation in the region continues to be controlled by the authorities and law enforcement agencies. There is no cause for concern," the statement read.
Meanwhile, a major Soviet-era dam in southern Ukraine that supplies water to the Zaporizhzhia nuclear power plant was blown up on Tuesday, with the two sides blaming each other for the incident.
Ukrainian authorities asked residents in flood-prone areas to evacuate as water gushed out from the destroyed Nova Kakhovka dam in the southern Kherson region.
Ukraine's ministry of internal affairs said in a statement that, with the water level rising, the ministry urged everyone in the "danger zone" to turn off all electrical appliances, take documents and essentials, and take care of "loved ones and pets".
Join our commenting forum
Join thought-provoking conversations, follow other Independent readers and see their replies