Emmanuel Macron signs sweeping new labour law reforms amid union outcry
French President has come in for intense criticism for pushing through the reforms which could  'open the door to numerous abuses' in the workplace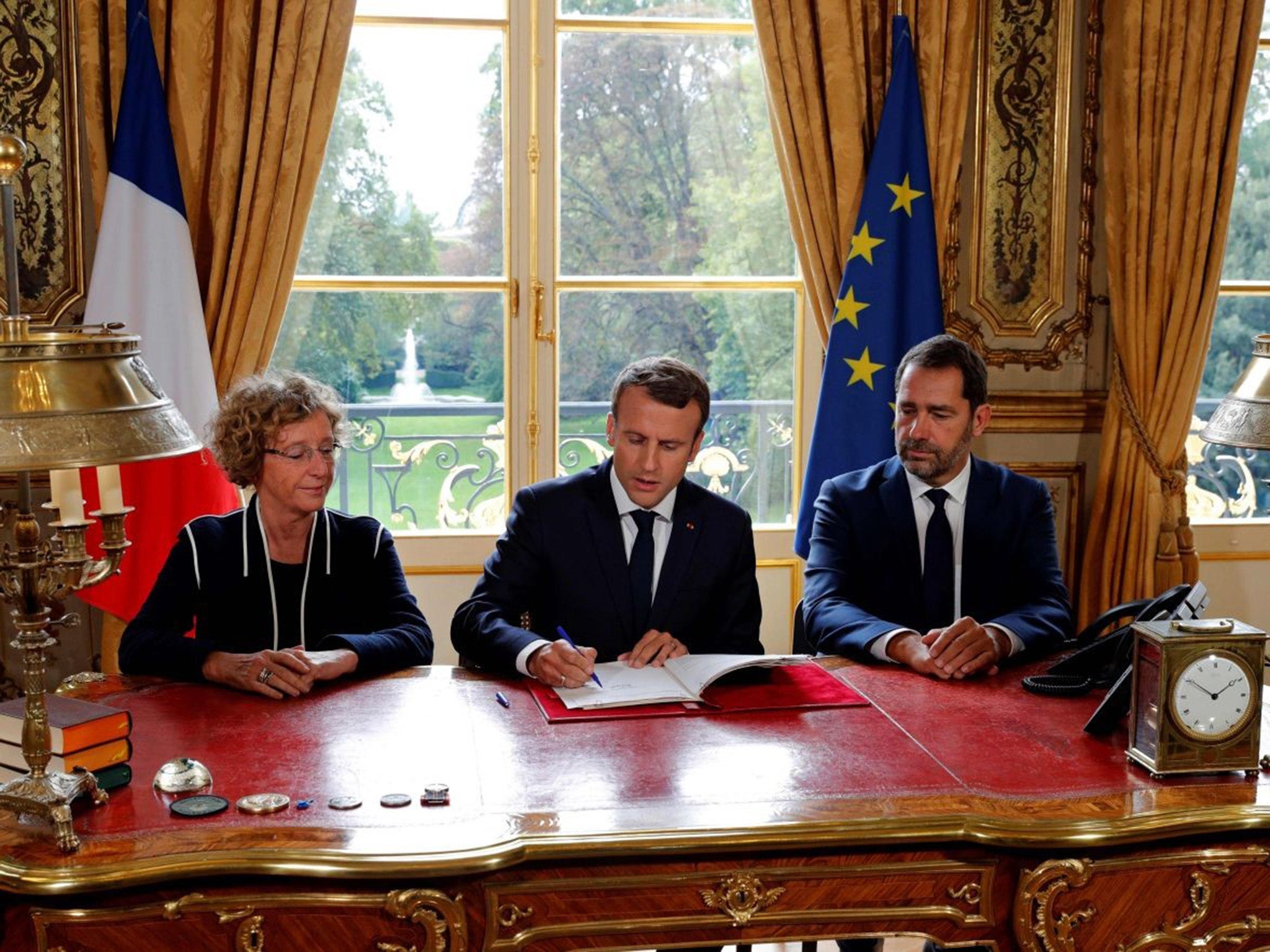 Emmanuel Macron has signed a wide ranging series of decrees to reform France's labour laws in the face of opposition from street protesters.
The five decrees aim to make it easier for firms to hire and fire, simplify negotiations between employers and employees, and reduce the power of national collective bargaining.
Mr Macron hopes the reforms will stimulate the French economy and lower unemployment, which stood at 9.5 per cent in April compared with 4.5 per cent in the UK and 3.9 per cent in Germany, blaming the rigidity of France's labour codes for the stagnation.
But the move promoted outcry from the unions and political opponents who have staged a series of street protests across the country as they fear the reforms will weaken hard-won workers protections.
Mr Macron had previously tried to push through economic reforms while serving as economy minister under former Socialist President Francois Hollande.
Protesters, mainly lead by young people, crippled Paris but the reforms – dubbed Macron's Law – were passed in 2015 using a controversial mechanism under the French constitution called Article 40 which means the President and the Cabinet can bypass parliament.
But this time Mr Macron was defiant over the change – telling CNN this week that he would ignore the street protests as although he does "believe in democracy" that democracy "is not in the street".
He signed the decrees in a live, televised and stage managed ceremony at the Elysees Palace on Friday at midday where he hailed the reforms as "without precedent" in the postwar French Fifth Republic.
French Presidential Election
Show all 20
He said the first of the reforms would begin coming into effect as early as next week.
The French labour code, which is famously "longer than the Bible", is one of the most rigid in Europe and often makes it difficult for employers to hire and fire.
In recent years many workers, particularly young people, have been forced onto a succession of fixed term contracts as employers are reluctant to take on employees they are not sure they will be able to get rid of.
But critics of the new laws say the reforms make it increasingly likely French workers will be vulnerable to poor treatment.
Thomas Breda, a French expert on labour economics from the Centre national de la recherche scientifique (CNRS), told Le Monde that the potential circumventing of trade unions in labour negotiations could "open the door to numerous abuses in situations where employees are unable to defend themselves".
"It would have been better to strengthen unions and their legitimacy than to want to circumvent them", he added.
Mr Macron's critics have attacked his use of executive orders to push through complex economic and legal reforms, saying he is behaving as if he is a king.
He was attacked for his style of governing which bypassed critics, with political rivals saying he wanted to rule like the Roman God Jupiter shortly after taking office in the summer.
The decree allows him to fast track the new rules without the need for parliamentary scrutiny so he can begin enforcing them within days rather than months.
But to officially become law they still need to go before parliament to be ratified within a few months – a hurdle Mr Macron is unlikely to have difficulty passing after the landslide victory of his newly formed political party, La Republique En Marche in June.
The reforms have prompted less street protests than they did last time though far left leader and defeated presidential candidate Jean-Luc Mélenchon and his movement, La France Insoumise (Unbowed France), has said he will hold a protest day before hauliers block roads on Monday.
According to an opinion poll by BVA, the public at large are divided on the issue.
Many believe the changes will boost France's competitiveness but will also fail to improve working conditions, the Guardian reported.
Additional reporting by agencies
Join our commenting forum
Join thought-provoking conversations, follow other Independent readers and see their replies