Europe's new fascism? The far-right leaders hoping to take power in 2017
Dutch politician Geert Wilders says Mr Trump's victory is the beginning of a 'Patriotic Spring'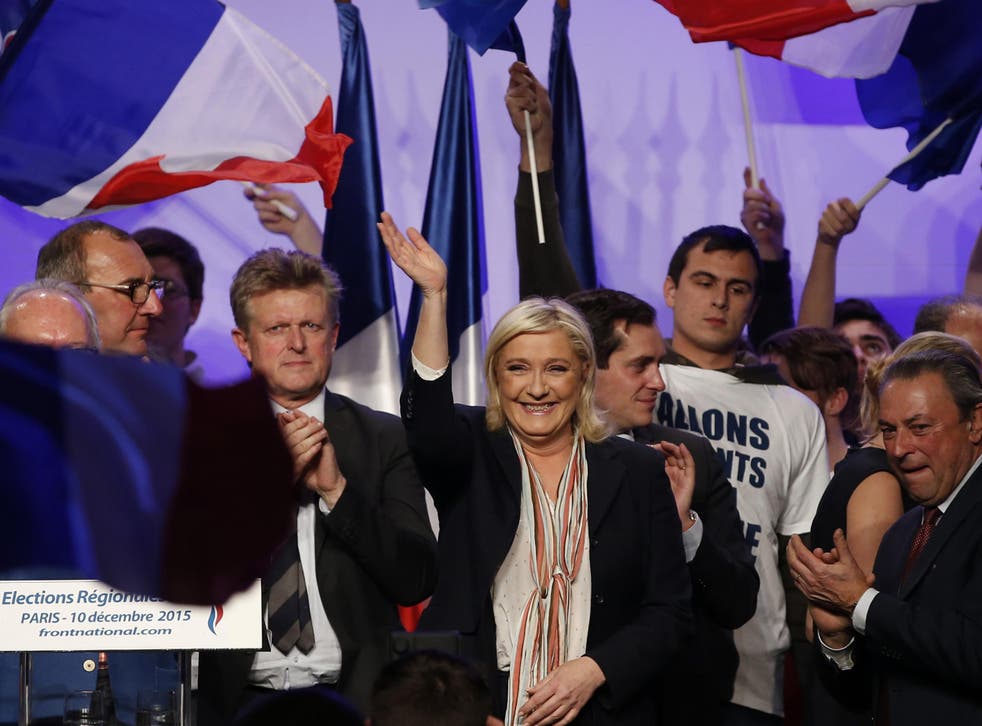 They are nationalist, anti-establishment, Eurosceptic – and delighted by Donald Trump's victory.
In many European countries, outsider parties have seen a surge in support for their populist, often controversial campaigns.
Here are the radical right-wing and centrist candidates hoping to seize power in forthcoming elections.
Norbert Hofer
Norbert Hofer, of Austria's Freedom Party, has recommended the public arm themselves with guns as a logical reaction to the refugee crisis.
He is standing against former Green Party politician Alexander Van der Bellen in a presidential election rerun on 4 December.
It is likely to be a close call: in July, when they last went head to head, Mr Van der Bellen won by less than half a percentage point.
The election is being held again after Mr Hofer's Freedom Party – founded in 1956 by former Nazis – challenged the result, saying postal votes had been improperly handled.
Mr Hofer, 45, is a former aeronautical engineer who is said to have carried a Glock pistol with him on the campaign trail.
"Those who do not value our country, who fight for Islamic State, or who rape women, I say to these people: this is not your homeland. You cannot stay in Austria," Mr Hofer told supporters in Vienna earlier this year.
Marine Le Pen
"What happened last night was not the end of the world, it was the end of a world," said Marine Le Pen as she congratulated Donald Trump the morning after his surprise victory.
The 48-year-old lawyer and leader of France's National Front came third in the 2012 election with 17.9 per cent of the vote – the highest result ever achieved by the party in a presidential election.
She told the BBC's Andrew Marr she will become France's next president when the country votes in May in the third part of a "global revolution" after Brexit and Donald Trump's election.
The Eurosceptic politician has said she would pull France out of Nato and in 2011 said marine border patrols should "push migrants who want to come to Europe back into international waters".
Ms Le Pen is the daughter of National Front founder Jean-Marie Le Pen, who reached the second round of the French elections in 2002 but was beaten in a landslide victory by Jacques Chirac.
She expelled her father from the party last year after he described the gas chambers used in the Holocaust as a historical "detail", sparking a vicious public family feud.
Geert Wilders
Overtly anti-Islam Dutch politician Geert Wilders hailed Mr Trump's victory as the beginning of a "Patriotic Spring".
Mr Wilders's nationalist Party for Freedom, founded in 2006, is currently topping opinion polls ahead of parliamentary elections in the Netherlands next March.
The 53-year-old has provoked international condemnation for comparing the Koran to Mein Kampf and campaigning to have it banned.
He is currently on trial for allegedly inciting hatred against Dutch Moroccans, having been acquitted of hate charges five years ago after he made anti-Islam remarks.
Prosecutors say Mr Wilders asked supporters at a 2014 rally whether they wanted more or fewer Moroccans living in the Netherlands. When the crowd began to chant "Fewer! Fewer!" he said: "We'll take care of that".
Since 2004, he has lived under 24-hour protection after the murder of controversial filmmaker Theo van Gogh, who, like Mr Wilders, had made films criticising Islam.
Frauke Petry
Frauke Petry, 41, is chair of Alternative for Germany (AfD), a populist, anti-EU party founded in 2013 that could be Germany's most significant right-wing force since the Thirties.
Since becoming party leader in July last year, Ms Petry has compared multiculturalism to a "compost heap" and said border police should "use firearms if necessary" when dealing with refugees.
The former chemist and small business owner was born in east Germany and studied chemistry at the University of Reading.
AfD gained ground in regional elections this year and the party, which opposes Angela Merkel's "open-door" refugee policy, has set its sights on next September's parliamentary elections.
"Islam is not part of Germany," said its first formal national election manifesto, approved by party delegates in May, which called for a ban on minarets and the burqa.
A recent poll found the AfD would win 16 per cent of votes if the elections were held that week amid warnings the growing success of Ms Frauke's party, which has links to extreme-right group Pegida, could pull mainstream parties to the right.
Jimmie Akesson
Jimmie Akesson's anti-immigration Sweden Democrats became the country's third largest party when it gained 29 seats in Sweden's most recent general election in 2014.
Swedes won't go to the polls again 2018, but while the party remains on the political fringes, debates have been sparked in the two main parties over whether they will cooperate with it to push through policy in parliament.
Two weeks ago, the nationalist party organised a controversial "alternative Nobel Prize" ceremony at a five-star hotel in Stockholm. In attendence was Nigel Farage, the Ukip interim leader who was the first foreign politician to meet Mr Trump after his election.
Mr Akesson, 37, worked as a web designer before he joined politics and became leader of the Sweden Democrats, which has white supremacist roots, in 2005.
He has advocated an international campaign to warn refugees not to come to Sweden, and has said he doesn't want the country to be a full member of the EU.
A Swedish radio station revealed in 2014 that Mr Akesson had spent more than 500,000 kronor (£43,927) on online betting – more than he would have earned in a whole year, according to news website The Local.
Andrej Babis
Billionaire and media mogul Andrej Babis, who is the Czech Republic's current finance minister, has been dubbed the "Czech Donald Trump".
He started the centrist ANO, which stands for 'Action of Dissatisfied Citizens' in Czech, as an anti-corruption protest movement in 2011 and it became an official political party the following year.
Mr Babis, 62, is the second richest man in the Czech Republic.
In September he was forced to apologise over comments denying the existence of a Second World War concentration camp for Roma people.
In regional elections last month, Czech Prime Minister Bohuslav Sobotka's centre-left Social Democrats came second behind its coalition partner ANO.
ANO has consistently polled as the favourite to win the Czech Republic's general election next October.
Beppe Grillo
Another anti-establishment movement making waves in mainstream politics is Italy's populist Five Star Movement, formed in 2009 by TV comedian Beppe Grillo.
Supporters of the eurosceptic, environmentalist movement reject its inclusion in any traditional understanding of left- and right-wing political parties.
"Political amateurs are conquering the world," Mr Grillo, 68, told Euronews yesterday.
Mr Grillo, who keeps a lively blog, called Mr Trump a "corn cob" and was critical of some his policies, but said his victory showed the power of alternative media and was an "extraordinary turning point".
"With Trump, exactly the same thing has happened as with my Five Star Movement, which was born of the internet: the media were taken aback and asked us where we were before," he said.
The Five Star Movement has won two key mayoral seats in Rome and Turin this year and experts believe a referendum next month could open the door to an eventual Five Star Movement government.
World news in pictures

Show all 50
On 4 December, Italy will vote on Prime Minister Matteo Renzi's plan to strip the upper house of parliament of its power to bring down governments, slashing the number of senators by two-thirds. Mr Renzi has promised to resign if he loses.
The next general election is in 2018, and recent polls predict extremely tight race between pro-Europe and eurosceptic parties.
Register for free to continue reading
Registration is a free and easy way to support our truly independent journalism
By registering, you will also enjoy limited access to Premium articles, exclusive newsletters, commenting, and virtual events with our leading journalists
Already have an account? sign in
Register for free to continue reading
Registration is a free and easy way to support our truly independent journalism
By registering, you will also enjoy limited access to Premium articles, exclusive newsletters, commenting, and virtual events with our leading journalists
Already have an account? sign in
Join our new commenting forum
Join thought-provoking conversations, follow other Independent readers and see their replies