Turkish PM's aide Yusef Yerkel 'given sick leave' for injuring his leg after kicking protester
Mr Yurkel has been reportedly injured his right leg - the one used to kick a protester during demonstrations over the Turkey mining disaster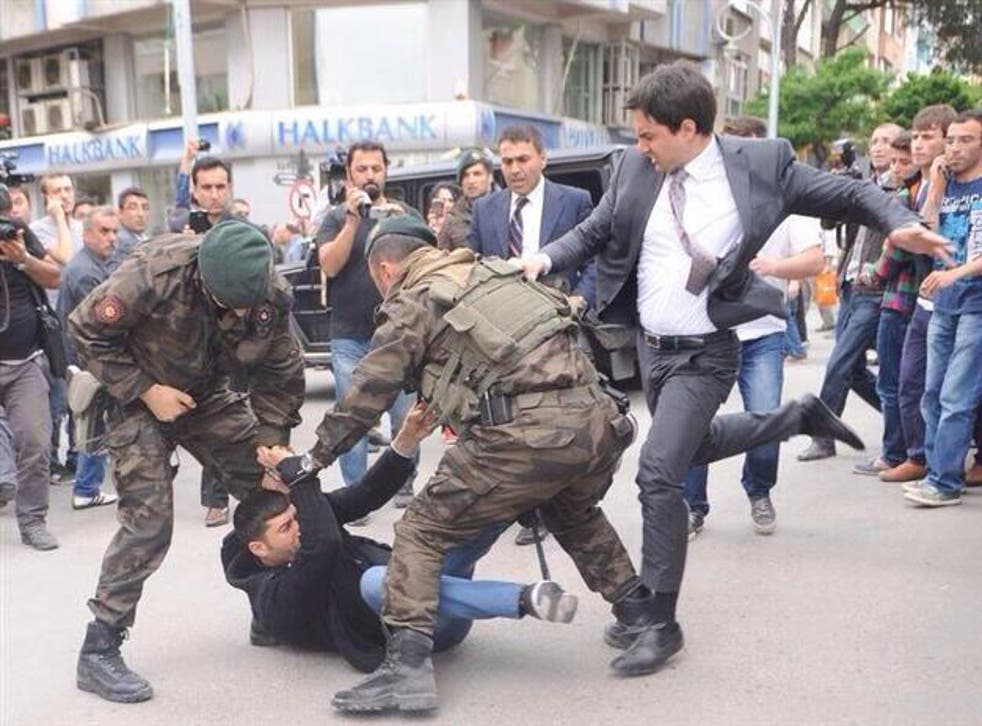 The Turkish prime minister's aide Yusef Yerkel has allegedly been given sick leave after being diagnosed with soft tissue trauma in his right leg - the same leg used to kick a protester shortly after the country's worst mining disaster in history.
A shocking image emerged last week showing the moment Mr Yerkel kicked a protester already being restrained on the ground during anti-government demonstrations following an explosion in a coal mine that left 282 dead and scores more injured.
The picture was taken in Soma, the town where the mining disaster took place, and caused outrage after it was shared across social media thousands of times.
Mr Yekel later issued a reluctant apology, claiming he had been kicked by the protester and provoked into attacking him, and his actions were later defended by officials who described it as "self-defence".
A report from the Ankara hospital testifies to "sensitivity with leg and arm movements and difficulty with walking", which Mr Yerkel reportedly blamed on a fall, the Hurriyet Daily News has reported.
"There are 10x10 cm oedema, bruises and soft tissue panicula on the right knee, and bruises and soft tissue swelling on the left shoulder and front of the chest. The patient has been diagnosed with soft tissue trauma as there is sensitivity with leg and arm movements and difficulty with walking," the hospital report allegedly states.
In pictures: Turkish PM's advisor Yusuf Yerkel kicking a protester during mining demonstrations

Show all 8
The ruling Justice and Development Party (AKP) spokesman Hüseyin Çelik also defended Mr Yerkel in a press conference on 16 May, where he argued his injury was proof of his innoncence.
"Yusuf Yerkel made a statement. One cannot understand the entirety of a situation from only one photograph. Yusuf Yerkel said that the person he is kicking on the floor did in fact attack and hurt him, he was even granted sick leave for seven days," he was quoted as saying.
Register for free to continue reading
Registration is a free and easy way to support our truly independent journalism
By registering, you will also enjoy limited access to Premium articles, exclusive newsletters, commenting, and virtual events with our leading journalists
Already have an account? sign in
Register for free to continue reading
Registration is a free and easy way to support our truly independent journalism
By registering, you will also enjoy limited access to Premium articles, exclusive newsletters, commenting, and virtual events with our leading journalists
Already have an account? sign in
Join our new commenting forum
Join thought-provoking conversations, follow other Independent readers and see their replies