Vatican uses Venturini monastery to 'cure gay priests', former clergy claim
Priests who 'show inappropriate sexual tendencies' are removed to the Venturini monastery in Trento for 'a period of training, personal reflection and enlightenment', according to the Italian press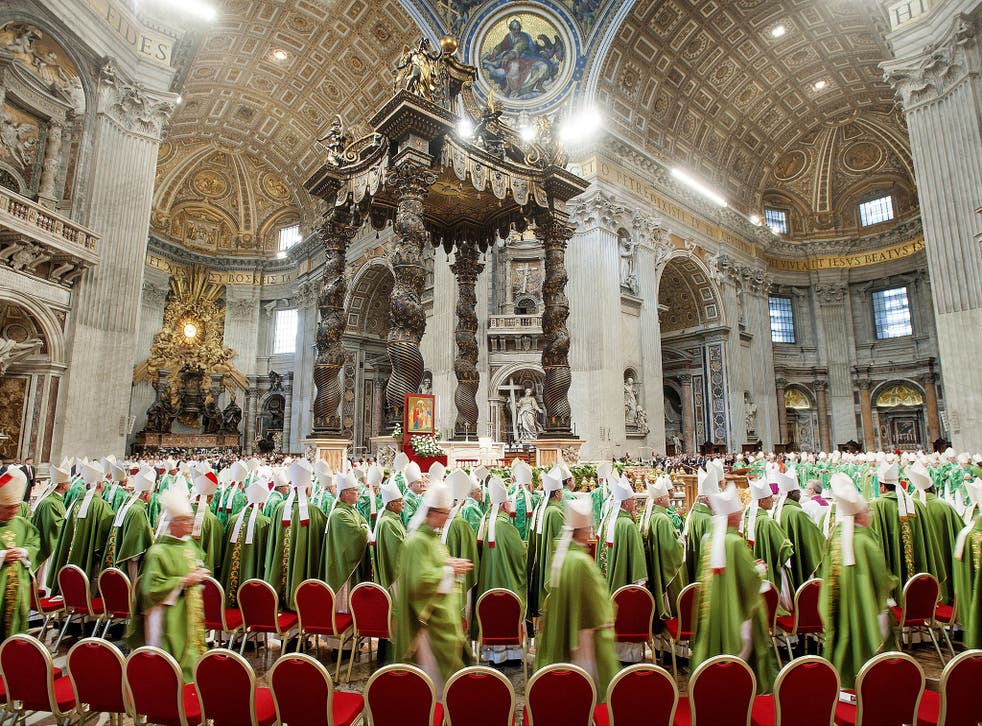 The Vatican has secretly been sending gay priests to a monastery near the Alps to be "cured" alongside paedophiles and drug addicts, it has emerged.
Priests who "show inappropriate sexual tendencies" are removed to the Venturini monastery in Trento for "a period of training, personal reflection and enlightenment", according to Italian press reports.
The revelation came as hundreds of Catholic bishops, priests and laity began three weeks of deliberations in Rome over the church's teachings on family life – including gay relationships – at a special synod. It followed a row at the weekend when a Polish theologian, 43-year-old Monsignor Krzysztof Charamsa, was sacked from Vatican posts within hours of declaring he was gay and had a long-term partner.
British clerical abuse victim Peter Saunders, who has been appointed to a Vatican child protection commission by Pope Francis, told The Independent that the Church was too soft on paedophile priests and their protectors, and contrasted this with their swift sacking of Msgr Charamsa.
One former clergyman, Mario Bonfante, was told to go to Venturini when his superiors discovered he was gay, in order for him "to rediscover the right path" – and after he refused, he was dismissed.
The all-male institute, and its order, the Priestly Heart of Jesus, was founded by Fr Mario Venturini in 1928 in a large house in Trento, in the foothills of Alps. As many as a dozen priests can stay there.
Fr Gianluigi Pastò, 72, the priest in charge at Venturini, told Italian newspapers: "I can only say that here we help the priests become healthy." The Independent was told that neither Fr Pastò nor any other staff were available for interview. A Vatican spokesman said: "There is no comment."
In an interview with La Repubblica, Fr Pastò denied his institution was specifically for gay and paedophile priests, but did not deny that such clergy had come there in the past. "Right now we have neither priests nor gay paedophile priests. Of course, our task is to welcome everyone," he said, adding that some priests who came to the monastery had problems with drug or alcohol abuse. He would not comment on which, if any, psychological or psychiatric treatments were used to treat residents.
The monastery's website says that "various types of therapy allow the community to host a large number of priests and religious people, offering them a relaxed and open environment in which to confront their difficulties".
Gay rights campaigners reacted angrily to the reports. "This sort of thing is completely wrong," said Francis DeBernardo, Director of New Ways Ministry, the US Catholic LGBT rights group. "Being gay is not a disease that needs to be cured... What needs to be cured is not homosexuality but homophobia."
Pope Francis told the synod today that the Church should not be allowed to remain just a stuffy "museum of memories" but should have the courage to change if that was what God wanted. He urged bishops to eschew conventions and prejudices. They should not "point fingers at the others to judge them", nor feel superior to those with different ideas, he said.
In a passage that appeared to be directed at unbending traditionalists, the Pope said bishops should beware the "hardening of some hearts, which despite good intentions, keep people away from God".
But at a news conference after the first full synod session, Cardinal Andre Vingt-Trois of Paris warned reporters they would be "disappointed" if they expected radical changes to basic Church doctrine on family issues such as marriage.
Join our new commenting forum
Join thought-provoking conversations, follow other Independent readers and see their replies