Hamas posts YouTube video appearing to show underground tunnel from Gaza into Israel
The video shows soldiers practising saving comrades, shooting pretend enemies, praying and moving through cement-reinforced tunnels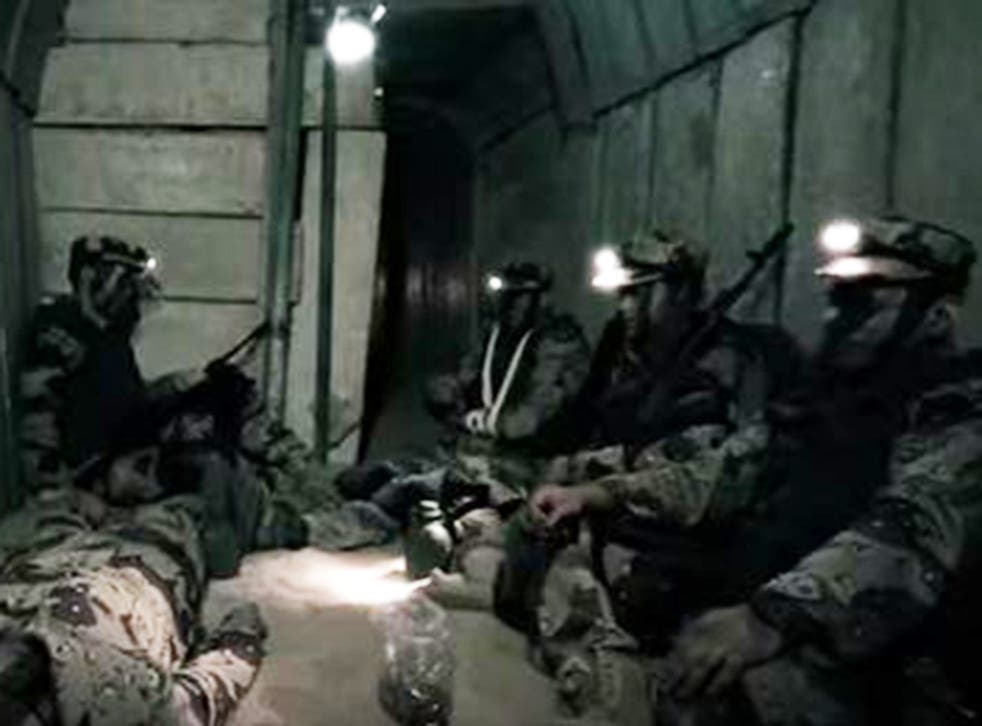 The military wing of the Islamist group Hamas has posted a propaganda video appearing to show off a new underground tunnel from its base in Gaza into Israel.
Hamas, which the UK does not regard as a terrorist organisation, has a military wing called Izz ad-Din al-Qassam Brigades, which features in the video. The UK does consider Izz ad-Din al-Qassam Brigades a terrorist group.
This military wing currently governs the Gaza Strip, the isolated Palestinian coastal area in the west of Israel. For decades it has used tunnels to bring in food and supplies, but it is thought that since 2006 Hamas has been cutting into Israel to stage attacks too.
The Israeli military claim to have found tens of tunnels surfacing in Israel since then, and have previously admitted they cannot keep track of all of them. Videos such as this are not new.
Hamas in pictures

Show all 10
However, a similar network of tunnels more than three kilometres long was thought to have been destroyed last year by Israel between July and August 2014, according to Reuters.
Moreover, it is about a year since a "ceasefire" was called after a 50 day war between the two sides - though atrocities from both have been reported since.
The video, published by the military wing and included in a Times of Israel article, opens with a digger excavating the sandy soil in an unidentifiable part of Gaza to reveal a network inside.
Soldiers are shown practicing saving comrades, shooting pretend enemies, praying and moving through cement-reinforced tunnels.
The Times of Israel also reports that soldiers are shown "using rifles, sniper rifles and rocket-propelled grenades to engage targets, including buildings and what appears to be an IDF [Israel Defense Forces] tank" as well as "storming mockups of IDF army posts and ambushing IDF patrols".
Set to Arabic music, the video also shows the military wing shooting an unarmed soldier on the floor at close range, being followed by young civilian Palestinian boys and then apparently stepping into the light as the video ends.
An ambulance and large digger tractor also feature in the edited footage. The Gaza Strip is one of the most impoverished regions in the world, reported as the third poorest in the Middle East with at least 21 per cent in "deep poverty" this time a year ago - compared to 7 per cent in the West Bank, the other Palestinian territory.
Hamas is thought to have won support over the years by appearing to provide much-needed social services in the Gaza Strip.
But the Times of Israel lays the blame for the Sunni group's push in activity squarely at Iran's door, citing a report by Israel's Channel 10.
"The new Hamas war efforts have been buoyed by Iranian assistance, including cash, military training for Hamas fighters, weaponry, and electronics equipment, some of which can be used to counter drones".
It adds that Israel does not want to invade Gaza for fear of sparking conflict.
"However, Israel prefers to wait rather than send troops into the Hamas-held Gaza Strip to tackle the tunnel network there, because it knows that if it does so, it will trigger another war."
Join our new commenting forum
Join thought-provoking conversations, follow other Independent readers and see their replies