Isis beheading of Coptic Christians on Libyan beach brings Islamists to the doorstep of Europe
Former Libyan PM previously warned that they would reach Mediterranean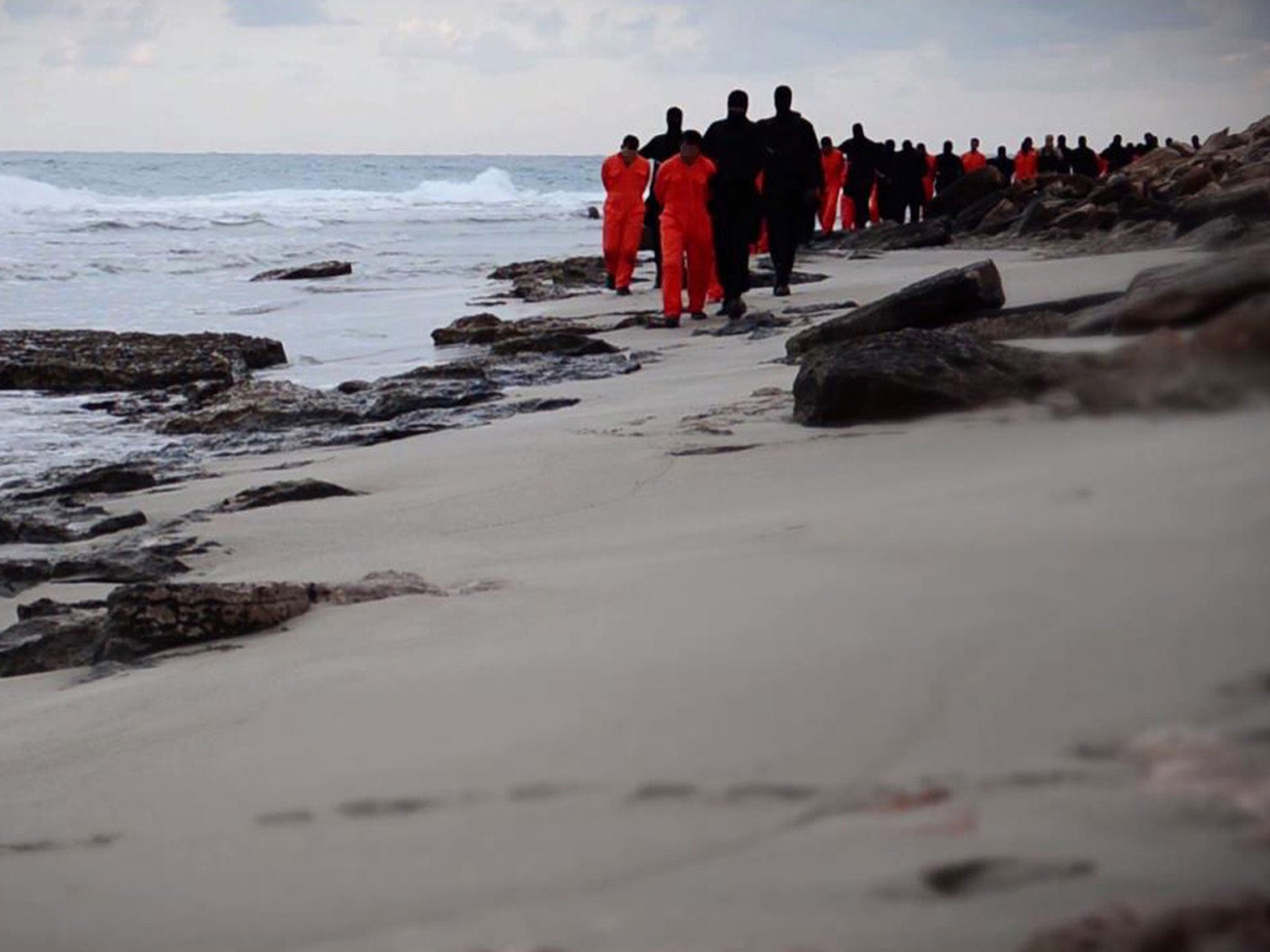 The beheading of 21 Coptic Christians on a beach in Libya has brought Isis to the doorstep of Europe.
The mass murder, which provoked a volley of Egyptian air strikes on the group's Libyan stronghold of Derna, realised long-held fears of militants reaching the Mediterranean coast.
Isis started in Iraq and now controls swathes of adjoining Syria, including along the Turkish border, as part of its so-called Islamic State.
Its ideology has spread much further, with pledges of allegiance from terrorist groups in Egypt, Gaza, Jordan, Lebanon, Saudi Arabia, Tunisia, Yemen and now Libya.
Days before Isis released its gory video depicting the Egyptians' beheadings, Libya's former Prime Minister warned that the group would soon reach the Mediterranean and even Europe if order was not restored in the country.
Ali Zeidan said Libya's fractured government and easy access to weapons seized during the fall of Colonel Gaddafi made it more susceptible to the activities of jihadists, according to The Times.
"(Isis) are growing. They are everywhere," he added.
In pictures: Coptic Christians mourn victims of Isis beheadings
Show all 15
"In Libya, the situation is still under control. If we leave it one month or two months more I don't think you can control it.
"It will be a big war in the country and it will be here in Europe as well."
Libya has seen fierce fighting between rival militias since Gaddafi was overthrown during the 2011 Arab Spring.
Mr Zeidan, who fled to Europe after losing a parliamentary vote of confidence, reported that Isis had a growing presence in some of the bigger cities and was trying to recruit fighters from rival Islamist groups.
Aref Ali Nayed, Libya's ambassador to the United Arab Emirates, also said Isis's presence in Libya was increasing "exponentially".
Its military gains last summer sparked a rush by other Islamist groups in the Middle East and North Africa to ally themselves with the group by pledging allegiance and changing their names.
The jihadists behind the beheadings in Libya call themselves the Tripoli Province of the Islamic State.
As the turmoil in Libya continued last year, they gained control of the port city of Derna and nearby Sirte, where Isis seized the murdered Coptic hostages in December and January.
The location of their murders could not be confirmed but footage showed them dressed in orange jumpsuits kneeling on a beach. Behind each of them were masked militants who wielded their knives to kill the bound hostages simultaneously.
Isis affiliates have also claimed responsibility for attacks on the Egyptian military and police in the Sinai Peninsula, further along the Mediterranean coast between Egypt and Gaza.
Join our commenting forum
Join thought-provoking conversations, follow other Independent readers and see their replies