Isis in Iraq: Why Tikrit remains a ghost town two months after its liberation from militant fighters
The retaking of the city two months ago fuelled hope that Mosul will be next. However, residents, still stuck in Iraqi Kurdistan, reveal why such a victory could be hollow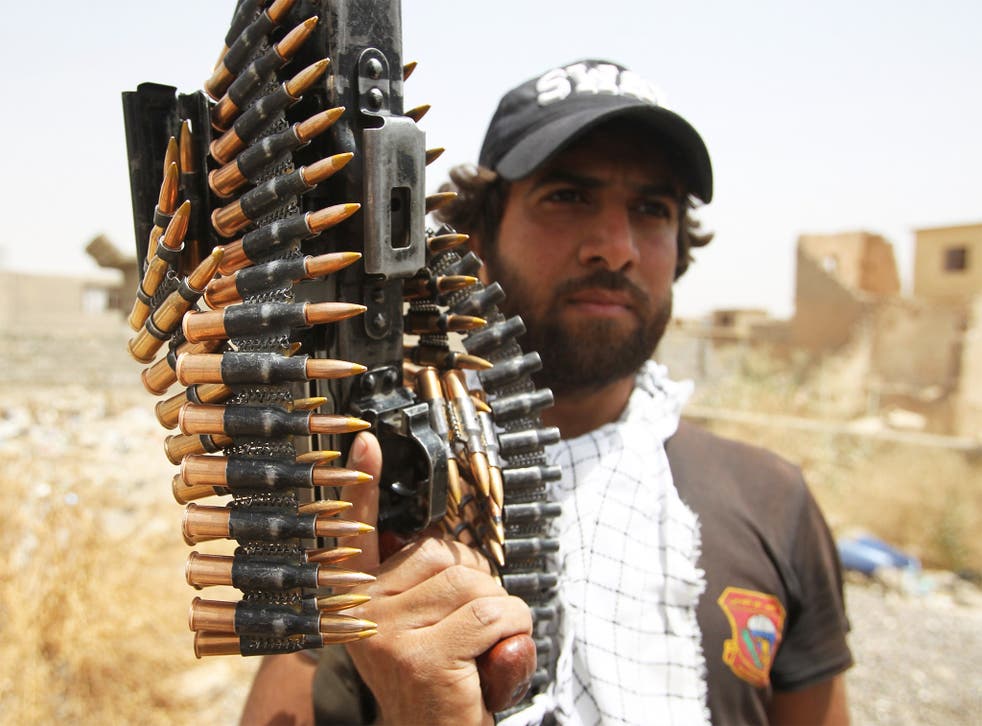 Two months after the recapture of the Iraqi city of Tikrit from Isis, its residents are still too afraid to return, now fearing the Shia militia groups who stalk the city's deserted and lawless streets.
The defeat of Isis at the beginning of April brought hope for many. The operation was a major victory, particularly for the alliance of the Shia popular mobilisation units, who fought for a month alongside regular forces and local tribal fighters supported, eventually, by coalition air strikes.
Among those elated at the Isis defeat was Fadheela Mahmoud, who fled Tikrit last summer after Isis took over. "I was excited because I thought I will be able to go back home," the 62-year-old said.
But Ms Mahmoud's family of eight are still living in just a few sparse, rented rooms in Iraqi Kurdistan, 160 miles north of their hometown, thanks to the presence of those same Shia militias who liberated the city.
After Isis was driven out, she received a call from a neighbour working with the local police. "He said 'I can see the smoke coming from your house'," she said.
She later received photos that confirmed that her home in Al Dour, south of Tikrit, had been set alight. She has been led to believe Shia militiamen were responsible. "After that, I changed my mind [about going home]… we are not with Isis so why do they burn our homes?" she told The Independent, her eyes filling with tears.
Iraqi forces led by the same group of Shia militias have now announced the start of an offensive to force Isis from Anbar province further south, after the loss of the provincial capital Ramadi. Just 26 miles north of Tikrit, Iraqi forces army has declared another victory, retaking key parts of the northern refinery town of Baiji. Iraq's second city of Mosul, which fell to Isis a year ago, is widely considered to be the next target.
But many Sunnis from Anbar fear they may suffer a similar fate to Tikrit's residents. Nearly all of the estimated 200,000 majority Sunni Arab residents who fled in the months after Isis took control remain displaced.
Reports of looting and summary executions by the Shia militias were frequent in the immediate aftermath of the victory over the city. And as the militias rack up victories against Isis elsewhere, allegations have emerged of other retribution attacks in Sunni areas. Militia leaders deny the charges and have repeatedly pledged to investigate, but that is unlikely to stop the further alienation of Iraq's Sunnis from the Shia-led government, which has in part fuelled the rise of Isis
Sheikh Marwan Jebbara, the spokesman for Salahaddin's provincial tribal council, admitted that mistakes were made during the recapture of Tikrit. "This is a war and mistakes happen even with the best armies," he said.
He said that the security forces were not allowing families back because "the security situation around the city is still not good and the infrastructure is damaged". He added: "They want to prevent Isis from sending some members in with the families going back to Tikrit."
In pictures: Fight for Tikrit

Show all 16
Ms Mahmoud's family are now trapped in Shaqlawa, struggling to pay the rent. She recently sold her four-year-old granddaughter's gold earrings to buy an air cooler to combat the boiling Iraqi summer. Her son was told by neighbours that since his father was a colonel who fought for the Baathist government in the Iran-Iraq war, it was not safe for him to return while Iran-backed Shia militias remain in the town.
"I am hopeless, I don't think we will go back ever," said Ms Mahmoud. The family will soon have to move to a tent or an unfinished building when their money runs out. Her story is common among the displaced Tikritis, many of whom have been reduced to selling precious belongings to continue living in makeshift accommodation.
Raad Salih, 52, fled Tikrit after his son was accused by Isis of drinking alcohol and was held captive. "After Isis came, many people were killed every day. No government offices were open and even children were carrying weapons in the city," he said. He made desperate calls "from sunrise to sunset" to locals he knew who had joined the extremists until his son was released. Now the family rent a small home in Iraqi Kurdistan. His Tikrit home was looted by armed groups soon after the city was recaptured, he said. "I have a friend in the local government who told me 'don't go back, it is too dangerous' and the police said it is not allowed… I trust the police but they have no power and the militias control everything," he said.
Mr Salih is worried about further revenge attacks by Shia-led forces, particularly if the site of the Isis massacre of up to 1,700 Shia soldiers at Camp Speicher last summer becomes a shrine. The site is a painful reminder of Isis savagery. "If this happens, they will destroy everything in Tikrit in revenge," he said.
A plan to allow the city to be policed and controlled by local forces was never implemented, said Zaid Al-Ali, an Iraqi lawyer and the author of the book The Struggle for Iraq's Future. Instead, Mr Ali says, armed groups "unaccountable to any authority" moved in after Isis was removed.
"That will need to be convincingly resolved before anyone will want to return," he said.
Attacks on Sunnis: Shia take revenge
Shia and Yazidi militia have been accused of carrying out attacks against Sunni communities in revenge for Isis crimes in Iraq.
A report from Amnesty International, released on the anniversary of Isis's capture of Mosul, gave details of deadly attacks on Sunni Arab communities by Shia and Yazidi militias which Amnesty says are in revenge for Isis's crimes in northern Iraq.
According to the report, Yazidi militia targeted Jiri and Sibaya, Sunni villages in the Sinjar region, on 25 January. They killed 21 of the inhabitants and looted and burnt homes. In a separate incident on 26 January, at least 46 Sunni men were killed in the village of Barwana, in Diyala province. In Jiri and Sibaya, approximately half of those murdered by the Yazidi were elderly, disabled, or children. One man told Amnesty his 66-year-old father was shot dead in his wheelchair.
Harriet Agerholm
Join our new commenting forum
Join thought-provoking conversations, follow other Independent readers and see their replies