Mosul: Amnesty International calls for investigation into civilian deaths after Isis defeat
New report into human rights abuses during battle for Iraqi city claims US-led coalition forces used 'unnecessary' force and indiscriminate targeting which could constitute war crimes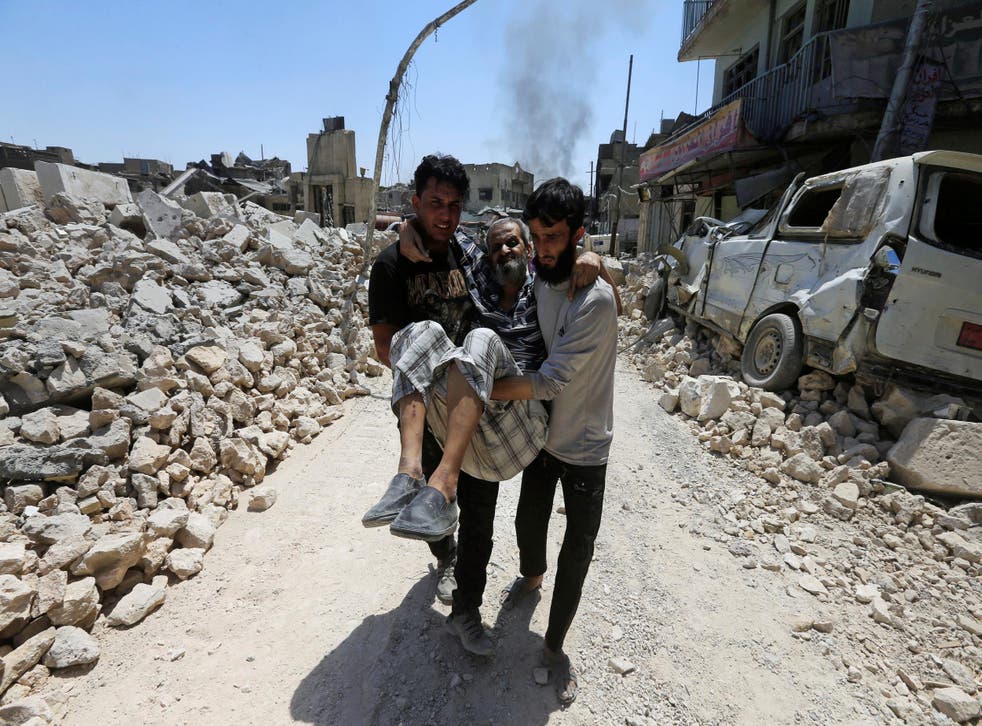 Human rights organisation Amnesty International has called for a independent investigation into the unnecessary loss of civilian life caused by the US-led coalition's fight against Isis in Mosul.
Iraqi prime minister Haider al-Abadi arrived in Mosul — Iraq's second largest city — on Sunday, declaring it free of jihadi militants for the first time since Isis swept across the border from Syria in the summer of 2014.
The victory, however, has come at a heavy cost. There is barely any city left to declare liberated, and the 12th-century al-Nuri mosque, the city's heart, was destroyed last month.
The children of Mosul: Iraqi youngsters left psychologically damaged by ISIS war
Almost one million people were displaced from their homes during the battle, and many thousands of civilians killed. Some have been caught in the crossfire after being used as human shields, or targeted by Isis snipers. The report also detailed how those attempting to flee the violence were murdered in execution-style killings and their bodies hung from electricity lines as a warning to others.
Aside from Isis's atrocities, however, many in Mosul have also died as a result of US-led coalition bombing.
A new report into the scale of the human rights abuses, released by Amnesty International on Tuesday, claims the US and its allies used imprecise and unnecessarily powerful weapons, contributing to the heavy civilian death toll.
In pictures: Mosul offensive

Show all 40
The human rights violations may constitute war crimes and an independent investigation was needed, the group said.
"Isis's use of people as human shields does not lessen the legal obligation of pro-government forces to protect civilians," Lynn Maalouf, Amnesty International's Middle East research director, said in a statement.
"The scale and gravity of the loss of civilian lives during the military operation to retake Mosul must immediately be publicly acknowledged at the highest levels of government in Iraq and states that are part of the US-led coalition.
"The horrors that the people of Mosul have witnessed and the disregard for human life by all parties to this conflict must not go unpunished. Entire families have been wiped out, many of whom are still buried under the rubble today.
"The people of Mosul deserve to know, from their government, that there will be justice and reparation so that the harrowing impact of this operation is duly addressed."
The report went on to detail what it said was a pattern of attacks in which the US-led coalition and ground Iraqi forces "failed to take necessary precautions to verify that a target was actually a military objective".
A coalition spokesperson said Amnesty's findings were "irresponsible and an insult".
Amnesty also called specifically on the UK's Ministry of Defence to provide details on its claims that Royal Air Force strikes have not caused civilian casualties.
"The MoD's claim that hundreds of RAF airstrikes in and around densely populated Mosul have resulted in absolutely no civilian casualties is at best implausible. [Their line is] they've heard no evil and they've seen no evil. It's not credible and it's not good enough," said Kate Allen, the organisation's UK director.
Drone footage shows the devastation in Mosul's old city and the destroyed al-Nuri Mosque
"The MoD should set up a proper process for investigating what its airstrikes are actually doing on the ground.
"Whatever the military case for the UK conducting airstrikes on Isis targets in Mosul, it needs to do this within the parameters of the laws of war — meaning avoiding indiscriminate attacks and ones likely to result in disproportionate civilian deaths and injuries."
A spokesperson for the MoD repeated the claim that "detailed assessments after each strike and reviews [of] all available information" showed no evidence the RAF has been responsible for civilian casualties in the fight against Isis so far.
"Through our rigorous targeting processes we will continue to seek to minimise the risk of civilian casualties, but that risk can never be removed entirely," he added.
Join our new commenting forum
Join thought-provoking conversations, follow other Independent readers and see their replies