Raif Badawi: Wife pleads for fresh EU help as Saudi blogger's health worsens
Ensaf Haidar calls for stronger pressure on Saudi Arabian royal family to let him join family in Canada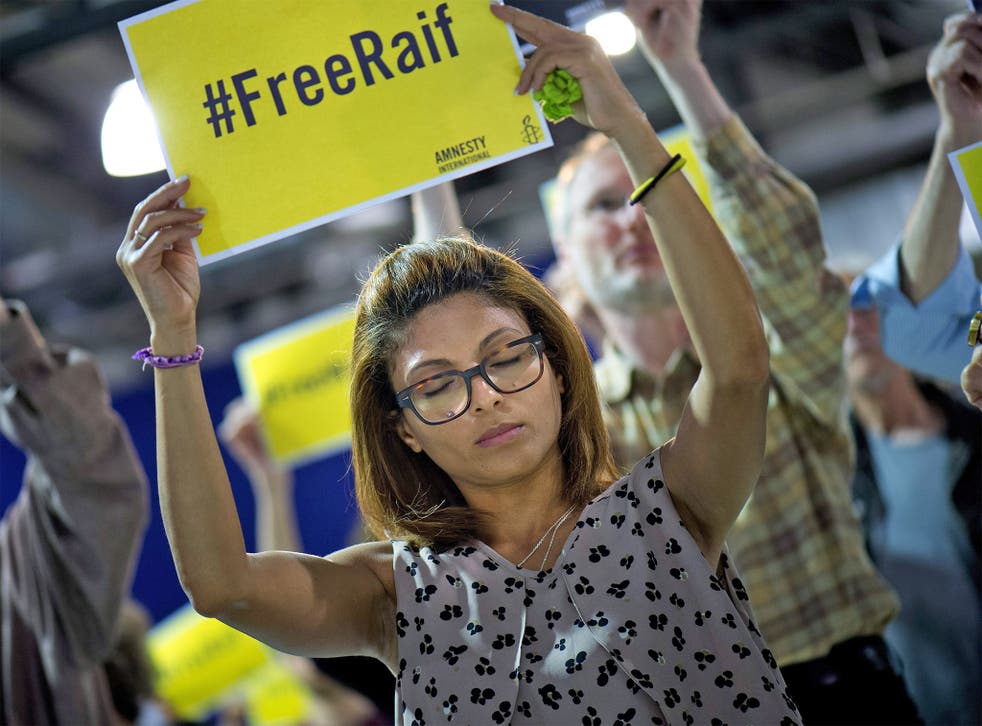 The wife of the jailed Saudi blogger Raif Badawi has called on European governments to go beyond the public expressions of concern that have so far failed to secure his release, and deploy ministerial-level delegations to press directly for his freedom.
Speaking to The Independent in Brussels where she is lobbying for more action by the EU, Ensaf Haidar said their three young children asked her every day when their father was coming home, and she remained hopeful that the family would be reunited.
But more international pressure was needed to convince the Saudi royal family that his sentence of 1,000 lashes and 10 years in prison was simply unacceptable and must be overturned.
She said statements from the EU and European governments condemning Mr Badawi's sentence helped give him hope. "But in terms of the effective impact on the case, nothing has been achieved," she said.
Only direct appeals from government ministers to Saudi Arabia's King Salman bin Abdulaziz Al Saud, the Minister of Interior and the Minister of Foreign Affairs would get the message across. "I'm not aware of any government talking officially to the Saudi Arabian authorities and officially requesting the release of Raif," said Ms Haidar.
"I know some of them have been doing it via the embassies, but I don't think the embassies are the right venue for this because they are not aware of the decisions being made back home."
Pressure should be "at the ministerial level and at the governmental level" she added.
The Foreign and Commonwealth Office has previously stated that the UK government has repeatedly raised Mr Badawi's case with Saudi Arabia.
Mr Badawi was arrested in June 2012 for criticising the country's clerics on his liberal blog. He was subjected to the first 50 lashes in a public square in Jeddah in January, provoking international outcry and worldwide protests.
In pictures: Raif Badawi release protests

Show all 15
The Saudi government postponed the rest of the lashes citing his poor health, and the Supreme Court is currently studying his case. But Ms Haidar said she no had positive news despite her emotional plea to the Saudi authorities earlier this month to grant him an amnesty and allow him to join his family in Canada, where they have been granted refugee status.
She now felt that the 31-year-old's condition in his tiny, overcrowded prison cell was worsening. "I spoke to Raif six days ago," she said. "It was very short phone call... his health is not that great and neither is his mental state. It is because of the uncertainty about what will happen."
Just before her interview with The Independent at the Amnesty International offices in Brussels yesterday, Ms Haidar video-called her three young children in Canada. Her face lit up when she wished them good morning and she struggled to say goodbye to Najwa, 11, Terad, 10, and Miriam, seven. Ms Haidar's tireless quest is for the children to have their father back.
"The situation is difficult – there is something missing in our lives," she said. "The kids definitely miss their father. They need him in simple things, but they also need him for important things.
"When they go to restaurants, they see other families with the father and the mother and they feel they are not in the same situation. When they are sad and crying, they ask for their father... They ask the same question every day – I'm not exaggerating – every day they ask 'when is our father coming back?' "
Despite the lack of positive news, Ms Haidar remains hopeful, drawing strength from the international campaigns to free her husband, whom she married in 2002. She said Mr Badawi was also moved by The Independent's front-page campaign for his release. "It meant a lot to him – he was very pleased and happy when he found out about it," she said.
She is in Europe to thank all the people who have come out on the streets to support her husband. "It gives some hope that something is happening and the world is not forgetting about him," she said. But she is also pressing for more concrete action from the EU.
"I hope that the 28 governments that form the EU can go there [to Saudi Arabia], then they will definitely bring Raif back with them," she said.
David Nichols, Amnesty International's senior executive officer for EU foreign policy, said EU officials and the bloc's foreign ministers had all pledged to raise Mr Badawi's case, and human rights more generally, in their dealings with the Saudi authorities.
"But there is no evidence of that taking place," he said. This apparent silence comes despite continued use of corporal and capital punishment in Saudi Arabia. Reports suggested that 88 people had been executed in there this year, surpassing the total for 2014.
"There are quite clearly many different interests at play," said Mr Nichols. "Not just with Saudi Arabia, but with all countries in the Gulf – concerns such as energy, such as trade, but also on counter-terror cooperation as well."
A spokesperson for the EU's foreign service said they were closely monitoring Mr Badawi's case and had made several formal and informal approaches to the Saudi authorities. "The EU has since continued to call on its Saudi partners to suspend the sentence and to consider the release of Mr Badawi," the spokesperson said.
Join our new commenting forum
Join thought-provoking conversations, follow other Independent readers and see their replies