England rally through Stokes and Bairstow after early collapse against India in fourth Test
England drop two seamers after disastrous third Test, but still carry baggage into final match of series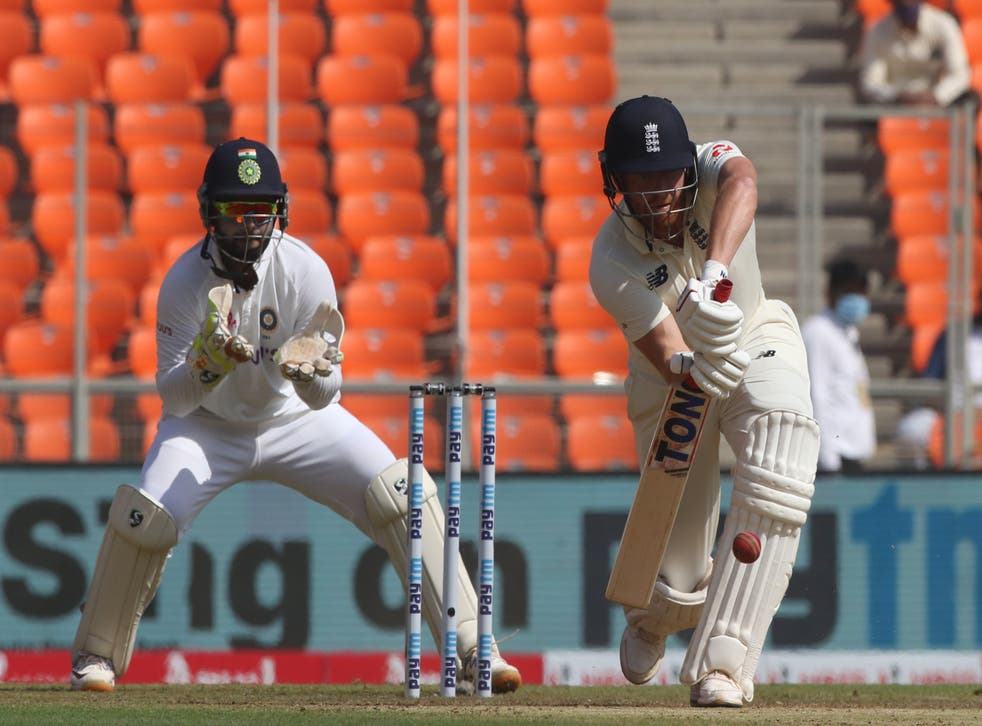 It was a morning session of two halves for England on day one of the fourth Test. With a 2-1 series scoreline to square, they got off to a familiarly poor start, reduced to 30 for three inside 13 overs. The damage inflicted upon them by a familiar foe in Axar Patel, whose two for 21 so far has taken his tally to a remarkable 20 wickets in just five innings. 
However, a stand between Jonny Bairstow and Ben Stokes ensured they made it through the second hour in a relatively strong position. Their partnership of 44 taking the tourists to 74 for three, within touching distance of the 81 they managed as a whole in the second innings of the third Test.
When you lose a Test inside two days as England did then, you carry some baggage with you. And it did not take long to realise just how much excess they were taking into this final match of the series. 
The first tell was in selection, going in with just two seamers, James Anderson and Ben Stokes, having opted for four last week. What harsh lessons were learned with the recall of Dom Bess, with a more peculiar one for Dan Lawrence to reinforce the batting lower down the order. Thus, Joe Root's winning of the toss to get England batting first was more vital than ever. 
But when Ishant Sharma produced a lavish delivery, moving in sharp and bouncing into Zak Crawley's back pad for a strong LBW shout with the second ball of the match, suddenly they seemed a quick light. Hawk-Eye plotted a trajectory over the stumps, reinforcing the smart on-field call of "not out".
Naturally, it was bogeyman Patel who made the first inroads. Brought on for the sixth over, he struck with his second ball: again coaxing a right-hander to play for turn and leave a sizeable gap between bat and pad. Sibley was the guilty party, bowled off his inside edge for just two to make it 10 for one. 
A second duly arrived five balls into the 27-year-old's second over, though perhaps we can count it as a success given there was a lot more bat involved. Crawley's desire to be positive was a means to upset the left-arm spinner's length. The application, however, was found wanting as a misjudgement led to a loft over the top plopping straight to Mohammed Siraj at mid off. 
It brought Root to the crease at 15 for two, offering him a chance to practice what he had preached over the last few days. The captain's press engagements preached bravery out in the middle. When he hooked Siraj inside fine leg for four, so came the "do as I do" element. 
Siraj would get the final say. The quick, brought into the XI to replace the injured Jasprit Bumrah, struck with the first ball after the drinks break, trapping Root on the crease in front of all three. 
Those bleary-eyed back in the United Kingdom were probably wondering if a return to bed was the value play, especially when Stokes edged in front of the corner attempting to leave his first delivery. However what sleep remained in their eyes was cleared by the 15th over as the allrounder struck three fours of varying degrees of control to take 13 off Siraj. 
It led to a stand-off between batsman and bowler – notably the first sign of any irksomeness from India in the field after, well, a couple of weeks. By no means a big win, yet one Stokes and Bairstow were able to build upon through to lunch. 
Bairstow's effort so far will be all the more gratifying off the back of a pair in the previous Test. It took him 12 balls to get off the mark here, threading a four through gully, before growing in control. 
The pair fed off one another, drawing some wayward lines from India's seamers who began searching for in-roads and losing their early composure. 
Peculiarly, it took Virat Kohli 19 overs to bring on Ravichandran Ashwin. The off-spinner has picked up Ben Stokes 11 times in 22 innings, bettering him on both sides of the bat. 
By then, Stokes had the measure of a pitch playing true with 17 from 24 deliveries. When he came on strike, he skipped down to Ashwin's second delivery and lifted him over long off for six. A wayward swipe closed out the last action between the pair in the morning session, a nod to the battles to come as the day wears on. 
Nevertheless, after a hectic start, England have kept their heads. 
Join our new commenting forum
Join thought-provoking conversations, follow other Independent readers and see their replies