England vs South Africa LIVE: Cricket result from first Test as England thrashed by an innings after batting collapse
England were all out for 149 in the second innings to lose by an innings and 12 runs at Lord's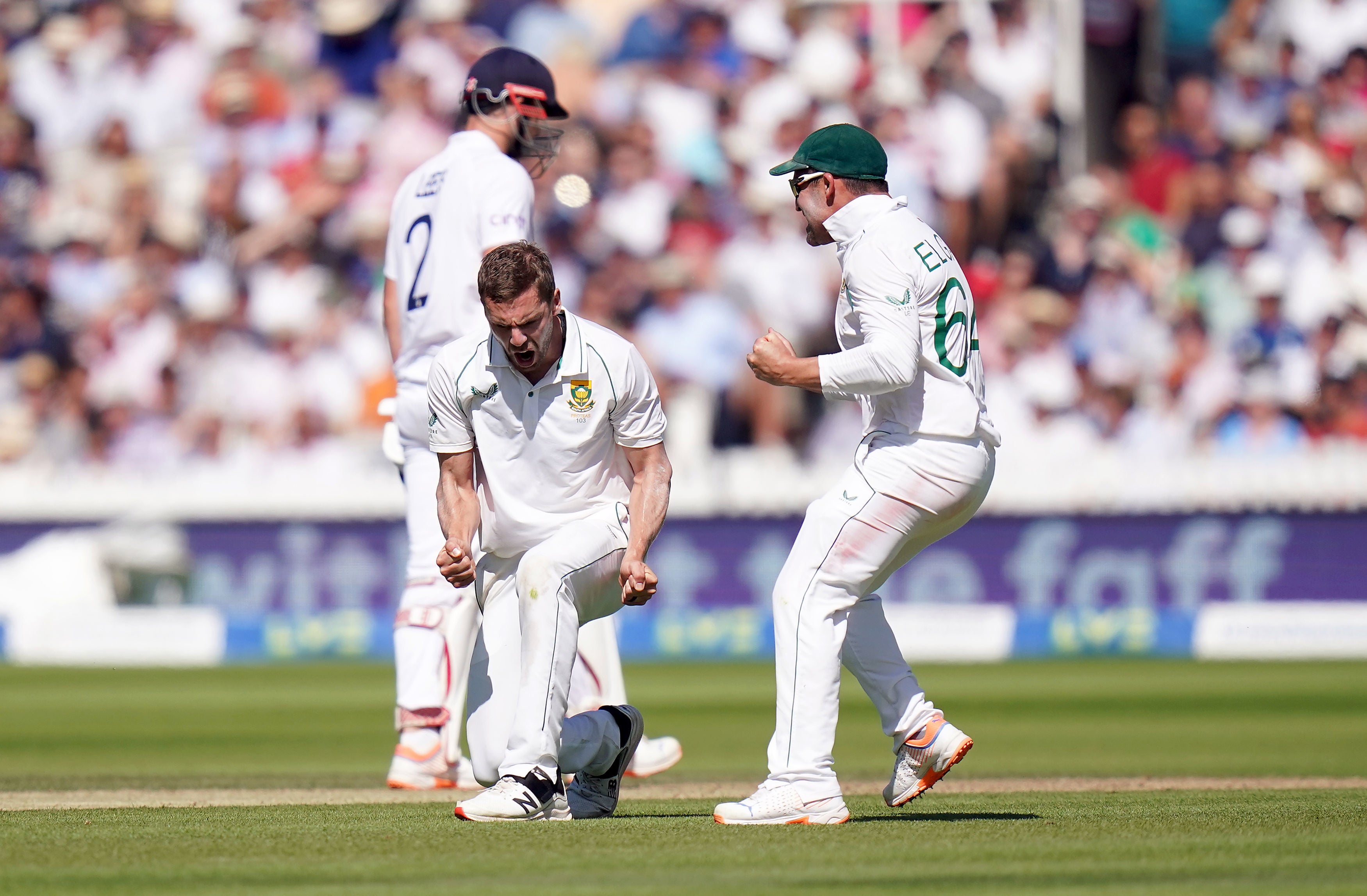 England were blown away by South Africa inside three days to lose the first Test of the series by and innings and 12 runs.
The humbling defeat at Lord's is the first of the new Ben Stokes and Brendon McCullum era and puts the Proteas 1-0 up with two Tests to play.
England were firmly behind from the get-go after losing the toss on day one and coming up short with the bat mustering just 165 in the first innings.
A resolute first dig of 326 in reply by Dean Elgar's tourists put them firmly in control with a lead of 161 on first innings before they comprehensively ran through the hosts' batting order again dismissing them for 149 with Anrich Nortje's three wickets doing the bulk of the damage.
Victory was brought up inside six sessions of play and before tea on the third day without them having to bat again. Follow the reaction and analysis from the first Test below:
1660928885
England thrashed by South Africa inside three days after first Test batting collapse
If there was always a slight feel of "live by the sword, die by the sword" to England's much-vaunted 'Bazball' approach to Test cricket, then you could say that South Africa came along with a full armoury of rapiers, cutlasses and katanas to cut it to shreds, writes Luke Baker.
It would be unnecessary to throw the baby out with the bathwater but England's display during this first Test at Lord's, especially on what was billed as the third day but turned out to be the final day, ruthlessly exposed its flaws.
And it raised plenty of questions about how sustainable such a gung-ho, borderline reckless approach, that may work in white-ball cricket, is for the long term with the red ball.
This South Africa team are hardly a conservative throwback to the dull, dogged Test cricket teams of yesteryear but they seemed positively old school compared to their hosts. And far, far more effective.
Luke Baker's report from Lord's:
England 165 & 149; South Africa 326 - England lose by an innings and 12 runs: The Proteas bowlers tore through the hosts at Lord's to cruise to victory
Luke Baker
19 August 2022 18:08
1660925084
England won't abandon aggressive approach despite South Africa defeat, Ben Stokes insists
Ben Stokes dismissed any suggestion that England will tone down their newly-aggressive approach in the wake of the humbling defeat at the hands of South Africa in the first Test at Lord's.
'Bazball' has seen England adopt a positive and proactive approach with bat and ball to great effect winning all four Tests so far this summer against New Zealand and India heading into this one.
Stokes though isn't going to change how his side want to play off the back of one bad outing.
The hosts were blown away inside three days at Lord's with the Proteas inflicting a first defeat of the new era under Stokes and coach Brendon McCullum
Luke Baker
19 August 2022 17:04
1660924364
Brendon McCullum: You don't go from good to bad overnight
Brendon McCullum has been reflecting on his first defeat as England coach.
"South Africa deserved the victory," said McCullum. "We have a little bit of work to do, but you don't go from being a good team to a bad one overnight.
"It was the type of wicket that the boys reflected that you get in, then you got a cracking delivery from nowhere. I thought our approach was alright.
"I think over the last four wins we've had there have been times where we have been behind then able to absorb it and turn it back on the opposition. We couldn't do that today.
"As we said at the outset, you have to buckle up for the ride. We'll come back stronger."
Luke Baker
19 August 2022 16:52
1660923644
Dean Elgar: I've got a great think-tank behind the scenes
South Africa captain Dean Elgar believes their first Test thrashing of England was a complete team effort.
"I didn't think that it would be over today, especially waking up this morning," said Elgar. "We thought they'd bat hard and get a big lead.
"When it was our turn to bowl, we had to put the ball in the right areas. The guys did a great job.
"I'm very grateful with a young side. I have got a great think-tank behind the scenes. Good coaches who give great advice.
"Things work out, with Kesh [Maharaj] getting a few wickets and bringing in Anrich [Nortje] who bowls at the speed of light. I am just looking to get better as captain.
"We'll enjoy tonight, it is Friday after all. We won't rush it, because we need to let the young guys take in the moment."
Luke Baker
19 August 2022 16:40
1660922984
South Africa celebrate victory at Lord's
Luke Baker
19 August 2022 16:29
1660922092
Kagiso Rabada discusses South Africa's victory
Kagiso Rabada was awarded Player of the Match after taking five wickets in the first innings and two more in the second. He spoke to BBC TMS after the match.
Rabada said: "We thought it was going to go to day five here, but such is the game of cricket. What more can I say?
"The wicket was doing quite a bit on day one. There was nice bounce, good carry and the ball was nipping around. there wasn't much swing but there was enough bounce and pace in the wicket.
"I'm really glad I could be fit for this game. I've had a good game, I think, so I'm glad I was fit.
"I don't think it's for me to comment on that [England's bowling short-pitched balls to the Proteas tailenders]. The opposition come with whatever tactics they come with and we have to answer the questions they are asking.
"I don't think it's my place to speak on the English tactics. After yesterday, we were expecting it [short bowling], definitely.
"In Test cricket there is always tension between the two sides. That's what makes it even more of a great game. It's good to get the blood going."
Luke Baker
19 August 2022 16:14
1660921953
Ben Stokes: This isn't a wake-up call but we haven't executed our plans well
England skipper Ben Stokes is discussing the defeat at Lord's.
"We can't think too much about what was talked about in the pre-match, but we can't think about it and that will affect what happens in the next game," said Stokes.
"Captains before have also been criticised for the way the teams have played. This is not a wake-up call or anything, but we haven't executed our plans well. South Africa have played better.
On not having played red-ball cricket in the lead-up: "I don't want to make excuses. Maybe there was a case for some of the guys to get a first-class game, but I don't want to be talking about it."
Luke Baker
19 August 2022 16:12
1660921828
England thrashed by South Africa inside three days after first Test batting collapse
England have suffered defeat to South Africa in the first Test, losing by an innings and 12 runs after a disastrous batting collapse at Lord's.
The game was over inside three days but, given the rain on day one, it took fewer than two full days of live, on-pitch action for England to slip to a first defeat under the coach-captain combination of Brendon McCullum and Ben Stokes.
After the red-ball revival that has graced this English summer, the cracks in the 'Bazball' approach were ruthlessly exploited by a high-quality South Africa bowling attack, with England unable to put together any meaningful partnerships in either the first or second innings, having been put into bat for the first time.
The Proteas moved from 289-7 heading into day three to a first-innings total of 326 and then set about tearing through the England batting line-up for the second time.
Anrich Nortje took three wickets and although Stuart Broad crunched a few boundaries off him in an entertaining cameo, no England batter ever looked set to make the sort of big score that the team needed, as Kagiso Rabada, Keshav Maharaj and Marco Jansen also grabbed two wickets apiece and the hosts were skittled 149 before tea.
Luke Baker
19 August 2022 16:10
1660921179
England 165 & 149; South Africa 326 - England lose by an innings and 12 runs
There has always been an element of "live by the sword, die by the sword" to 'Bazball' and we saw the negatives there. England were unable to dig in when needed and a high-quality South Africa attack had too much for them.
It's the first time England have batted first under Brendon McCullum and they didn't show an ability to post a target. Might they have to rethink elements of their strategy?
Losing inside three days (less than two days of actual live cricket given the rain) on a good pitch is damning, really
Luke Baker
19 August 2022 15:59
1660920740
England 165 & 149; South Africa 326 - England lose by an innings and 12 runs
Well, that was a disaster from England. A batting collapse means they lose by an innings and 12 runs. Two poor batting performances and great bowling by South Africa cost them.
Luke Baker
19 August 2022 15:52
Join our commenting forum
Join thought-provoking conversations, follow other Independent readers and see their replies