Erling Haaland asked for signatures by Uefa assistant referee for charity donation
Octavian Sovre requested signatures from the Borussia Dortmund striker following the first leg of the Champions League quarter-final at the Etihad Stadium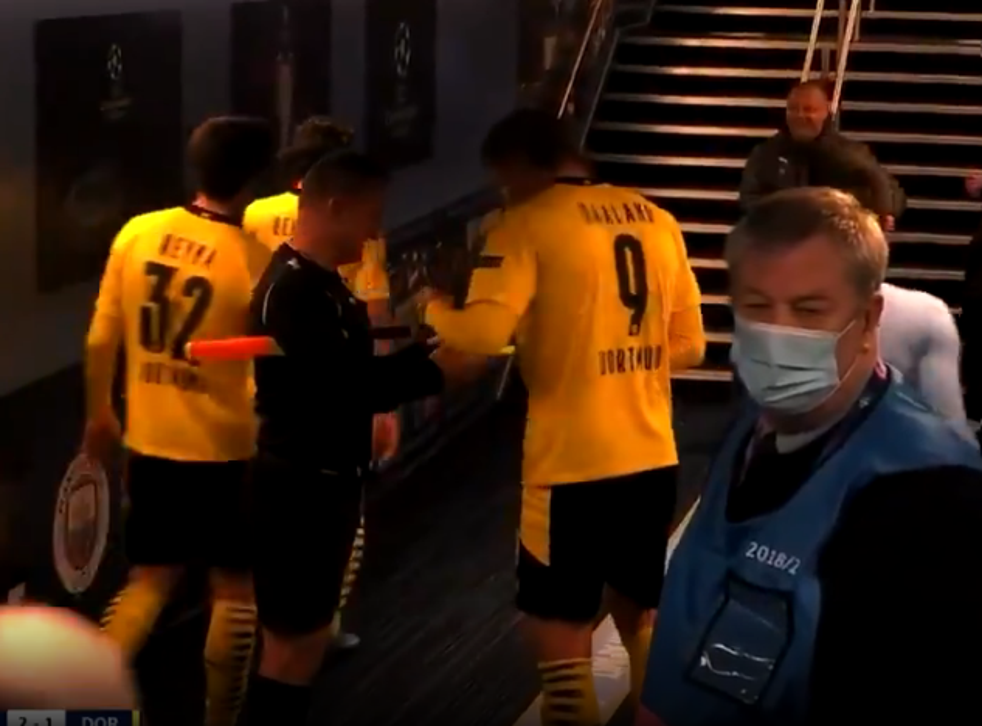 Assistant referee Octavian Sovre sort out Erling Haaland for an autograph following Manchester City's win over Borussia Dortmund to make a donation to an autism centre.
The Romanian official was caught on camera approaching the Norwegian striker to sign his yellow and red cards in the tunnel at the Etihad at full-time.
Sovre was then widely criticised, with Joleon Lescott describing the move as "childish". While Owen Hargreaves told BT Sport: "You can't do that in front of other players. There is never a right time for that. It just doesn't look right or bode well for the officials and the set up."
But Sovre's intent was selfless it has emerged, with Gazeta Sporturilor revealing that the Uefa official has supported the centre in Bihor county since 2015.
Now an honorary member of SOS Autism Bihor, Sovre was also thought to be keen to land Pep Guardiola's signature.
Read more:
The Spanish manager initially thought that Sovre was a fan of Haaland's when questioned about the incident, but also praised his performance, despite a bizarre incident that saw a legitimate goal for Jude Bellingham ruled out with play stopped before the ball crossed the line to prevent VAR from correcting the decision.
"They told me, I didn't see it," Guardiola said. "Maybe he's a fan. If he's a fan for Haaland and he's here, why not?
"The referees were brilliant. The game was not a problem. It was a penalty but after they saw the VAR, the people told me it was not a penalty.
"And after Bellingham, the action from the leg is higher than expected. The referees and the linesman was correct, was perfect. It was not an influence like it was in the past. It was correct.
"And after, maybe [the autograph] was for his son or daughter, I don't know. I've never seen it before but it's happened. Listen, they did a good job so that's it. Nothing happened."
Join our new commenting forum
Join thought-provoking conversations, follow other Independent readers and see their replies