Gareth Southgate must strike the right balance between caution and adventure in England's midfield
Southgate has several midfield combinations available but has habitually opted for a restrained and cautious approach in the centre of the park
Mark Critchley
Monday 29 March 2021 13:16 Comments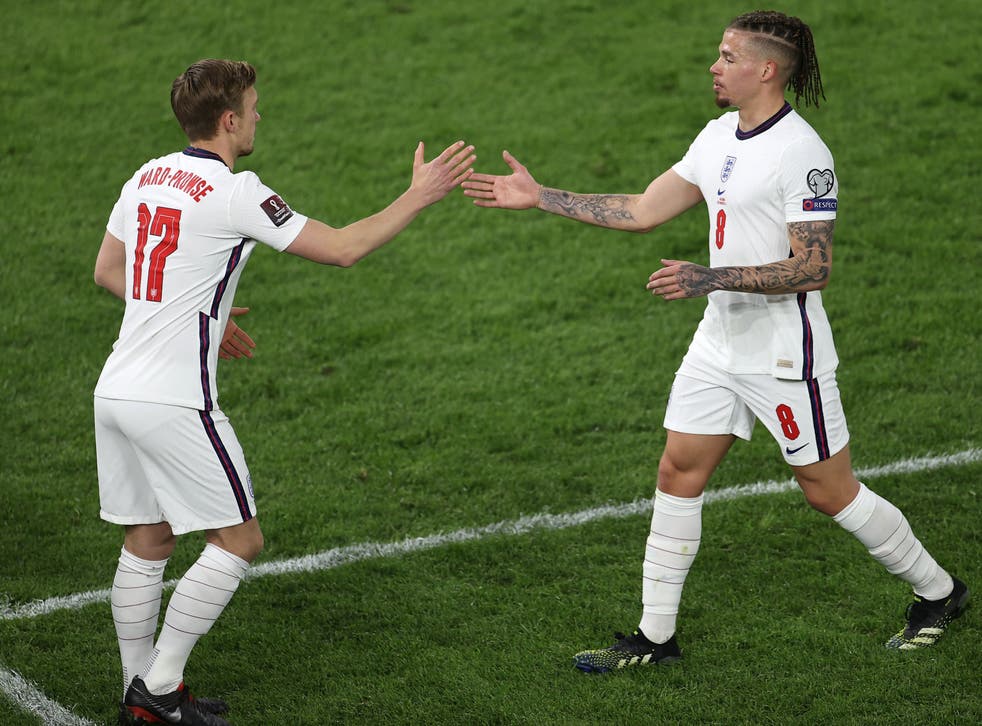 Deep into the post-match analysis of England's comfortable 2-0 victory in Tirana, ITV displayed a graphic of a potential line-up for Gareth Southgate to consider, selected by studio analysts Ian Wright, Ashley Cole and Roy Keane.
Under the heading 'Attacking England', it included a front three of Harry Kane, Raheem Sterling and Marcus Rashford supported by a midfield of Jack Grealish, Mason Mount and Phil Foden. The only surprise was that, in a remarkable show of restraint, they decided against squeezing Jadon Sancho in at right-back.
It was a neat illustration of the depth of talent at Southgate's disposal. But as Wright admitted, it was also a line-up that will almost certainly never play together. Yes, that forward line could start the opening game of the European Championship this summer against Croatia. The midfield configuration, though, is totally out of step with the England manager's thinking.
While tinkering with different systems over the past year, Southgate has been far more cautious when selecting who to play in the middle of the park. It was the same story against Albania.
Declan Rice started alongside Kalvin Phillips in Tirana. Both players are on the more defensively-minded end of the midfield spectrum and of all the combinations available to Southgate, this was the most cautious possible pairing. Was that really necessary against Group I's fourth seeds and the 66th-ranked team in the world?
READ MORE
For starters, Edoardo Reja's side are no pushovers and proved as much during an opening half hour when they kept England at arm's length and enjoyed several promising moments on the break. A little extra caution in the opening stages was perhaps not entirely misplaced.
And secondly, Southgate only had praise for Rice and Phillips in his post-match press conference.
"I thought Declan and Kalvin did a very good job of not only protecting and locking things up, but they use the ball well," he said, before revealing that Phillips was asked to play a more attacking role than usual. "Kalvin ended up a little bit more advanced than he would normally be with his club but I thought he adapted really well to that position."
Southgate was right. Both Rice and Phillips performed their duties well and if anything, when James Ward-Prowse replaced Phillips deep into the second half, England lost a little of the control that they had enjoyed following Harry Kane's breakthrough.
At the same time, it was hard not to link the problems finding space behind Albania's defence before Kane's goal with the conservative midfield set-up.
For a team that has long struggled to find equilibrium in the middle of the park, this felt like another case of the scales being tipped too far in one direction. Striking the right balance will be key to England's hopes of success at the Euros this summer.
There will be times when a more conservative midfield pairing - like Rice and Phillips - is necessary and suits England's system, particularly if Southgate reverts to playing three-at-the-back against elite opponents and encourages his wing-backs to join the attack.
Jordan Henderson would probably be considered to play alongside Rice at such moments, but perhaps does not deserve to be dismissed as merely another cautious midfield choice.
Though not necessarily the most creative presence, Henderson has been Liverpool's main conduit for moving the ball up the pitch this season - with only three top-flight players playing more progressive passes than him this season - and could be a more effective link between defence and attack.
If Henderson's groin surgery prevents him from a Euros place, however, it may open up the possibility of more adventurous picks.
The prospect of Mason Mount lining up in midfield alongside Rice is an interesting one, not only because of their friendship and understanding having played together through Chelsea's youth ranks.
READ MORE: Five things we learned as England beat Albania
Mount is a diligent player out of possession, as he showed in the build-up to Kane's goal, and the most creative of all the potential options, though that creativity could be clipped if playing as more of a traditional midfielder rather than in the attacking band.
The same applies to Foden, who has emerged as more of a wide forward for both club and country over the past year in any case, and who looks set to rotate with Rashford and Grealish in the left-wing role.
Then there is Jude Bellingham, who already profiles as the most rounded player among all of Southgate's options at the age of just 17.
When he is not only starting but impressing in the latter stages of the Champions League with Borussia Dortmund, it is hard to argue that regular international minutes would be premature. Two substitute appearances suggest Southgate is going to take things slowly, though.
If Bellingham has the potential to be the best all-rounder, the rest of England's midfield options feel like specialists with particular strengths and weaknesses who will need to be paired up carefully. It will often depend on the wider system and the opposition.
There may be no 'best' midfield, just the best midfield for the particular occasion. And against opponents like Albania or even Poland, who visit Wembley on Wednesday night, the balance is probably somewhere in between the ITV studio's wild selection and Southgate's air of caution.
Register for free to continue reading
Registration is a free and easy way to support our truly independent journalism
By registering, you will also enjoy limited access to Premium articles, exclusive newsletters, commenting, and virtual events with our leading journalists
Already have an account? sign in
Join our new commenting forum
Join thought-provoking conversations, follow other Independent readers and see their replies