Analysis: What caused Manuel Pellegrini to explode so shamefully after Manchester City defeat to Barcelona in the Champions League?
The usually reserved Chilean launched an astonishing attack on Swedish referees after the 2-0 loss at the Etihad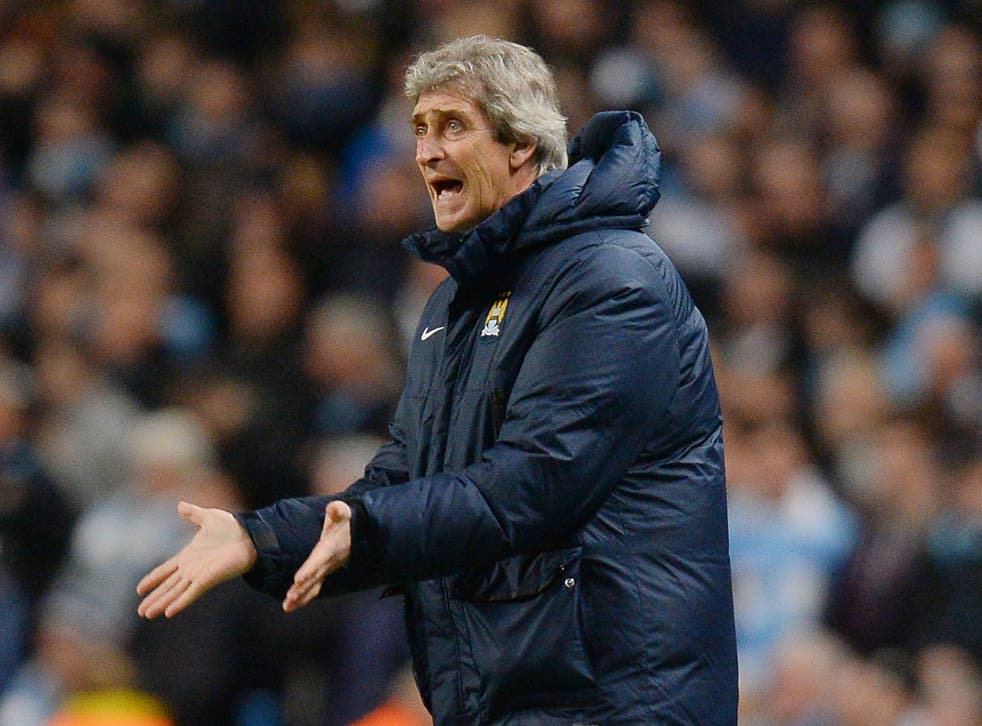 In the cold light of Wednesday, Manuel Pellegrini's outburst against Swedish referees revealed itself for what it was: absurd, ridiculous, contemptible and an embarrassment to Manchester City. Yes, Pellegrini really did say football is "more important in Europe than in Sweden" and that it was "not a good idea" to put a referee from Sweden in charge of a Champions League knockout tie. A five-match touchline ban is possible, though three matches is more likely, if Uefa charges him for "inappropriate comments" – possibly today.
The eruption after City's 2-0 defeat to Barcelona was the more extraordinary because of the image the 60-year-old has conveyed for the past six months. So uneventful have his press conferences become that at least one international news agency has stopped showing up.
To some extent, the grey exterior belies the other Pellegrini persona which can occasionally take hold. All those who witnessed his reaction to a Scottish referee's performance in Malaga's 3-2 Champions League defeat at Borussia Dortmund last year will tell you so. It was an excoriating outburst from him that night - "We could not, or they did not want us to, get through. After we went 2-1 ahead, there was no refereeing" – though he was not banned. The outburst should be viewed in the context of events around that time – Pellegrini's father had died and he had just returned to Spain – though it demonstrates an individual more willing to cut loose and blast off than he lets on.
It can't be said that Pellegrini is unaccustomed to the pressure, even though he is in unchartered territory here, chasing silverware on four fronts this time after building a reputation on making small clubs, Villarreal and Malaga, walk tall. Yes, the 2004 Intertoto Cup, won with Villarreal, (ital)was(close) the last trophy he claimed, but this is also a man who has managed in the red heat of River Plate and was subjected to unconscionable abuse in Spain at the hands of the sports daily (ital)Marca(close). After he joined Málaga, the paper declared him the "worst" thing about the club's game. "I should thank the editor of Marca for making me so famous," he replied.
And yet, for all that, there is evidence that Pellegrini is feeling the stifling heat of this decisive moment in his club's season. It explains why, having resisted all goading by Jose Mourinho – the master of odious manipulation – he broke two weeks ago, accusing Mourinho of lying about money Chelsea had spent and decisions City had been given by referees. The disproportionate reaction to Tuesday night's events felt like the response of a manager who took them personally.
It was his decision, after all, to follow a pragmatic tactical instinct – rather than the more free-flowing beliefs of his sporting director Txiki Begiristain. And that defensive strategy was sent up in smoke by a player in who he has invested so much personal capital. Martin Demichelis, whose error turned the night, is the individual Pellegrini has signed twice and with whom he clearly enjoys a particularly strong relationship. The two of them have been here before, because Pellegrini has often fielded Demichelis against Lionel Messi and often seen Messi get the better of him and score
It compounded things that Pellegrini apparently felt the niggle of a number of small decisions going against his team – "from the beginning I felt the referee was not impartial" – and like anyone seeking validation of their conspiracy theory, there was a half thought-out notion in the back of his mind. Perhaps Begiristain had told him about the two penalties that referee Eriksson refused Barcelona in the 2011 Champions League quarter final against AC Milan, giving Pellegrini his conviction that Tuesday night let the Swede balance things out. Begiristain was at Barca in 2011. Pellegrini certainly lacked a firm grasp of the detail, citing the Milan match as a group stage game from last autumn.
The factual mistake compounded the feebleness of the Chilean's press conference, which even gave Brendan Rodgers a run for his money. It was Rodgers who claimed in the same conference theatre back in December that a Greater Manchester referee – Lee Mason of Bolton - had been prejudiced in favour of City and against Liverpool. The City manager is not even helped by a universal sense that his team were wronged. Several referees observed yesterday that Demichelis' dismissal and the penalty were reasonable, in real time.
Sweden's current absorption in the Winter Olympics means that Pellegrini's comments will not invite a back page backlash in the country's sporting press today, though his rant has gone much further than Stockholm. City's manager has demonstrated he is not, after all, above the circus and the nonsense of football.
Join our new commenting forum
Join thought-provoking conversations, follow other Independent readers and see their replies