Catie Munnings: 'Motorsport has been selfish in the past. Extreme E is about something bigger'
The 23-year-old British rally driver will take on icons of motorsport in a revolutionary new series for gender equality and environmental awareness which starts in AlUla, Saudi Arabia this weekend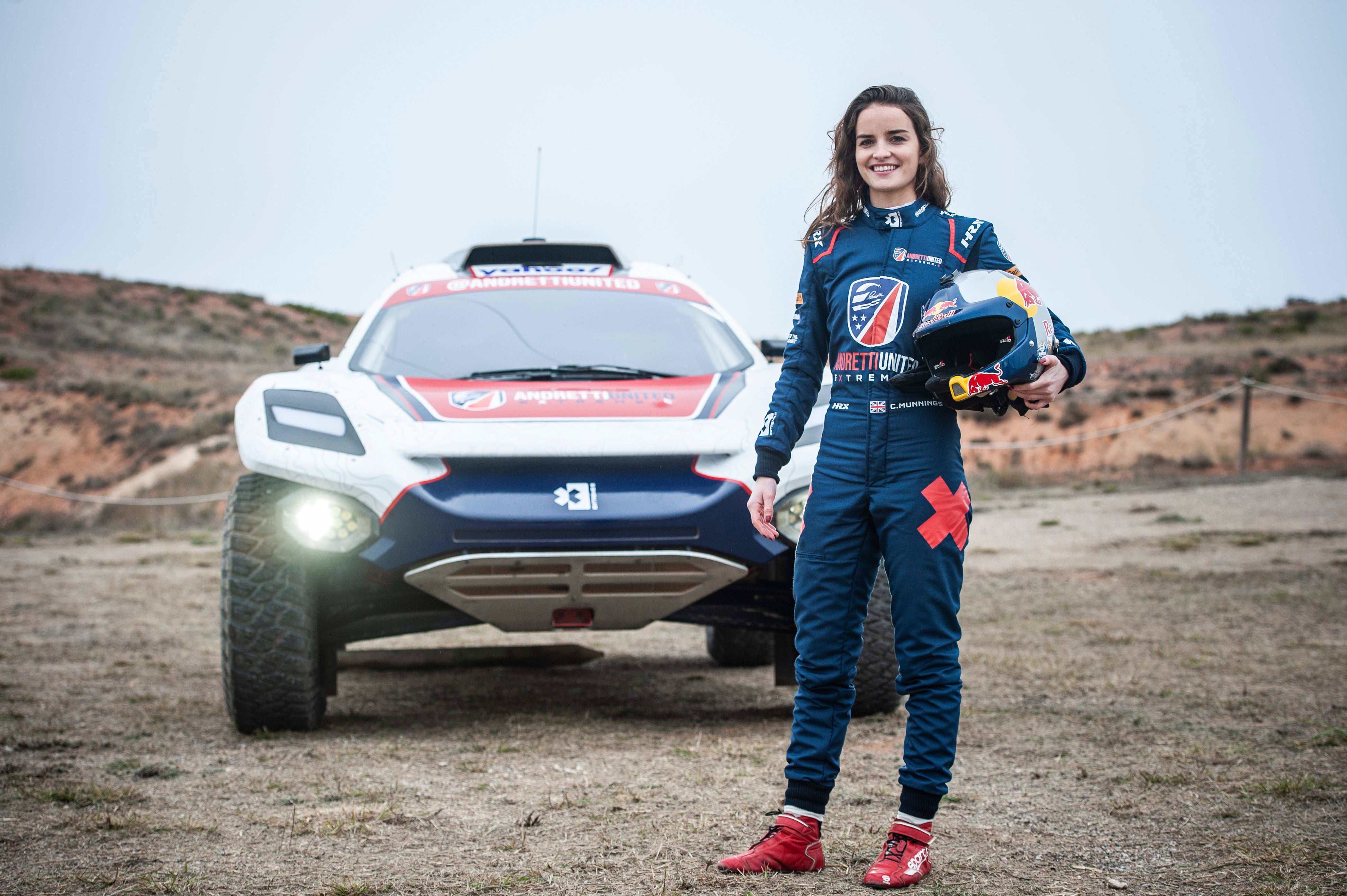 Catie Munnings has spent her life immersed in motorsport, but with a rally-driving father and an upbringing spent slinging cars through mud on the family farm in Kent, it is safe to assume she never imagined she would one day be racing against Jenson Button. The messy chaos of rallying is poles apart from the clean-cut glamour of Formula One, but this weekend those worlds collide when the 23-year-old Munnings will have the chance to beat an F1 world champion. "I'm not going to lie, that would be pretty cool," she says with a smile.
Munnings is one of 18 drivers racing in an eye-catching new venture, Extreme E, which counts Lewis Hamilton and Nico Rosberg among its nine team owners, as well as Button, who will drive for his own team. Other drivers include rally legends Carlos Sainz and Sebastien Loeb and rising talents like Britain's W Series champion Jamie Chadwick. They will race powerful SUVs through five spectacular destinations, beginning in the Saudi Arabian desert before trips to the African coast, the Arctic ice, the Amazon rainforest and December's finale on a glacier in Tierra del Fuego, Argentina.
Each race location was chosen not just for its breathtaking scenery but to highlight a specific environmental cause, and this is one of the primary goals of Extreme E: to raise awareness of the effects of climate change. The event carries a bold mission statement to achieve net-zero carbon emissions by offsetting essential usage. People, cars and equipment are travelling between each destination by boat (a scientific research vessel called the St Helena which avoided the Suez Canal blockage only by a matter of days), and the series will promote environmentally friendly cars – each SUV runs on revolutionary battery technology from which water is the only waste product.
For Munnings, who grew up wanting to become either a racing driver or a vet, the environmental motive is close to her heart. She admits it may even have tapped into her conscience during a blossoming career which has taken her to the women's European Rally Championship title. "It's been quite a selfish sport in the past: I've turned up, I've raced, and it's been a very small-minded career in that sense. There was a hole that we weren't filling in the industry. The difference that stood out to me with Extreme E was you're competing in a sport that you love, racing against some of the biggest icons in motorsport, but at the same time there's a bigger message."
It is part of what makes this new series unique: each race will feature a 'legacy programme', like the first project on Saudi Arabia's Red Sea coastline to protect endangered turtles. "When I was looking to go into motorsport I was also looking at universities to study veterinary science – two very different things! – but I've always been passionate about animals. We're doing a beach clear-up for the turtles on hatching grounds and putting in infrastructure to prevent people driving on the beaches and destroying the eggs. Things like that are the cherry on top of the cake in this series for me personally."
The allure of some memorable destinations was another bonus, of course. First comes the sweeping sands of AlUla, a relatively untouched part of Saudi Arabia with a rich history dubbed 'the world's masterpiece', where perfectly preserved 2,000-year old tombs are cast into the sandstone and rocks tower over the desert in mesmerising shapes. AlUla has only recently opened its doors to tourists and Extreme E will play a role in showcasing its remarkable landscape to the world. "I've never been to Saudi I'm really excited about travelling there," says Munnings. "I've heard that AlUla is just absolutely stunning so I can't wait to see it."
Read more:
The racing itself sees one man and one woman compete together on the same team, with the same car, driving one lap each around a 16km circuit. Munnings is paired with a useful partner in Swedish 2019 World Rallycross champion Timmy Hansen, and she talks enthusiastically about Extreme E's format which puts them on an equal footing.
"I'm really impressed with the way they've done it. They've been smart. It hasn't just been a case of 'we'll have some females in the series and we'll let them get on with it'. In the past there might have been women in motorsport for media reasons or just to say 'look, we've got a woman in a car'. One of the most powerful ways to talk about gender equality is to completely ignore that there's some women in this car and men in that car – we're all doing the same job and it's about the fastest ones across the finish line.
"I've always had quite a thick skin. Of course when I started out I saw these trolls online and things but I learnt very, very quickly to just completely shut everything like that out. I've never looked at the way my teammates drive and thought 'oh I can't drive like that because I'm a girl'. To me it's like 'well he's doing that so how do I do that?' and then I go and practice and make sure I can. I've always thought as soon as the flag drops there is no difference between a male and female. The stopwatch doesn't lie at the end of the day."
The gender-equal line-up is just another part of what makes this venture feel so fresh, and part of the fun is the sheer number of unknown quantities. Testing was limited due to the eco-friendly aims of the race so drivers barely know their cars and have never been to the track locations before. Just about every part of the teams' race strategy will be developed on the hoof.
The lack of practise and preparation means racing instincts will take over, something Munnings has plenty of having grown up with some kind of steering wheel in her hands from as young as she can remember. That natural talent should stand her in good stead against the diverse talents of Extreme E – even against a Formula One world champion.