As it happened
ended
1471142526
Rio 2016 live: Mo Farah wins 10,000m gold, Jess Ennis-Hill battles to silver and Greg Rutherford takes bronze
Team GB win a gold, silver and bronze in the athletics after dominating in cycling and rowing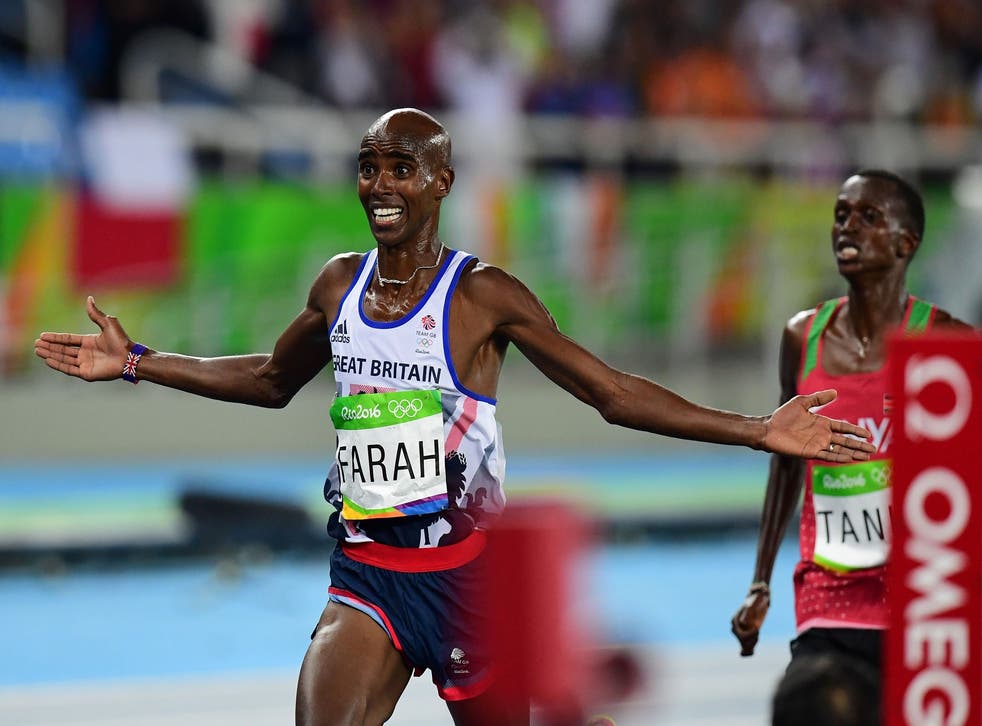 Usain Bolt, Jessica Ennis-Hill, Mo Farah and Andy Murray are among the athletes in action in day eight of the Rio Olympics, which promises to live up to the expectation of "Super Saturday". Here are the latest updates:
Michael Phelps ends Olympic career with 4x100m medley

 relay gold
Follow the live action below...
Please allow a moment for the live blog to load
Bolt is to make his first appearance at Rio this afternoon in the men's 100m heats, while Jessica Ennis-Hill will continue the heptathlon with the long jump after finishing Friday's events in the lead.
British rowers will be hoping for a podium finish in both the women's and men's eight finals and medals are also up for grabs in the cycling women's team pursuit and keirin, featuring Team GB's Laura Trott and Joanna Rowsell.
Andy Murray continues his defence against Kei Nishikori in the tennis semi-finals, and will next face Rafael Nadal or Juan Martin Del Potro in the gold medal match if he emerges victorious.
Rio 2016 Olympics - in pictures

Show all 74
Britain's Greg Rutherford will be going for another long jump gold after midnight, and in the early hours of Sunday morning Mo Farah will be running the 10,000m race.
Michael Phelps and Adam Peaty will be swimming in the men's 4x100m medley relay final at around 3am.
Team GB is hoping to add to its haul of gold medals, which put Britain third on the medal table behind only the US and China at the start of Saturday's action.
1470434834
More on the sad news Pele will not be able to attend tonight because of ill health. 
"I'm not in physical condition to take part in the opening ceremony," Pele said.
"Only God is more important than my health. In my life, I've had fractures, surgeries, pain, hospital stays, victories and defeats. And I've always respected those who admire me." 
Samuel Stevens
5 August 2016 23:07
1470441395
And now the inexorable march of athletes. Hang in there folks, you can do it. Given my inability to correctly identify German table tennis players, I'll leave you in the capable hands of our sport guys.
Christopher Hooton
6 August 2016 00:56
1470442138
Aruba looked a happy bunch. Didn't know where it was. Looked it up and now it's obvious why they're a happy bunch.
Matt Gatward
6 August 2016 01:08
1470442634
Here come China. This could take some time
Matt Gatward
6 August 2016 01:17
1470443293
Egypt. That's with an E. Fifth letter of the alphabet. 21 to go if my maths are correct...
Matt Gatward
6 August 2016 01:28
1470443571
Flag carrying Rafa Nadal with a massive beam on his chops as he leads Spain out into the Marcana. 
Matt Gatward
6 August 2016 01:32
1470443756
The U S of A ... Hundreds of em. Very preppy with the white chino look
Matt Gatward
6 August 2016 01:35
1470443876
Russia soon....what reception will they get?
Matt Gatward
6 August 2016 01:37
1470444212
Team GB in the house. Andy Murray with the flag. Not sure about the jackets
Matt Gatward
6 August 2016 01:43
Join our new commenting forum
Join thought-provoking conversations, follow other Independent readers and see their replies