Japan vs Great Britain LIVE: Tokyo 2020 final score, result and reaction as Team GB reach quarter-finals
The second match of the group stage for Team GB as they continue their search for medals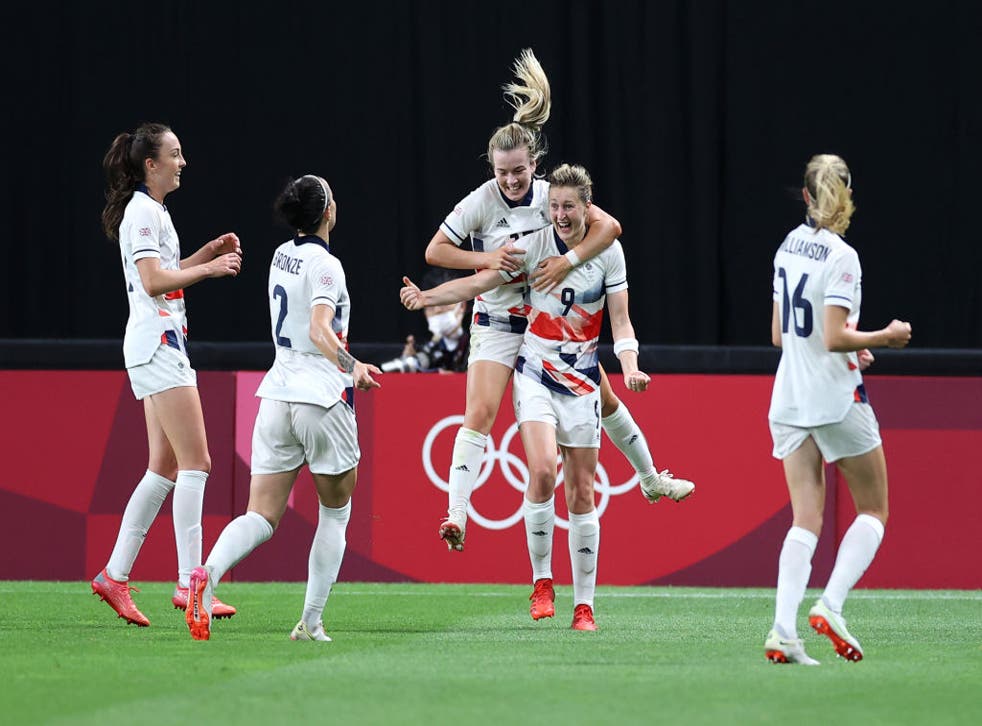 Great Britain are through to the knockout stages of the Olympics women's football competition with a game to spare after a 1-0 victory over hosts Japan. It was a professional display in a contest they bossed, though not with outright control. Similar to their 2-0 victory over Chile, they won the most important passages and, again, it was Ellen White's name on the scoresheet. That her three goals in two games have come from just five shots says as much about her effectiveness in front of goal as it does of how Team GB have not quite been at their creative best. Nevertheless, the first part of the job is done.
For Japan, their hopes of automatic qualification take a hit, especially after Canada beat Chile earlier in the day to move to four points, with a cushion of three in second. However, they can still make it through if they defeat the South Americans on Tuesday to move to four points and, thus, qualify as the best two of the three third-place sides.
Follow all the latest updates from the Olympics and the reaction from Japan against Great Britain here:
1627131058
Tokyo 2020: Max Whitlock negotiates path through pommel qualifying
Defending champion Max Whitlock safely negotiated the nerve-racking qualification process at the Ariake Gymnastics Centre on the day one of his sport's biggest stars bowed out.
Ireland's Rhys McClenaghan led the field with Whitlock lying third ahead of the final qualifying rotation.
Karl Matchett
24 July 2021 13:50
1627130231
Tokyo 2020: Eight international stars set to shine at the Olympic Games
We're only on Day One! Officially anyway - and there are so many athletes to look forward to seeing over the coming weeks.
Naomi Osaka lit the Cauldron in the opening ceremony, but we'll be seeing here on-court, too. Simona Biles is perhaps the world's best-known and greatest gymnast. This is their stage, the pinnacle of their sports - and for plenty more athletes besides.
Tokyo Olympics: Eight international stars set to shine in 2020 Games
Karl Matchett
24 July 2021 13:37
1627129752
Tokyo 2020: Adam Peaty glides into Olympic 100m breaststroke semis with eighth quickest time in history
It all seemed so easy for Adam Peaty in his heat - but there has rarely been a faster race in history. Is he set for another gold? Lawrence Ostlere was on hand in Tokyo to witness his cruise through to the semis.
Adam Peaty cruised through his 100m breaststroke heat and looked typically imperious doing it
Karl Matchett
24 July 2021 13:29
1627129222
Tokyo 2020: Final score - Japan 0-1 Great Britain
Job done for Great Britain as Ellen White's flicked header settles the match, earns the three points and sends Team GB through to the knockouts.
There's still a match to play, but six points guarantees them a top-two finish and therefore a place in the quarter-finals - but Japan still have a big job to do to beat Chile in their final game and give themselves a chance of joining Hege Riise and Co.
Karl Matchett
24 July 2021 13:20
1627128810
Tokyo 2020: Japan 0-1 Great Britain
Japan pushing for a late equaliser and it's imperative Great Britain remain focused and see out the victory. Japan did clinch a fairly late equaliser against Canada, but they've even less time now to snatch a point.
Roebuck comes racing toward the penalty spot and claims a high, launched pass into the box with great authority to settle any nerves.
Karl Matchett
24 July 2021 13:13
1627128497
Tokyo 2020: Japan 0-1 Great Britain
Under ten minutes remaining in Team GB's second group stage match. If they close out the win, they are through to the knockouts with a game to spare, an absolutely ideal scenario even if they haven't been in top gear today.
Nikita Parris replaced by Rachel Daly and Iwabuchi is now on for Japan.
Karl Matchett
24 July 2021 13:08
1627128035
Tokyo 2020: GOAL! Japan 0-1 Great Britain
There's the breakthrough finally! Lovely cross from Bronze toward the near post, EllenWhite launches herself in front of the defender and loops a brilliant header over the keeper and into the far corner - her third of the tournament and 1-0 to Team GB.
Karl Matchett
24 July 2021 13:00
1627127904
Tokyo 2020: Adam Peaty wins 100m breaststroke race
Great Britain's Adam Peaty has absolutely roared through his heat and wins his Heat 7 in style. 57.56 seconds and it's job done for now.
Karl Matchett
24 July 2021 12:58
1627127562
Tokyo 2020: Adam Peaty set for 100m breaststroke race
Adam Peaty, one of Team GB's biggest gold medal hopes, will be up soon in his 100m men's breaststroke race.
He's in Heat 7 - we're up to Heat 5 right now which includes Great Britain's James Wilby...who finishes second in his heat, behind Michael Andrew.
Karl Matchett
24 July 2021 12:52
1627127428
Tokyo 2020: Japan 0-0 Great Britain
Caroline Weir on for Sophie Ingle and Team GB trying to push on now, as we move into the final half-hour of the match.
Karl Matchett
24 July 2021 12:50
Join our new commenting forum
Join thought-provoking conversations, follow other Independent readers and see their replies