Japan vs Great Britain LIVE: Tokyo 2020 final score, result and reaction as Team GB reach quarter-finals
The second match of the group stage for Team GB as they continue their search for medals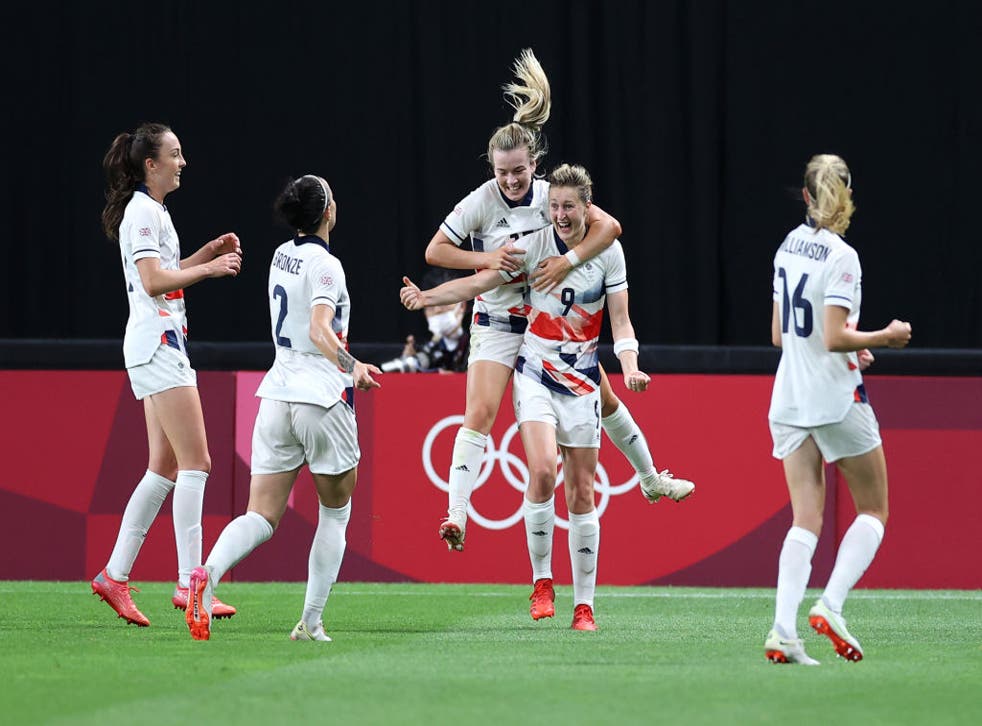 Great Britain are through to the knockout stages of the Olympics women's football competition with a game to spare after a 1-0 victory over hosts Japan. It was a professional display in a contest they bossed, though not with outright control. Similar to their 2-0 victory over Chile, they won the most important passages and, again, it was Ellen White's name on the scoresheet. That her three goals in two games have come from just five shots says as much about her effectiveness in front of goal as it does of how Team GB have not quite been at their creative best. Nevertheless, the first part of the job is done.
For Japan, their hopes of automatic qualification take a hit, especially after Canada beat Chile earlier in the day to move to four points, with a cushion of three in second. However, they can still make it through if they defeat the South Americans on Tuesday to move to four points and, thus, qualify as the best two of the three third-place sides.
Follow all the latest updates from the Olympics and the reaction from Japan against Great Britain here:
1627123987
Tokyo 2020: Japan 0-0 Great Britain
A first real moment of danger from Japan as they attack down the right, but Stokes gets a good block in and Houghton deflects the second effort behind for a corner.
Nakajima's corner is cleared, so is the subsequent cross back in from the flank and Team GB eventually clear their lines when Parris is fouled.
Karl Matchett
24 July 2021 11:53
1627123830
Tokyo 2020: Host nation Japan win their first medal of the summer
A silver in the judo (48kg women's) for 25-year-old Funa Tonaki. Distria Krasniqi of Kosovo takes the gold.
Karl Matchett
24 July 2021 11:50
1627123479
Tokyo 2020: Japan 0-0 Great Britain
A cross from the left just evades Parris but White almost reaches it at the far post - only for a collision with the defender to leave her on the ground in the box. A few muted appeals for a penalty, but nothing given. Still all Great Britain in terms of possession and attacking intent, with Japan struggling to get bodies upfield so far.
Karl Matchett
24 July 2021 11:44
1627123229
Tokyo 2020: Japan 0-0 Great Britain
A low-key start to the match, albeit with plenty of possession for Great Britain, all in white today.
Parris trying to get on the ball in the opening stages, with Little also looking busy. Japan compact and low in their shape so far, content to soak up pressure. Hemp reaches a cross at the far post, but her header is well over the bar.
Karl Matchett
24 July 2021 11:40
1627122684
Tokyo 2020: Japan vs Great Britain
We are underway in Sapporo. Can Team GB make it two wins from two?
Karl Matchett
24 July 2021 11:31
1627122334
Tokyo 2020: Great Britain lead South Africa in the hockey
And now Team GB are ahead in the hockey - a scuffed hit from Liam Ansell somehow creeps in and it's Great Britain 2-1 South Africa.
We're just a few minutes away from kick-off in the football.
Karl Matchett
24 July 2021 11:25
1627122191
Tokyo 2020: Hockey at half time in Great Britain vs South Africa
In the hockey, Great Britain are 1-1 at half-time with South Africa. The second half has just started in this Pool B fixture.
Sam Ward fired home the early opener before a quick equaliser.
Karl Matchett
24 July 2021 11:23
1627120942
Tokyo 2020: Japan vs Great Britain
Earlier today in the same group, Canada beat Chile 2-1 thanks to a Janine Beckie brace.
It means Canada are top with four points, but Team GB can of course move back into first - and guarantee their place in the quarter-finals - if they take victory here.
A win for Japan would leave them level with Canada and Britain in third, however, with Chile bottom without a point so far.
Karl Matchett
24 July 2021 11:02
1627120135
Japan vs Great Britain team news
Japan make more wholesale changes - clearly they are looking for a response and need a victory on home soil after that opening draw.
Japan XI: Yamashita, Shimizu, Kumagai, Minami, Miyagawa, Shiokoshi, Nakajima, Sugita, Hasegawa, Hayashi, Tanaka
Karl Matchett
24 July 2021 10:48
1627119887
Japan vs Great Britain team news
Women's football coming up next and Team GB are looking for their second win of the group stage against Japan.
Hege Riise makes four changes from the opening victory over Chile - Nikita Parris coming in is perhaps the most notable of those.
Great Britain XI: Roebuck, Bronze, Houghton, Williamson, Stokes, Walsh, Ingle, Parris, Little, Hemp, White.
Karl Matchett
24 July 2021 10:44
Join our new commenting forum
Join thought-provoking conversations, follow other Independent readers and see their replies