As it happened
ended
1499905531
Floyd Mayweather vs Conor McGregor Toronto press conference as it happened: Stars agree to bet their pay cheques
Mayweather and McGregor went face to face for a second time on Wednesday night, after an explosive and controversial first meeting in Los Angeles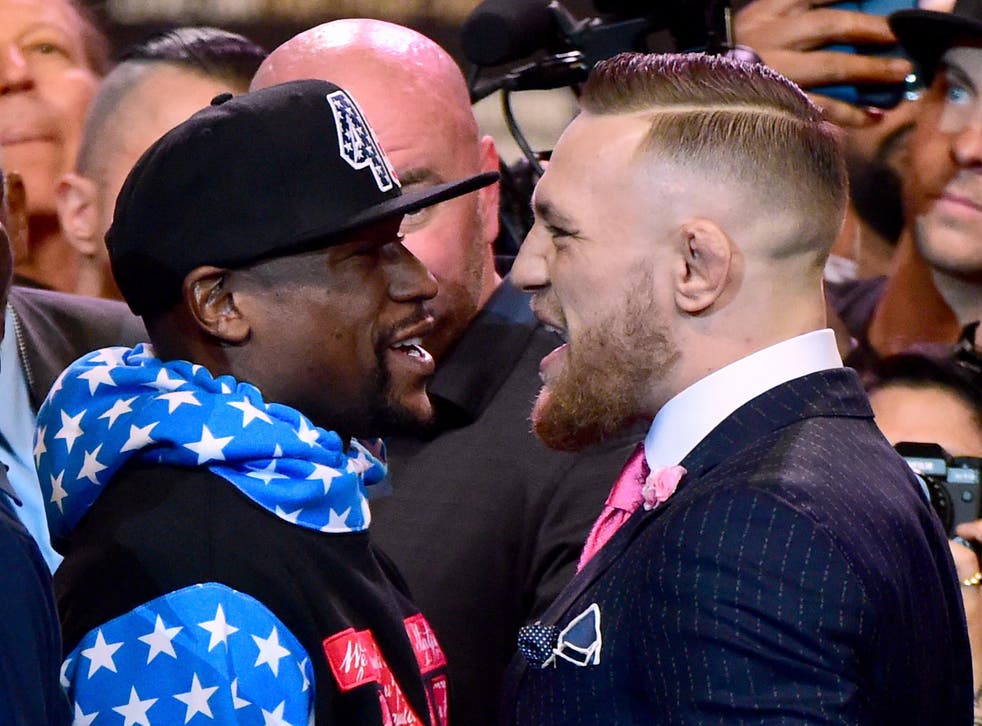 Floyd Mayweather and Conor McGregor kicked off a four-city promotional tour on Tuesday at the Staples Center, facing off in front of a raucous crowd that thoroughly enjoyed this circus' first stop in Hollywood.
Both fighters promised a knockout, and they had a prolonged shouting match during their second faceoff, with UFC President Dana White stepping between them.
Predictably the encounter was controversial, with McGregor enjoying the lion's share of public backing and largely getting the better of the verbal sparring.
Mayweather vs McGregor: From trash-talk to super-fight

Show all 18
The fighter was however criticised for shouting "Dance for me, boy!" at his opponent, although Floyd Mayweather Snr later defended the Irishman and played down the suggestion his comment was racist.
The press tour stops off in Toronto tonight, and you can bet there will be more drama, more controversy and more threats.
The drama is due to get underway at 10.30pm, so join us from around 9pm for live coverage of the second press conference.
Please allow a moment for the live blog to load.
1499890158
So, what happened when Floyd Mayweather and Conor McGregor came face to face for the very first time yesterday evening? What didn't happen would be a more appropriate question.
The LA conference, which was as equally menacing as it was surreal, saw both men introduced to the stage before they each addressed thousands of fans at the Staples Center in Los Angeles.
The pair then faced off, with Dana White and Floyd Snr both on hand to prevent things from overheating when both Mayweather and McGregor began animatedly shouting in each other's faces.
Both men were then quickly dragged away ahead of Wednesday's encounter. 
If you missed out on the action, then don't worry. Here are five of the most important talking points:
Vithushan Ehantharajah
12 July 2017 21:09
1499890494
For those still questioning exactly how this fight became a reality...
Vithushan Ehantharajah
12 July 2017 21:14
1499892014
The best exchange from the first press conference in LA?
Surely when Floyd 'Money' Mayweather reached into a backpack and held out a $100 million check for the crowd of 11,000 fight fans to see. 
"Let me show you what a $100 million fighter looks like," he said. 
Conor McGregor interrupted from his stool behind the podium: "That's to the tax man." 
Mayweather replied: "You're right. I'm the IRS, and I'm going to tax your ass." 
Vithushan Ehantharajah
12 July 2017 21:40
1499892482
A reminder: there are still two more press conferences to go after this one - and the last one is in London!
Get yourself up to speed with the schedule, ticket info and more:
Vithushan Ehantharajah
12 July 2017 21:48
1499892935
Ticket details for the August 26 fight were finally announced last night and, boy, they ain't coming cheap. Fight fans face having to pay up to an eye-watering £7,800 to see the contest. £7,800!
Tickets for the fight, which is expected to become the most lucrative event in the history of the sport, will go on sale later this month, on July 24.
Prices begin at £390, although it has already been revealed that the cheapest tickets will be "very limited."
Other seats will be selling for £1,200, £2,000, £2,800, £4,000 and £5,900.
Vithushan Ehantharajah
12 July 2017 21:55
1499895800
One of the most amusing moments from last night's conference was Conor McGregor's mic being cut off, after he began taunting Floyd Mayweather from the side of the stage.
After the conference, McGregor complained that Showtime had cut off his mic. But Stephen Espinoza, Showtime CEO, has released a rather lengthy statement denying that his company had anything to do with it.
That statement, in a nutshell, essentially boils down to...
I've just saved you reading through about 1000 words. there. You're welcome. 
Vithushan Ehantharajah
12 July 2017 22:43
1499896834
Here's McGregor's prediction for August 26:
And Mayweather's prediction?
"We know 'Mr Tap Out' like to quit, and you will wave that white flag," he said to McGregor last night. 
"Because you can choose which way you want to go. And I'm guaranteeing you this. You're going out on your face or you're going out on your back. Now which way you want to go? Which way you want to go?"
Vithushan Ehantharajah
12 July 2017 23:00
1499897737
Conor McGregor is in the house!
And he doesn't look to be wearing a family-friendly SFW suit for this evening's presser. 
Vithushan Ehantharajah
12 July 2017 23:15
1499898241
Still no sign of Floyd just yet.
More mind games from Money Mayweather?
Vithushan Ehantharajah
12 July 2017 23:24
1499899477
Steve doesn't sound too impressed with the way his evening is panning out...
Vithushan Ehantharajah
12 July 2017 23:44
Register for free to continue reading
Registration is a free and easy way to support our truly independent journalism
By registering, you will also enjoy limited access to Premium articles, exclusive newsletters, commenting, and virtual events with our leading journalists
Already have an account? sign in
Register for free to continue reading
Registration is a free and easy way to support our truly independent journalism
By registering, you will also enjoy limited access to Premium articles, exclusive newsletters, commenting, and virtual events with our leading journalists
Already have an account? sign in
Join our new commenting forum
Join thought-provoking conversations, follow other Independent readers and see their replies