UFC 260 results: Francis Ngannou devastates Stipe Miocic to win heavyweight title as Jon Jones waits in the wings
French-Cameroonian exacted revenge on Miocic three years after a humbling decision loss, winning via second-round knockout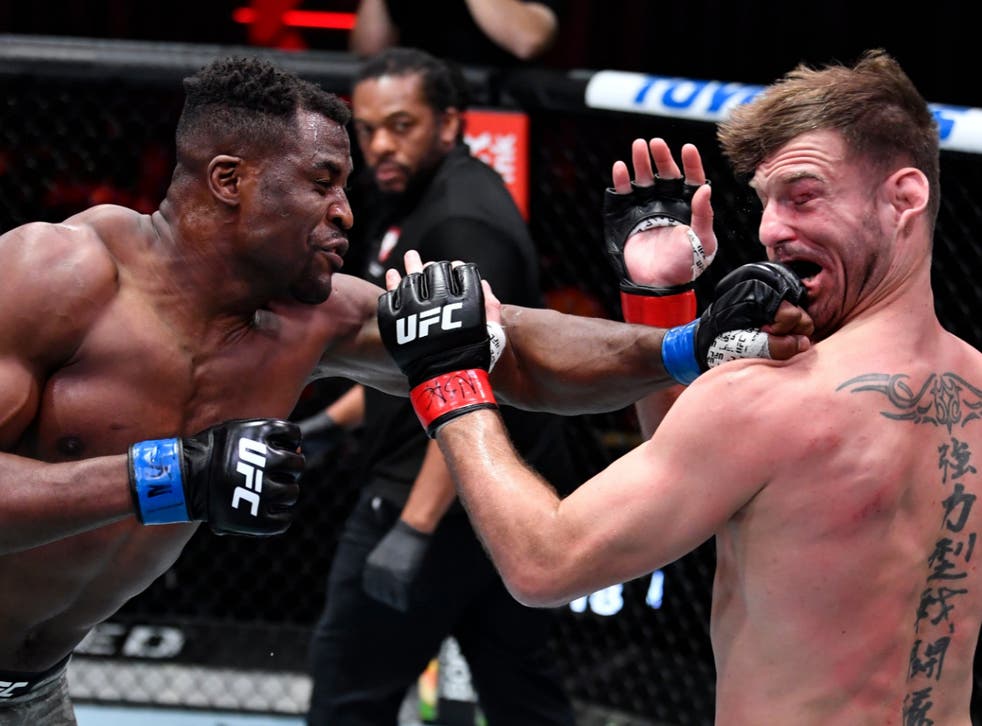 Francis Ngannou delivered a brutal knockout to defeat Stipe Miocic and become the new UFC heavyweight champion in the main event of UFC 260 on Saturday night.
Three years after Miocic retained his belt against the French-Cameroonian with a wrestling masterclass, Ngannou exacted his revenge, implementing the lessons he has learned since that humbling loss against the American to crown himself the 'baddest man on the planet'.
Heading into the pair's first meeting, the UFC's biggest power puncher Ngannou was riding a win streak of four straight first-round stoppages, but his cardio and grappling deficiencies were exposed by Miocic – the consensus greatest heavyweight of all time – who recorded a unanimous decision victory.
Coming into Saturday night's main event at the UFC's Apex institute in Las Vegas, Ngannou was enjoying an almost identical streak, having added former champions Junior dos Santos and Cain Velasquez to his victims list as well as Curtis Blaydes for a second time and Jairzinho Rozenstruik.
The one arguable downside to that startling run was that 'The Predator' had been almost too efficient, as odd as that sounds, his lack of Octagon time revealing nothing about the level of his wrestling, with hints of improved patience on display but little else to discern.
READ MORE:
But Saturday's main event ended up being less about the two-and-a-half minutes that the 34-year-old had spent in the ring since his defeat by Miocic and more about the months of training in between those terrifying wins.
Early in the first round, Ngannou (16-3) clipped Miocic (20-4) with a huge strike, but – as in the first fight – the champion survived and even seemed unfazed. As he shot for a takedown, one had to wonder whether we were in for the same kind of contest we saw in January 2018.
But Ngannou, with UFC welterweight champion and elite wrestler Kamaru Usman in his corner, stuffed the takedown attempt expertly, sprawling effectively and taking Miocic's back to pour on heavy strikes.
Part-time firefighter Miocic, 38, would rise to his feet and escape, but the Apex institute's smaller Octagon offered little space for safe haven.
The champion appeared almost apathetic as he withstood a head kick from a more patient Ngannou, but less than a minute into the second round 'The Predator' connected again.
This time it was a punch and it put down Miocic, who quickly regained his senses and looked to fire back on his challenger.
But a short left hook to the chin collapsed the champion, his legs crumpling beneath him before Ngannou followed up with a devastating hammer fist to seal the win and the ecstatic French-Cameroonian's fate as the new heavyweight champion of the world.
As such, Ngannou became the UFC's third ever African titleholder – after Usman and current middleweight champion Israel Adesanya.
Ngannou was already the most fearsome fighter in the UFC because of his hellish power alone, but with the enhanced skillset that he displayed in this main event he has become an even more frightening opponent for his fellow heavyweights.
He might well pose a stern test for a particular light heavyweight, too, with former 205lbs champion Jon Jones moving up a weight class and having been waiting in the wings for the winner of UFC 260's featured bout.
Before the year is up, it should become clear whether Ngannou has the capabilities to overcome Jones' dynamism and creativity, but he surely has the power to do just that – if he can land, something of which fans will be more confident based on Saturday's performance.
For now, though, Ngannou can for once shift his focus away from landing. The new heavyweight champion of the world is on cloud nine and should stay there for some time.
Full UFC 260 results
Main card
Francis Ngannou def. Stipe Miocic (C) via second-round KO (punch and ground strike, 0:52)
Vicente Luque def. Tyron Woodley via first-round submission (D'arce choke, 3:56)
Sean O'Malley def. Thomas Almeida via third-round KO (ground strike, 3:52)
Miranda Maverick def. Gillian Robertson via unanimous decision (30-27, 30-27, 29-28)
Jamie Mullarkey def. Khama Worthy via first-round KO (punch, 0:46)
Prelims
Alonzo Menifield def. Fabio Cherant via first-round submission (Von Flue choke, 1:11)
Abubakar Nurmagomedov def. Jared Gooden via unanimous decision (30-27, 30-27, 30-27)
Michal Oleksiejczuk def. Modestas Bukauskas via split decision (29-28, 28-29, 29-28)
Omar Morales def. Shane Young via unanimous decision (30-27, 30-27, 30-27)
Early prelims
Marc-Andre Barriault def. Abu Azaitar via third-round TKO (punches, 4:56)
Register for free to continue reading
Registration is a free and easy way to support our truly independent journalism
By registering, you will also enjoy limited access to Premium articles, exclusive newsletters, commenting, and virtual events with our leading journalists
Already have an account? sign in
Register for free to continue reading
Registration is a free and easy way to support our truly independent journalism
By registering, you will also enjoy limited access to Premium articles, exclusive newsletters, commenting, and virtual events with our leading journalists
Already have an account? sign in
Join our new commenting forum
Join thought-provoking conversations, follow other Independent readers and see their replies