A-level results: Cost of degree is why Brits do not want to go to university and why majority drop out
Head of alternative careers and education site reminds young people to be aware of all options, adding: 'It's important they know university isn't the be-all and end-all'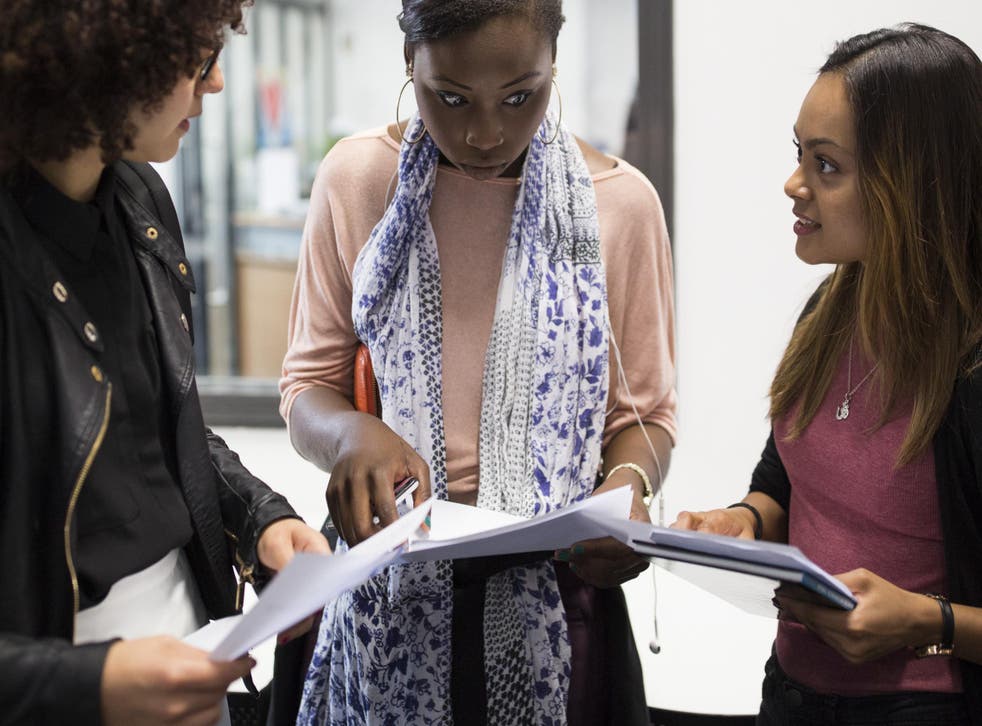 The cost of a degree is the reason why Britons don't want to attend university - and also why the majority drop out mid-course.
Alongside the rising cost of tuition, many young people in the UK feel they will learn more with a hands-on job than in a classroom studying theory, according to a new survey* by NotGoingToUni.
The site - which highlights alternative career and education options for those who do not wish to head into higher education (HE) - conducted the research as part of an ongoing study into UK attitudes towards university; half of respondents said they were not planning to attend university, and another 50 per cent who said they had attended but dropped out were quizzed about what had impacted their decisions.
The survey has come on the same day around 300,000 students have received their A-level results, and also as Ucas confirms a record 424,000 students have been accepted into UK universities and colleges so far, up three per cent on last year, and the highest ever recorded on exam results day.
Top 5 reasons Brits are against university:
Increasing cost of tuition - 58%
As good a job can be acquired without a degree - 52%
Desire to learn while working i.e. apprenticeship - 39%
Education isn't the best option - 37%
Moving away from home does not appeal - 31%
Half of the study's respondents who had dropped out of university before completing their degree were asked why they had made the decision to quit, with the top reason, again, emerging as the expense.
In pictures: Britain's top 10 universities for employment

Show all 10
Top 5 reasons students drop out:
Too expensive - 65%
Disliked the degree - 57%
Could learn more in a job than classroom - 51%
Disliked being away from partner/family - 30%
Realisation education was not the best option - 28%
Seventy-one per cent said they would like to see the cost of tuition be lowered, and 62 per cent wanted to see institutions provide more opportunities for work experience when asked to state what they felt universities could do to encourage them to attend and undertake a degree.
These figures echo those from another report issued this week from an apprenticeship site which found over 90 per cent of students believe the current UK education system sees exam results as more important than career preparation. Ninety-eight per cent of young people also felt they needed put more information and help to prpare them from entering the world of work.
As well as the increase in students being accepted onto a university course, the number of those receiving A* and A grades this year has dropped to 25.8 per cent, falling for the fifth year in a row. Sharon Walpole, CEO of NotGoingToUni, said it could be assumed that more young Britons are applying for university, and/or that universities are making it easier to get accepted - something that's "hot on the rumour mill" this year with the rising cost of tuition, and the recent news many institutions are offering additional incentives to boost student numbers.
The 20 hardest universities to get into
She continued: "There are many people who, at the age of 17 or 18, have their future mapped out and know exactly what they want to do for the rest of their lives. It's true that certain careers do require a university degree. What should be remembered, though, is that many students attend university without a clear idea of what they want to do afterwards, or whether it's necessarily their best route.
"Many of those drop out, change courses, or end up working in a totally different field after they graduate while a substantial amount of debt hangs over them. It's important young Brits are aware of all of their options, and it's important they know university isn't the be-all and end-all."
*2,418 Britons aged 18 and over surveyed. Click here to see NotGoingToUni's Results Day Survival Guide
Register for free to continue reading
Registration is a free and easy way to support our truly independent journalism
By registering, you will also enjoy limited access to Premium articles, exclusive newsletters, commenting, and virtual events with our leading journalists
Already have an account? sign in
Join our new commenting forum
Join thought-provoking conversations, follow other Independent readers and see their replies