University debts so high students are suffering 'increased mental health problems' and 'can't afford food'
Exclusive: One in seven students have been chased by debt collectors after being unable to pay rent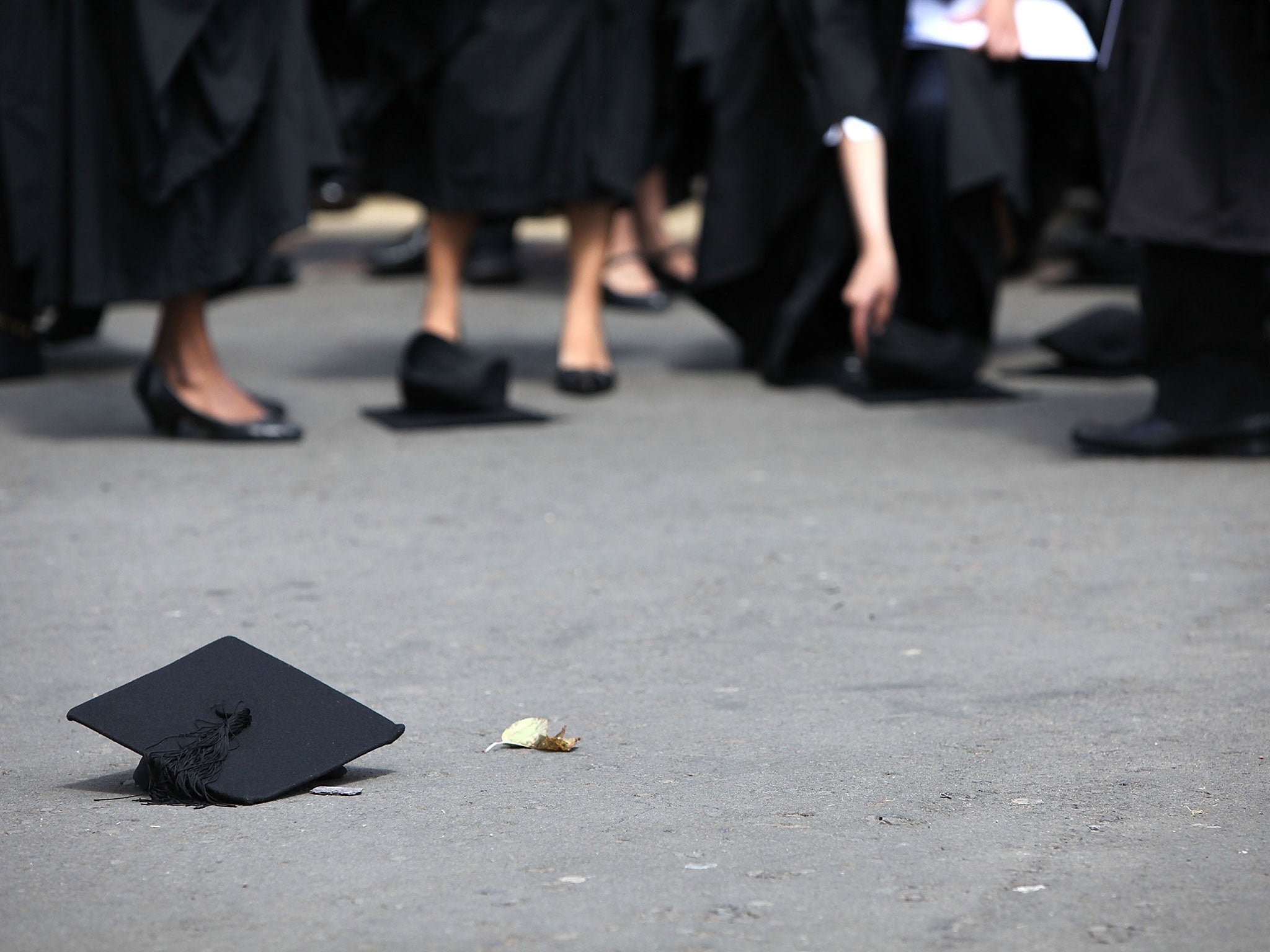 Debts accumulated during university years are so high that students are suffering from mental ill health and cannot afford to buy food, according to new research.
Sky-high tuition fees and the rising cost of living have been blamed for "overwhelming" stress levels felt by the majority of students, with one in seven admitting they have been chased by debt collectors as a result of missing rent payments.
A survey commissioned by financial technology company Intelligent Environments found three-quarters of students who receive maintenance loans feel stressed about the amount of debt they accumulate while studying, with over a third (39 per cent) saying they cannot afford their weekly food shop.
Over a quarter of students admitted to missing rent payments, with three in five polled (58 per cent) running out of money completely before their next payment is due.
Estelle Clarke, advisory board member for the Intergenerational Foundation, said the findings were particularly concerning in light of recent Government moves to sell off student loan debts to private companies.
She said: "There is an undisputed negative relationship between debt and mental health. Being unable to pay bills is particularly stressful.
"Student loans put unnecessary pressure on borrowers because they are so expensive. It is upsetting to think of students depriving themselves of food and perhaps enduring loneliness, trapped in their rooms because they cannot afford to eat or go out.
"Unfortunately, the proposed sales of student loans could well make the situation even worse," she added. "This grossly unfair reality has serious implications for mental health."
David Webber, managing director at Intelligent Environments, called the results "worrying" and suggested banks could do more to support younger customers, in particular in managing their finances.
But industry experts warn the figures are reflective of a higher education system that is becoming increasingly unaffordable, forcing students to take out unmanageable loans they will never be able to pay off.
Ucas figures released earlier this month pointed to a dramatic fall in student application numbers from the UK and abroad, fuelling fears many students are being put off higher education due to the financial implications.
Student news in pictures
Show all 34
Shelly Asquith, National Union of Students (NUS) vice president said: "Students are being mounted with colossal levels of debt that are increasing year on year.
"The NUS is concerned about the impact this has on the likelihood of working-class students to apply to university.
"We also believe that increased poverty and debt is a major factor in the sharp increase of students experiencing mental ill health."
In spite of social stereotypes, the top three items students said they spend their money on were rent (78 per cent), food (69 per cent) and utility bills (47 per cent), with the average student loan fund running dry by the sixth week of term.
A significant proportion of students with maintenance loans said they rely on additional sources of income to get through the term, with two-thirds (65 per cent) turning to parents or other family members in times of need.
Others rely on their student overdrafts (58 per cent), dip into their savings (27 per cent), incur further debts on credit cards (six per cent) and even take out payday loans (nine per cent) to help tide them over.
House of Lords blocks controversial Higher Education bill
Fionnuala Allen, a second year Nutrition student at Manchester Metropolitan University, said although she enjoyed university, the experience had been marred significantly by stress caused by her finances.
"I receive the maintenance loan and work around 30 hours a month but most of my money goes to rent, food and utilities," she said.
"My maintenance loan runs out really quickly and my job is a zero-hours contract, so I can only work when there are shifts available.
"I regularly go into my student overdraft to get by, and in the past I've had to borrow money from my dad. Before Christmas I had to ask my estate agent if they were OK with me paying my rent a month late.
"My housemates and I were also on a diet of rice and peas for a week because it's cheap and you can buy it in bulk.
"People assume students spend their money on nights out, but I regularly have to choose not to go out, so I can buy food. I've also had to miss classes and delay assignments when shifts become available and I have to take them when I can. It's really stressful constantly thinking about money when I should be focusing on my studies."
The total student debt owed in the UK is currently estimated at £71bn, with students in England leaving university with the highest average debt in the English-speaking world, a study revealed last year.
This month the Government began controversial plans to sell off billions of pounds worth of student debt to private loan companies, a move experts warned could lead come at a high cost to taxpayers.
Universities Minister Jo Johnson said there would be no impact on graduates with loans, but union leaders have attacked the decision – with the NUS accusing the Government of pulling an "ugly move" on students.
Ms Clarke added: "The dreadful injustice is that every single day, while students are scrimping and saving, punitive monthly compounding interest is being added to their loans, snowballing them into unmanageable debt – and at a time when students can, literally, do nothing about it.
"While students are suffering from lack of money, extortionate interest charges are still being added to their loans. It is exploitation at best.
"The Government has created this issue and now needs to remedy it with fair financing for students."
Mr Webber said: "The fact that students are taking on further debts such as credit cards, overdrafts and even payday loans to repay the money they already owe, is worrying. Debt can have a devastating effect on people, impacting everything from exam results to relationships with partners, family and friends.
"Banks need to be doing more to assist students in managing their finances responsibly to help them get through university without having to resort to more forms of borrowing.
"As younger generations look for digital solutions to keep on top of their spending and debt repayment levels, banks need to adapt and provide students with the digital tools to improve their relationship with money.
"This will help them keep on top of outgoings and monthly budgets. Greater visibility around spending habits will make people more aware of their bank balance, making it harder for them to go into debt unnecessarily."
Universities Minister Jo Johnson said in response: "Let me be clear: this sale will have no impact on students or graduates, including those whose loans are part of a sale. Any suggestion that this will affect students is incorrect and irresponsible.
"This Government is committed to bringing public finances under control. As part of this we will look to sell assets where value for money to the UK taxpayer is assured.
"Any sale will only proceed once we are satisfied that it represents value for money for the taxpayer."
Join our commenting forum
Join thought-provoking conversations, follow other Independent readers and see their replies